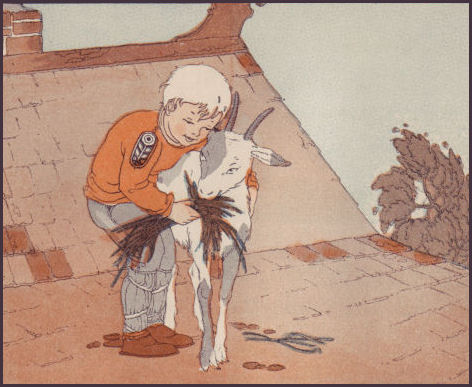 Eyvind and His Goat
Eyvind was a happy little boy.
He lived in a small house in Norway.
He had a little white goat that lived on the roof of the house.
He played with the goat, and gave it grass and leaves to eat.
One day the goat jumped from the roof, and ran up the hill behind the house.
Eyvind called, "Goatie, Goatie, come down."
But the goat only said, "Ba-a-a, ba-a-a!" and would not come down.
Eyvind sat down and cried.
When he looked up again, he saw a little girl playing with the goat.
"Is this your goat?" called the little girl.
"Yes," said Eyvind, "he ran away."
"Wait a bit," said the little girl,
"I'll lead him down to you."
She put her arm around the goat's neck, and led him down the hill.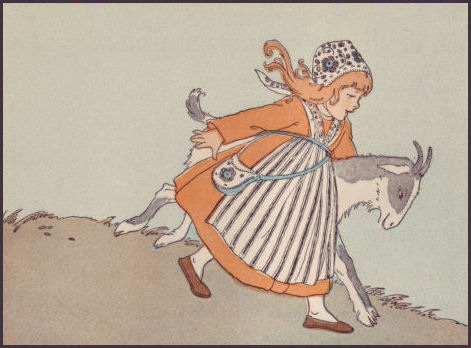 "Here he is," she said.
"What is your name?" said Eyvind.
"My name is Marit," said the girl.
"I live at the big farm over there.
I like your goat.
Will you give him to me?"
"No, I won't, he is my pet," said Eyvind.
"If I give you a butter cake, may I have him then?" said Marit.
Now Eyvind had eaten butter cake only once in all his life, and he thought he had never eaten anything so good.
"Let me see the cake," he said. So she handed it to him, and he took a little piece.
It was so good that he took a little more, and then a little more.
Soon he had eaten it all.
"Now the goat is mine," said Marit.
Then Eyvind saw what he had done.
He had sold his goat for a cake!
He could not bear to see it go.
"Can't you wait a bit?" he said.
"No, the goat is mine," said Marit, and she led it away towards the farm.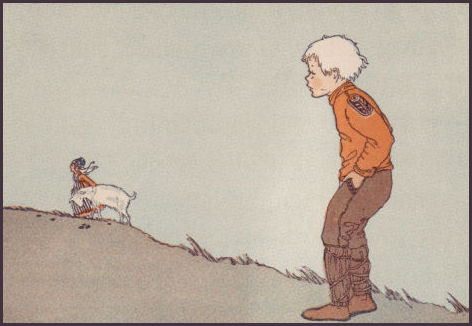 Eyvind looked as they went off.
The goat turned and said "Ba-a-a, ba-a-a!"
Poor Eyvind felt very sad.
He was left alone. He had no pet.
His mother came out of the house.
She saw him sitting and crying.
"What are you crying for?" she said.
"Oh, my goat, my goat!"
"Well, where is your goat?"
"He will never come back," said Eyvind.
"Has the fox taken him?" said his mother.
"No, I sold him for a butter cake."
Then Eyvind told her all about it.
"What do you suppose the little goat thinks of you?" said his mother. "You must learn to think what you are doing."
Eyvind could not answer.
He only sat and cried.
By and by he fell asleep, and dreamed about the goat and the little girl.
"Ba-a-a," said a voice in his ear.
He opened his eyes and sat up, and there was the goat.
He took hold of its two fore feet, and boy and goat danced for joy.
Then he saw Marit sitting on the grass.
"Oh, you have come too," he said.
"Yes, Father sent the goat back to you.
He said I was wrong.
I came to tell you I am sorry.
I am glad you had the cake.
Now we can be good friends,
can we not?"
"Yes, indeed," said Eyvind.
"We can play with our pet together."
Adapted from Björnson's A Happy Boy