I Fall Sick
The 2nd day of April, 1471
I had thought to spend the remainder of my days peaceably in this place, where, though there are some things that please me not, and are indeed far other than I hoped—and indeed where are there not such things to be found?—yet a man may, if he will, serve God and his fellows faithfully. But it seems like to be ordered otherwise for me. I have been for some time past troubled with a great weakness of body; and this, not wishing to be burdensome to others, or to be stayed from my work and banished to the infirmary, and thinking that the ailment might cease of his own accord, I kept to myself; but yesterday morning a great giddiness came suddenly upon me at matins, so that I had fallen in my place but that the brethren on either side of me held me up. And when I was led out of the church, it returned yet more violently upon me, so that I fell upon the ground, and so was carried to the infirmary, where I abode for the rest of the day, scarce able to raise my head from my pillow, so feeble was I. Master Philip, the leech, being hastily fetched, cometh, and after brief examination giveth me a cordial, bidding me remain quiet in my place till he should inquire more particularly into my case; and this he said he would do upon the morrow.
This morning accordingly, about half an hour after matins, cometh Master Philip. And when he saw how I fared, for I was by this time not a little relieved, he said, "The Prior must know of thy case, Brother Thomas; and it would be a saving of my time—which is precious, there being no little sickness in the town—if I questioned thee of thyself in his presence. Thou art able," said he, "to walk so far as his lodgings?"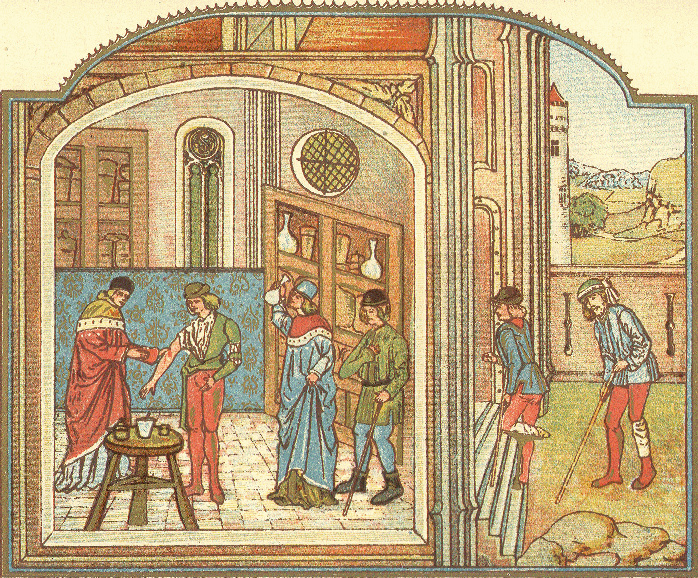 The Leech's Chamber.
"Yea," answered I; "I slept well, and seem to be much recovered this morning." So we went together to the Prior's lodgings, who indeed had been advertised before of our so coming, if I should be found able. Then said the Prior, "I have noticed for some time past that Brother Thomas here standeth in need of thy ministrations. He is not one of those that hie to the infirmary if so much as their little finger ache, but holdeth fast to his work, concealing his pain, so far as he may. So now do thy best for him, Master Leech, for he is one that will work if only he have the strength." Then the leech questioned me about my ailments, and when he had heard of the giddiness and such like, he said, "Dost eat heartily and with a good appetite? Art thou better content on a flesh day or a fast day?" And when I had confessed that I was wont to eat as little as I might, and further that I oft times vomited after the taking of food, he would further know how I slept. And when he knew that I was troubled with ill dreams, he questioned me further about my manner of life. And when he heard that I was in the scriptorium he asked me much about my work, speaking as one that cared for it and desired to know something of it. And when I grew warm in my praises of it, being carried away, as I do now perceive when I remember it, by my love for the work, he went on, "And thou carest little, I take it, for play or sport?" And when I confessed that I had given to my task of writing what time was granted for sleep after dinner, or for walking, and that by special favour of the steward I had had a provision of lights and a small chamber set apart for my use—for in the scriptorium lights are by no means permitted—the good leech held his peace awhile. Then said the Prior, "If Brother Thomas is giddy, as he saith, haply he would be the better for losing some blood." Then Master Philip held up his hands as though he had heard some horrible thing. "Haply there are some in this house who would be the better for such loss, though I hold that two bleedings in the year are as much as the health of most will suffer without damage. But as for this young man, he hath nought to spare: nay, I would put blood into his veins if I could compass it by any art." Then he saith to me, "Tell me how long doth one of the candles that thou hast from the steward serve thee?" "For a matter of six hours," I made answer, "if it be of hard wax." "And how long," he asked further, "if thou burn it at either end at the same time?" "That is past telling," I answered; "but can it be conceived that any man would be so foolish?" "Thou needst not look far for such an one, my son. Nevertheless, thou art not worse than others, and indeed spendest thyself on better things than the most who come to me in their need. But why shouldst thou be more careful of candles of wax than of the candle of thy life? Tell me now, art thou made of other stuff than thy fellows that thou canst live without food or sleep? Now, hearken to me. Thou must not so much as set foot in the scriptorium, or read but one line in thy books till I give thee leave. Verily thou hast had enough of books, yea and more than enough, for long time to come; yea, haply for thine whole life." Then he turned to the Prior, and said, "Master Prior, thou wilt take order, I doubt not, that it be as regards the reading or writing of books as I have said. Also I would have the brother excused from all service in the church, except it be matins only. And that his sleep be not broken, let him no longer sleep in the great dormitory here, but have for himself a small chamber in the infirmary. Let him dine with the brethren; but he must be exempted from all fasting, and I will myself, with your good leave, speak to the cook about his diet. And give charge to one of the brethren that he walk at the proper time, and that he be constrained, even against his will, to play at the bowls; and for the rest of his time let the gardener set him to such light tasks in the garden as he can find; and if the weather be foul, let him make nets for the cherry-trees and the strawberries. But as for books, I must tell your lordship these are mere poison to him. And when his health be somewhat mended, as I doubt not that it will if he heed my commands, we will consider further of his case. Some medicine he shall have of me, but the best medicine for such sickness as his, which indeed cometh from over-straining of the mind, is to be found in food and exercise."
Then I departed. What shall be the end of the matter I know not. Verily, if I am to live without books, I had as lief die. Yet why do I murmur against Him that ordereth my ways?