Motherless
W HEN the children clamour for a story, my wife says to me, "Tell them how you bought a flat iron for a farthing." Which I very gladly do; for three reasons. In the first place, it is about myself, and so I take an interest in it. Secondly, it is about some one very dear to me, as will appear hereafter. Thirdly, it is the only original story in my somewhat limited collection, and I am naturally rather proud of the favour with which it is invariably received. I think it was the foolish fancy of my dear wife and children combined that this most veracious history should be committed to paper. It was either because—being so unused to authorship—I had no notion of composition, and was troubled by a tyro tendency to stray from my subject; or because the part played by the flat iron, though important, was small; or because I and my affairs were most chiefly interesting to myself as writer, and my family as readers; or from a combination of all these reasons together, that my tale outgrew its first title and we had to add a second, and call it "Some Passages in the Life of an only Son."
Yes, I was an only son. I was an only child also, speaking as the world speaks, and not as Wordsworth's "simple child" spoke. But let me rather use the "little maid's" reckoning, and say that I have, rather than that I had, a sister. "Her grave is green, it may be seen." She peeped into the world, and we called her Alice; then she went away again and took my mother with her. It was my first great, bitter grief.
I remember well the day when I was led with much mysterious solemnity to see my new sister. She was then a week old.
"You must be quiet, sir," said Mrs. Bundle, a new member of our establishment, "and not on no account make no noise to disturb your dear, pretty mamma."
Repressed by this accumulation of negatives, as well as by the size and dignity of Mrs. Bundle's outward woman, I went a‑tiptoe under her large shadow to see my new acquisition.
Very young children are not always pretty, but my sister was beautiful beyond the wont of babies. It is an old simile, but she was like a beautiful painting of a cherub. Her little face wore an expression seldom seen except on a few faces of those who have but lately come into this world, or those who are about to go from it. The hair that just gilded the pink head I was allowed to kiss was one shade paler than that which made a great aureole on the pillow about the pale face of my "dear, pretty" mother.
Years afterwards—in Belgium—I bought an old medieval painting of a Madonna. That Madonna had a stiffness, a deadly pallor, a thinness of face incompatible with strict beauty. But on the thin lips there was a smile for which no word is lovely enough; and in the eyes was a pure and far-seeing look, hardly to be imagined except by one who painted (like Fra Angelico) upon his knees. The background (like that of many religious paintings of the date) was gilt. With such a look and such a smile my mother's face shone out of the mass of her golden hair the day she died. For this I bought the picture; for this I keep it still.
But to go back.
I liked Mrs. Bundle. I had taken to her from the evening when she arrived in a red shawl, with several bandboxes.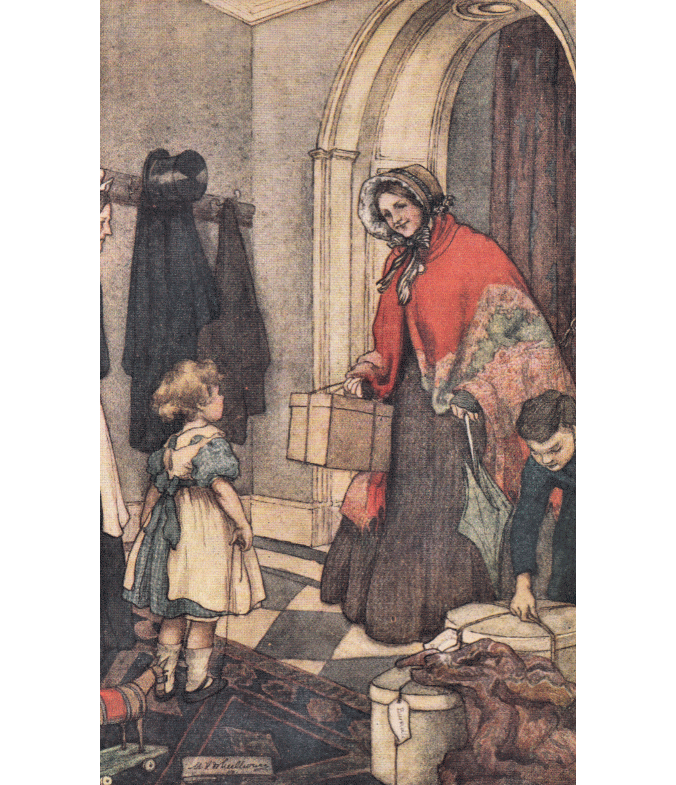 Mrs. Bundle
My affection for her was established next day, when she washed my face before dinner. My own nurse was bony, her hands were all knuckles, and she washed my face as she scrubbed the nursery floor on Saturdays. Mrs. Bundle's plump palms were like pincushions, and she washed my face as if it had been a baby's.
On the evening of the day when I first saw Sister Alice, I took tea in the housekeeper's room. My nurse was out for the evening, but Mrs. Cadman from the village was of the party, and neither cakes nor conversation flagged. Mrs. Cadman had hollow eyes, and (on occasion) a hollow voice, which was very impressive. She wore curl-papers continually, which once caused me to ask my nurse if she ever took them out.
"On Sundays she do," said Nurse.
"She's very religious then, I suppose," said I; and I did really think it a great compliment that she paid to the first day of the week.
I was only just four years old at this time—an age when one is apt to ask inconvenient questions and to make strange observations—when one is struggling to understand life through the mist of novelties about one, and the additional confusion of falsehood which it is so common to speak or to insinuate without scruple to very young children.
The housekeeper and Mrs. Cadman had conversed for some time after tea without diverting my attention from the new box of bricks which Mrs. Bundle (commissioned by my father) had brought from the town for me; but when I had put all the round arches on the pairs of pillars, and had made a very successful "Tower of Babel" with cross layers of the bricks tapering towards the top, I had leisure to look round and listen.
"I never know'd one with that look as lived," Mrs. Cadman was saying, in her hollow tone. "It took notice from the first. Mark my words, ma'am, a sweeter child I never saw, but it's too  good and too  pretty to be long for this world."
It is difficult to say exactly how much one understands at four years old, or rather how far one quite comprehends the things one perceives in part. I understood, or felt, enough of what I heard, and of the sympathetic sighs that followed Mrs. Cadman's speech, to make me stumble over the Tower of Babel, and present myself at Mrs. Cadman's knee with the question—
"Is mamma too pretty and good for this world, Mrs. Cadman?"
I caught her elderly wink as quickly as the housekeeper, to whom it was directed. I was not completely deceived by her answer.
"Why, bless his dear heart, Master Reginald. Who did he think I was talking about, love?"
"My new baby sister," said I, without hesitation.
"No such thing, lovey," said the audacious Mrs. Cadman; "housekeeper and me was talking about Mrs. Jones's little boy."
"Where does Mrs. Jones live?" I asked.
"In London town, my dear."
I sighed. I knew nothing of London town, and could not prove that Mrs. Jones had no existence. But I felt dimly dissatisfied, in spite of a slice of sponge-cake, and being put to bed (for a treat) in papa's dressing-room. My sleep was broken by uneasy dreams, in which Mrs. Jones figured with the face of Mrs. Cadman and her hollow voice. I had a sensation that that night the house never went to rest. People came in and out with a pretentious purpose of not awaking me. My father never came to bed. I felt convinced that I heard the doctor's voice in the passage. At last, while it was yet dark, and when I seemed to have been sleeping and waking, waking and falling asleep again in my crib for weeks, my father came in with a strange look upon his face, and took me up in his arms, and wrapped a blanket round me, saying mamma wanted to kiss me, but I must be very good and make no noise. There was little fear of that! I gazed in utter silence at the sweet face that was whiter than the sheet below it, the hair that shone brighter than ever in the candlelight. Only when I kissed her, and she had laid her wan hand on my head, I whispered to my father, "Why is mamma so cold?"
With a smothered groan he carried me back to bed, and I cried myself to sleep. It was too true, then. She was too good and too pretty for this world, and before sunrise she was gone.
Before the day was ended Sister Alice left us also. She never knew a harder resting-place than our mother's arms.