Front Matter
---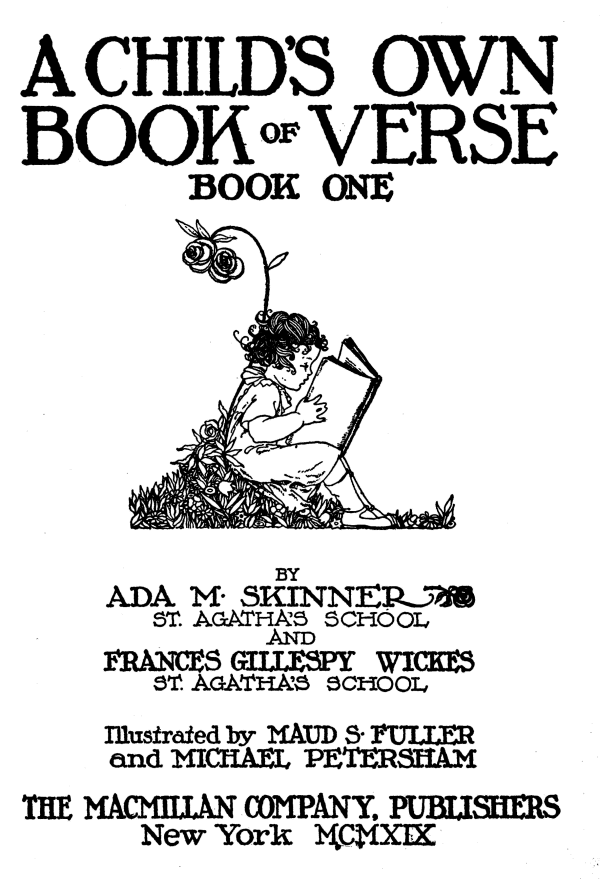 ---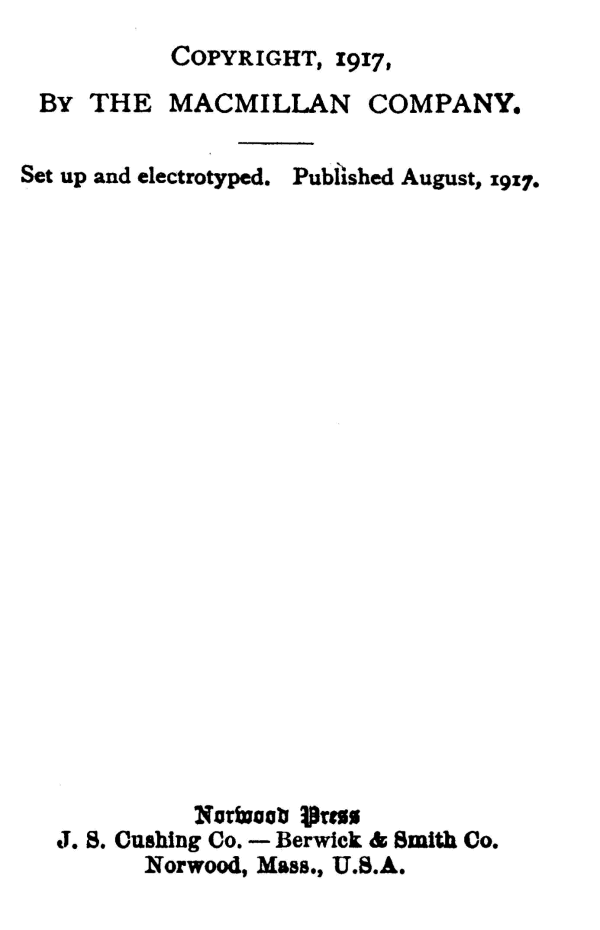 ---
Acknowledgments
Thanks are due to Charles Scribner's Sons for permission to use the poems, "One, Two, Three," by Henry C. Bunner, and "Rock-a-By Lady," by Eugene Field, and to Charles Scribner's Sons and Mr. Oliver Herford for permission to use "The Elf and the Dormouse"; to Mr. Fred E. Weatherly for permission to include one of his poems; to the Century Co. and Isabel Eccelstone Mackay for "Spring's Waking"; to the Century Co. and John Kendrick Bangs for permission to use "The Little Elfman"; to Longmans, Green, and Co. for permission to use "Bunches of Grapes," by Walter De La Mare; to John Lane and Co. for permission to use "The Peddler's Caravan," by William Brighty Rands; to the Page Co. and Laura E. Richards for permission to use "Little Brown Bobby," and "Peterkin Prout and Gregory Grout"; to Rand McNally Co. for permission to use "The Little Robin" and "Seven Little Chicks," by Wilhelmina Seegmuller; to Bossey and Co. and Madam Liza Lehmann for permission to use a poem by A. S. from "Bird Songs." The selections from Celia Thaxter, Edith M. Thomas, and Lucy Larcom are used by permission of and by special arrangement with Houghton Mifflin Co., the authorized publishers of their works.
---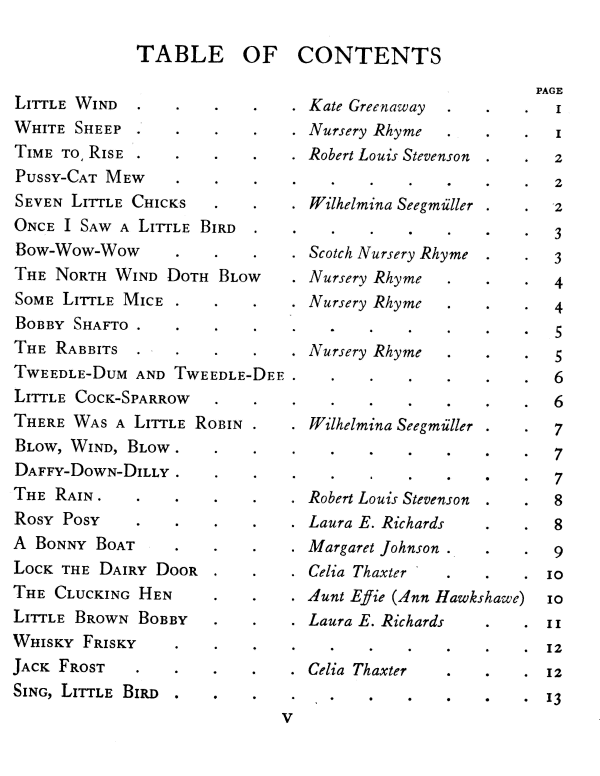 ---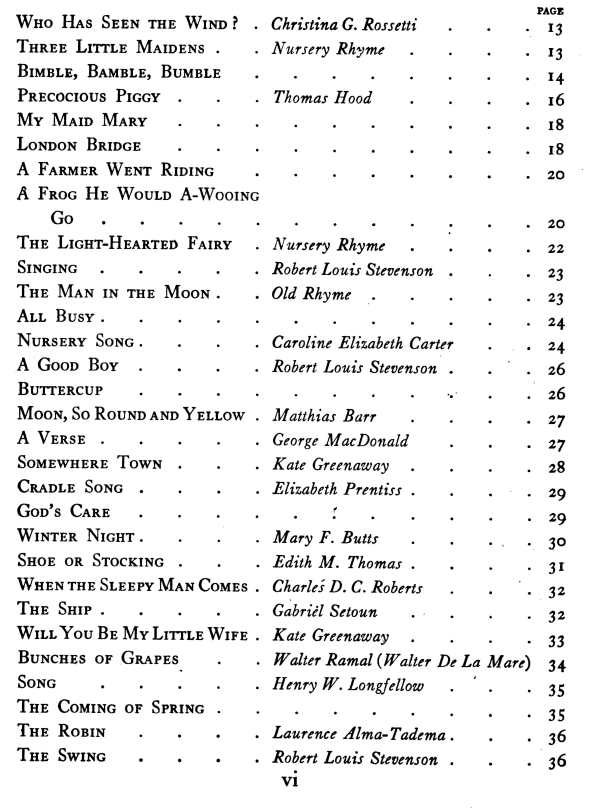 ---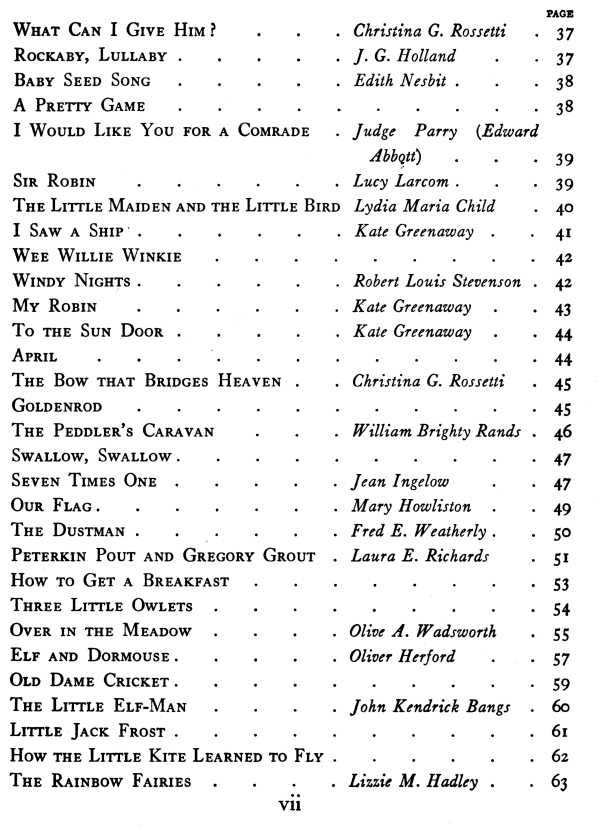 ---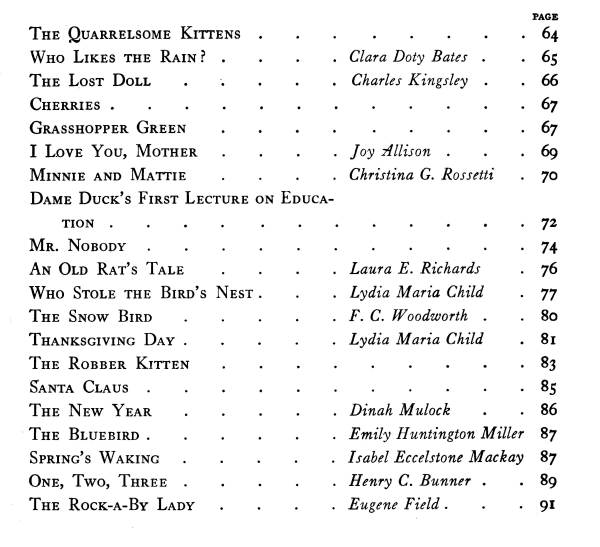 ---
Introduction
"I know not how it is that we need an interpreter, but the great majority of men seem to be . . . mutes, who cannot report the conversation they have had with nature." "The poet is the sayer, the namer, and represents beauty." "The poets are liberating gods. . . . They are free and make free."
(Poetry—Emerson.)
Then let us use the poets, wisely, freely, fully to liberate the souls of our children, to make them free.
Never were we in graver peril of forgetting our poets, of losing their liberating influence, of dulling, benumbing our sense of beauty than at present; for modern education, pressed by economic needs, confronted with industrial exigencies, dominated by the scientific spirit of the age which exults in marvels of mechanical invention, is rapidly tending to extol efficiency as its exclusive pursuit, forgetting the eternal need of beauty in human life, if man is to be more than a human mechanism, unmindful that starvation of the soul is more fatal than starvation of the body.
Poetry rather than prose is the language of childhood, Mother Goose is the child's first "liberating god." But with Mother Goose the process of liberation is only begun. Systematically should it be continued, throughout the whole period of education.
To facilitate the systematic use of poetry in the classroom, The Child's Own Book of Verse has been compiled. Attention is called to the fact that it is the child's own book, not the teacher's, because the child's interests have been a guiding principle of selection. Variations in taste and in temperament have prompted the inclusion of a wide variety of poems, not always classic in quality, that every "open sesame" to the great world of poetry might be offered.
The earliest appeal is to the ear through sound rhymes, jingles, rhythm. In the next stage sound rhymes and rhythm are connected with personal experience as in imitative poems, such as "The Wind." Next have been added poems in which thought plays an equal part with sound and rhythms as in lullabies and pure lyrics. These are followed by story-telling poems.
The Child's Own Book of Verse consists of three volumes planned for use during the four primary years.
Book One is made up of sound rhymes, lyrics, and story-telling poems.
Book Twp follows much the same plan. Less space is given to sound rhymes and more to lyrics and longer story-telling poems with the addition of a group of short descriptive poems.
Book Three has many of the features of the first and second books, but it contains, in addition, a larger group of descriptive poems, and many of the longer simple ballads are included.
It is hoped that by so constant and so thoughtful a use pf verse as these volumes suggest there may result a liberating of the sense of beauty, an instilling of an abiding love of poetry, the interpreter of beauty, and, it may be, a freeing of the power of poetic expression.
St. Agatha