Thornton W. Burgess

Bobby Coon Has a Bad Dream
Some dreams are good and some are bad;
Some dreams are light and airy;
Some dreams I think are woven by
The worst kind of a fairy.
D REAMS are such queer things, so very real when all the time they are unreal, that sometimes I think they must be the work of fairies,—happy dreams the work of good fairies and bad dreams the work of bad fairies. I guess you've had both kinds. I know I have many times. However, Bobby Coon says that fairies have nothing to do with dreams. Bobby ought to know, for he spends most of the winter asleep, and it is only when you are asleep that you have real dreams.
Bobby had kept awake as long as there was anything to eat, but when Jack Frost froze everything hard, and rough Brother North Wind brought the storm-clouds that covered the Green Forest with snow, Bobby climbed into his warm bed inside the big hollow chestnut tree which he called his, curled up comfortably, and went to sleep. He didn't care a hair of his ringed tail how cold it was or how Brother North Wind howled and shrieked and blustered. He was so fat that it made him wheeze and puff whenever he tried to hurry during the last few days he was abroad, and this fat helped to keep him warm while he slept, and also kept him from waking from hunger.
Bobby didn't sleep right straight through the winter as does Johnny Chuck. Once in a great while he would wake up, especially if the weather had turned rather warm. He would yawn a few times and then crawl up to his doorway and peep out to see how things were looking outside. Sometimes he would climb down from his home and take a little walk for exercise. But he never went far, and soon returned for another long nap.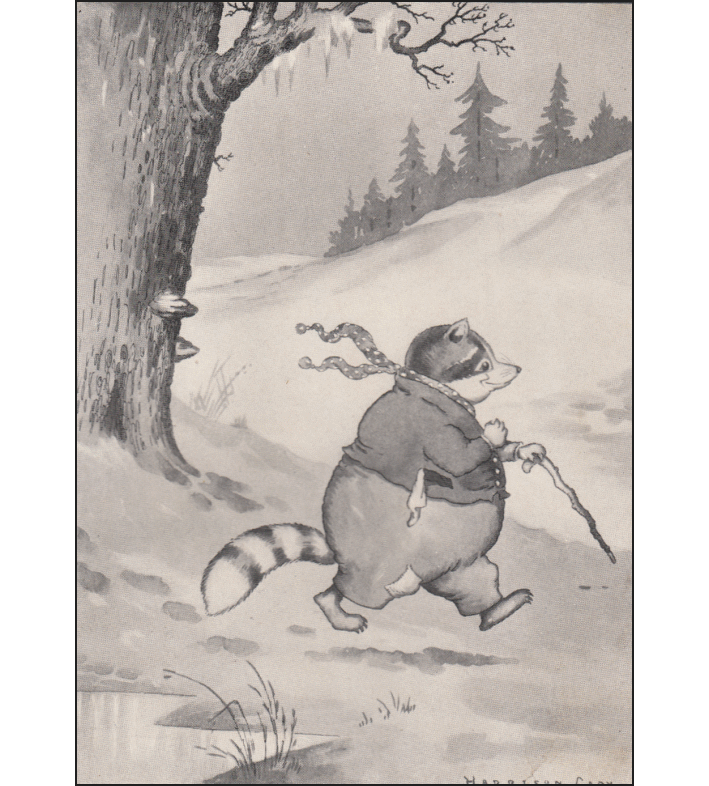 Sometimes he would climb down from his home and take a little walk for exercise.
As it began to get towards the end of winter his naps were shorter. He was no longer fat. In fact, his stomach complained a great deal of being empty. Perhaps you know what it is like to have a stomach complain that way. It is very disturbing. It gave Bobby no peace while he was awake, and when he was asleep it gave him bad dreams. Bobby knew very well that no fairies had anything to do with those dreams; they came from a bothersome, empty, complaining stomach and nothing else.
One day Bobby had the worst dream of all. He had prowled around a little the night before but had found nothing wherewith to satisfy his bothersome stomach. So he had gone back to bed very much out of sorts and almost as soon as he was asleep he had begun to dream. At first the dreams were not so very bad, though bad enough. They were mostly of delicious things to eat which always disappeared just as he was about to taste them. They made him grunt funny little grunts and snarl funny little impatient snarls in his sleep, you know.
But at last he began to have a really, truly, bad dream. It was one of the worst dreams Bobby ever had had. He dreamed that he was walking through the Green Forest, minding his own affairs, when he met a great giant. Being afraid of the great giant, he ran with all his might and hid in a hollow log. No sooner was he inside that hollow log than up came the great giant and began to beat on that hollow log with a great club. Every blow made a terrible noise inside that hollow log. It was like being inside a drum with some one beating it. It filled Bobby's ears with a dreadful roaring. It made his head ache as if it would split. It sent cold shivers all over him. It filled him with dreadful fear and despair. Yes, indeed, it was a bad dream, a very, very bad dream!