Anna B. Comstock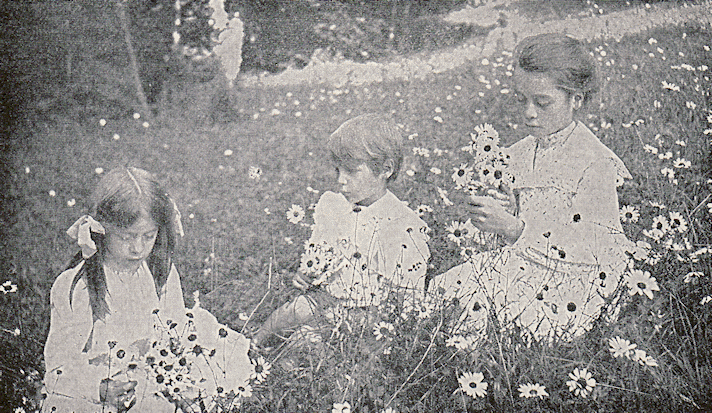 Gathering daisies. 

Photo by Verne Morton.
The White Daisy
Teacher's Story
Every child loves this flower, and yet it is not well understood; it is always at hand for study from June until the frosts have laid waste the fields. However much enjoyment we get from the study of this beautiful flower-head, we should study the plant as a weed also, for it is indeed a pest to those farmers who do not practice a rotation of crops. Its root is long and tenacious of the soil, and it ripens many seeds which mingle with the grass seed, and thus the farmer sows it to his own undoing. The bracts of the involucre, or the shingles of the daisy-house, are rather long, and have parchment like margins. They overlap in two or three rows. In the daisy flower-head, the banner-flowers are white; there may be twenty or thirty of these, making a beautiful frame for the golden-yellow disk-flowers. The banner is rather broad, is veined, and toothed at the tip. The banner-flower has a pistil which shows its two-parted stigma at the base of the banner, and it matures a seed. The disk-flowers are brilliant yellow, tubular, rather short, with the five points of the corolla curling back. The anther-tubes and the pollen are yellow, so are the stigmas. The arrangement of the buds at the center is exceedingly pretty. The flowers develop no pappus, and therefore the seeds have no balloons. They depend upon the ignorance and helplessness of man to scatter their seeds far and wide with the grass and clover seed, which he sows for his own crops. It was thus that it came to America, and in this manner still continues to flaunt its banners in our meadows and pastures. The white daisy is not a daisy, but a chrysanthemum. It has never been called by this name popularly, but has at least twenty other common names, among them the ox-eye daisy, moon-penny, and herb-Margaret.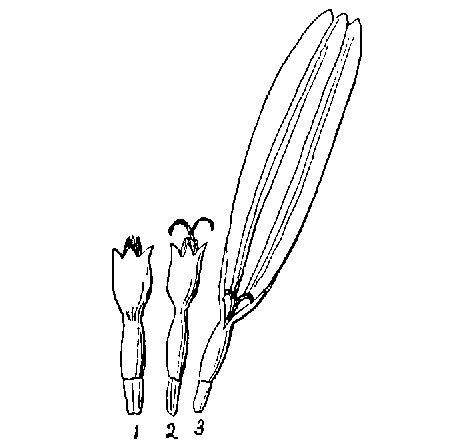 Daisy florets.

1. Disk-flower in pollen-stage;
2. Disk-flower in stigma stage;
3. Ray-flower. All enlarged.
Lesson CXXXVIII
The White Daisy
Leading thought—The white-daisy is not a single flower but is made up of many little flowers and should be studied by the outline given in Lesson CXXXV.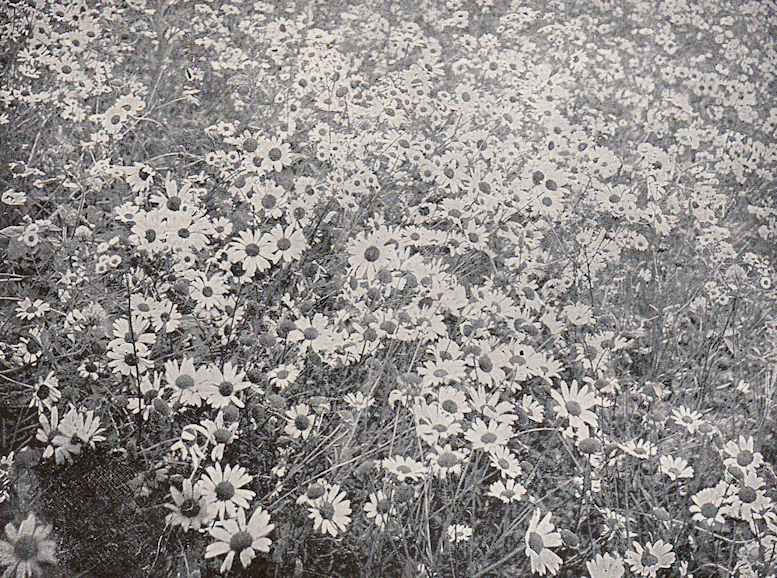 A daisy meadow.