Edward Eggleston

Washington Irving as a Boy
T HE Revolution was about over. Americans were very happy. Their country was to be free.
At this time a little boy was born in New York. His family was named Irving. What should this little boy be named?
His mother said, "Washington's work is done. Let us name the baby Washington." So he was called Washington Irving.
When this baby grew to be a little boy, he was one day walking with his nurse. The nurse was a Scotch girl. She saw General Washington go into a shop. She led the little boy into the shop also.
The nurse said to General Washington, "Please, your Honor, here is a bairn that is named for you."
"Bairn" is a Scotch word for child.
Washington put his hand on the little boy's head and gave him his blessing. When Irving became an author, he wrote a life of Washington.
Little Irving was a merry, playful boy. He was full of mischief.
Sometimes he would climb out of a window to the roof of his father's house. From this he would go to roofs of other houses. Then the little rascal would drop a pebble down a neighbor's chimney. Then he would hurry back and get into the window again. He would wonder what the people thought when the pebble came rattling down their chimney.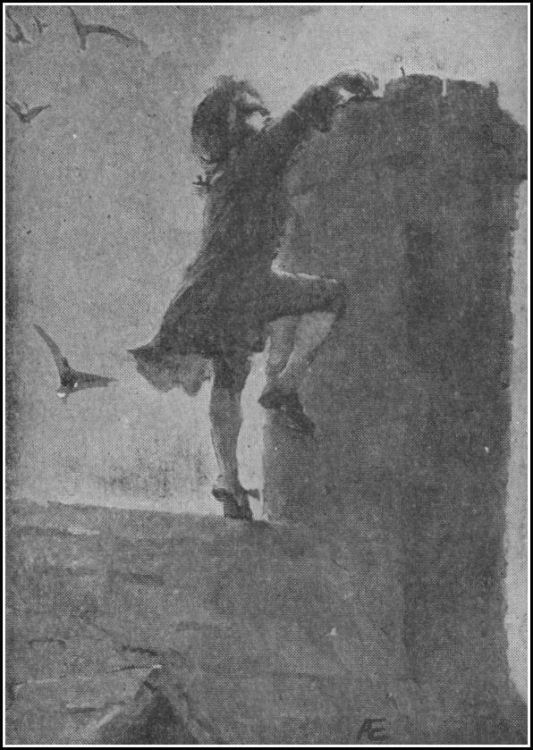 Irving in Mischief
Of course he was punished when his tricks were found out. But he was a favorite with his teacher. With all his faults, he would not tell a lie. The teacher called the little fellow "General."
In those days naughty school-boys were whipped. Irving could not bear to see another boy suffer. When a boy was to be whipped, the girls were sent out. Irving always asked the schoolmaster to let him go out with the girls.
Like other boys, Irving was fond of stories. He liked to read about Sindbad the sailor, and Robinson Crusoe. But most of all he liked to read about other countries. He had twenty small volumes called "The World Displayed." They told about the people and countries of the world. Irving read these little books a great deal.
One day the schoolmaster caught him reading in school. The master slipped behind him and grabbed the book. Then he told Irving to stay after school.
Irving expected a punishment. But the master told him he was pleased to find that he liked to read such good books. He told him not to read them in school.
Reading about other countries made Irving wish to see them. He thought he would like to travel. Like other wild boys, he thought of running away. He wanted to go to sea.
But he knew that sailors had to eat salt pork. He did not like salt pork. He thought he would learn to like it. When he got a chance, he ate pork. And sometimes he would sleep all night on the floor. He wanted to get used to a hard bed.
But the more he ate pork, the more he disliked it. And the more he slept on the floor, the more he liked a good bed. So he gave up his foolish notion of being a sailor boy.
Some day you will read Irving's "Sketch Book." You will find some famous stories in it. There is the story of Rip Van Winkle, who slept twenty years. And there is the funny story of the Headless Horseman. When you read these amusing stories, you will remember the playful boy who became a great author.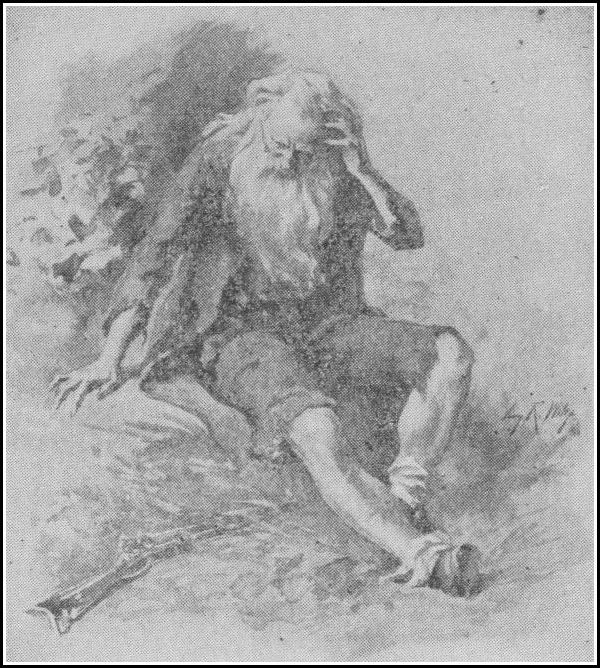 Rip Van Winkle wakes up.