Helene A. Guerber

Roman Amusements
T HE Romans by this time had entirely forgotten their old simple ways. As their lands increased with each new victory, so did their wealth and their pride. Instead of comprising only the city on the seven hills, and a few neighboring villages, the Roman republic now extended over most of Italy. The Roman provinces, moreover, which were governed by officers sent out from Rome, included large territories in Spain, Africa, and Asia Minor, besides Greece, Macedonia, and northern Italy.
From these conquered countries the Romans had brought home all the spoil they had been able to gather together. They thus had vessels of gold and silver, jewels of all kinds, fine cloths, beautiful furniture, and gems of painting and sculpture. They began to rival each other in the magnificence of their houses, and dress, and in their delicately spread tables.
There were more than three times as many slaves as freeborn citizens, owing to the many prisoners that were taken during these wars; so all the rich Romans had plenty of servants, and soon learned to be idle and hard to please.
Some of these slaves were far better educated than their masters; for, with the conquest of Greece, many teachers and philosophers had been brought from there to instruct the Roman children. These men taught their pupils how to read Greek, so that they could enjoy all the fine and interesting things which had been written in that language; for the Romans had been so busy fighting until now, that they had had no time to write histories, stories, poems, and plays of their own.
The Greek slaves, moreover, translated many of the masterpieces of their own literature into Latin, the language spoken by all the Romans. Thus the Romans soon learned all about the heroes of Greece, read the teachings of their philosophers, and listened to their tragedies and comedies, which were played in the Roman theaters.
From the countries they had conquered, the Romans had also brought back statues of the gods, and priests to serve them. These statues were later placed in a fine building, called the Pantheon, or home for all the gods, where the Romans worshiped them as well as their own divinities.
You have already heard that the Romans delighted in processions and shows, so you will easily understand that they encouraged their priests to celebrate the festivals of these foreign gods, too. Then the Romans themselves took part in all these processions with as much zest as if they had been in honor of their own gods.
Another change which had taken place was that the Romans had become harsher and more selfish. They had made war so long that they now delighted in cruelty and excitement. To satisfy this craving, they built great circuses, with raised seats all around the pit or arena, and came in throngs to watch their slaves fight against each other or against wild beasts.
To make the show more exciting, some of the rich citizens had their slaves carefully trained for these combats. As they fought with a short sword, which in Latin is called gladius,  they were known as gladiators, or swordsmen. These poor men were well fed, and comfortably housed, but only so that they might grow handsome and strong and excite more admiration when they appeared in the arena to fight. They were also taught to bow, and walk, and even to fall and die gracefully, so as to afford the cruel Romans still more pleasure.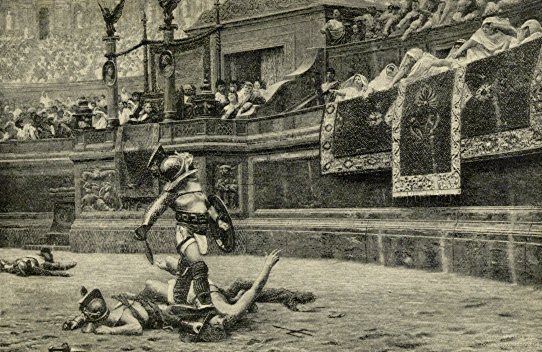 The Gladiator Condemned.
When a gladiator fell after a brave resistance, the people sometimes wished to save his life, so that he could recover and come and amuse them again. As a signal to his opponent to spare him, they clapped their hands and waved their handkerchiefs. But if the poor gladiator had failed to please them, they ruthlessly turned their thumbs down, and thus condemned him to instant death, which they viewed with great indifference.
Androclus, a slave, was once sent into the arena to fight a lion. The people were surprised to see the beast fawn upon, instead of attacking, him. But when Androclus explained that once when he was in the desert he had drawn a thorn out of the lion's paw, they were so pleased that they bade him go free, and gave him the lion.