Helene A. Guerber

Antony and Cleopatra
T HE victory at Philippi left Mark Antony, Lepidus, and Octavius masters of the Roman world. They soon made a new division of it, by which while Antony went to Asia, and Lepidus to Africa, Octavius staid in Rome.
Although these three men were apparently the best of friends, they really feared and hated one another, and their alliance could not last very long. Octavius, the most ambitious of the three, soon determined to become sole ruler. He knew that Lepidus was old and could easily be disposed of; but Mark Antony was so powerful that it was necessary to avoid open war for a long time.
On arriving in Asia, Antony's first care had been to summon Cleopatra, Queen of Egypt, to appear before him and answer to the accusation of having helped Brutus. Cleopatra obeyed; but, instead of judging her, Antony fell deeply in love with her.
To please this proud queen, he left his post in Asia, and went with her to Egypt, where he spent month after month at her side. His wife sent for him many times; and, as he did not come back, she at last stirred up a rebellion in Italy.
Before Antony could join her, the revolt had been put down; and he treated her so badly that she soon died of grief. Then Antony married Octavia, the sister of Octavius, and the two triumvirs joined forces against Sextus Pompey, the son of Pompey the Great; for this man had taken possession of Sicily, and was collecting a large fleet.
After some fighting, the two colleagues made peace with Sextus Pompey, but this peace was soon broken, and the war was renewed. Sicily, in time, fell into the hands of the triumvirs, and Pompey fled to Syria, where he was put to death by order of Antony.
The aged Lepidus was now recalled to Italy, where his share of the government was taken away from him. Instead of a province, he was given the office of chief pontiff, or high priest, of Rome, which he retained until he died.
Antony, in the mean while, had wended his way eastward again; and, instead of attending to his business in Asia, he once more joined Cleopatra in Egypt. In spite of his wife's letters and of the threats of Octavius, Antony lingered there year after year. Such was the influence which Cleopatra won over him that he even divorced his wife Octavia, and married the Egyptian queen.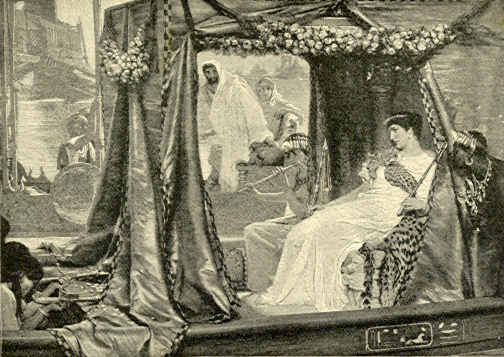 Antony and Cleopatra.
Octavius had been longing for a good excuse to make war against Antony; for, as you know, he wished to be the only head of the government. He therefore pretended to be very angry because Antony had divorced Octavia, and he made ready a large army.
While Octavius was gathering troops, and manning his fleet, Antony staid with Cleopatra, and thought of nothing but pleasure and feasting. He gave magnificent banquets in her honor, and it was at one of these feasts that the Egyptian queen once dissolved a priceless pearl in vinegar, and swallowed it, merely to be able to say that no one had ever quaffed so costly a drink as she.
Forced at last to meet Octavius, who was coming with a large fleet, Antony and Cleopatra sailed to Actium, where a great naval battle took place. The combined fleets of Antony and Cleopatra were very large indeed; but Octavius won a glorious victory.
Cleopatra had come in her gilded galley, with its sails of purple silk and a richly dressed crew. But as soon as the fighting began, she was so frightened that she turned and fled. When Antony saw her galley sailing away, he forgot honor and duty, and quickly followed her, leaving his people to end the battle as best they could.