Helene A. Guerber

Pyrrhus and His Elephants
A LTHOUGH defeated in three separate wars, the Samnites were not entirely subdued. They knew, however, that they would never be able to conquer Rome alone; so they began to look about them for a very strong ally.
South of their country, and near the sea, were several cities founded by Greek colonies which had come there many years before. These cities were rich and thriving, and so powerful that their alliance was sought after by many of the Italian towns and tribes.
One of the strongest of the Greek cities was Tarentum, situated on what is now called the Gulf of Taranto. The Samnites, therefore, turned to this city for aid, and soon entered into an alliance with it. They knew that the people of Tarentum had earned most of their money by trading, and that they had a great many ships, and cruised all about the Mediterranean Sea.
Not long after the alliance had been formed between the Samnites and Tarentines, the Romans complained that their vessels had been attacked by Tarentine sailors, and asked redress. The Greek city refused to apologize or to pay damages; so the quarrel between the two parties ended in a declaration of war.
But the people of Tarentum did not feel strong enough, even with the aid of the Samnites, to meet the Roman army; and they asked for help from Epirus, a Greek country on the other side of the Adriatic Sea.
Pyrrhus, the King of Epirus, was a brave man and a good general. His greatest ambition was to imitate Alexander the Great, and to conquer the whole world. He therefore thought that this would be an excellent chance to begin, and sent a large army over to Italy.
To complete the treaty of alliance with Tarentum, he also sent a man named Cineas, who was famous for his eloquence, and who was a pupil of the great orator, Demosthenes. Pyrrhus himself soon came over to Italy, where he proudly viewed his force of twenty-five thousand men, and his elephants which were trained for fighting.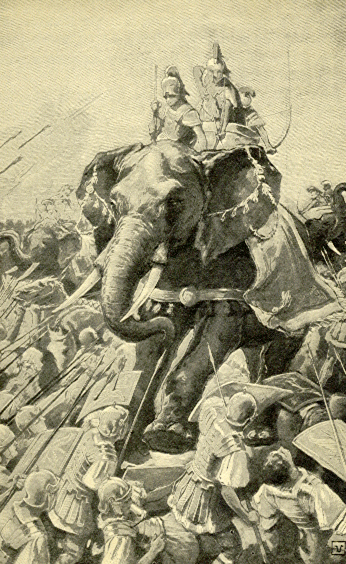 Pyrrhus and his Elephants.
Upon arriving in southern Italy, Pyrrhus gazed with contempt upon the Tarentines. He despised them because they hired soldiers to do their fighting for them, and spent all their days in eating and lounging, and in attending the baths or the theaters.
Pyrrhus therefore told them that unless they hardened themselves by exercise, they would never be able to fight; and he ordered both baths and theaters to be closed. Next he tried to drill them, and to make them as good warriors as his own soldiers, whom he formed into a phalanx as the great Alexander of Macedon had done with his troops.
Now, although the people of southern Italy were so weak and indolent, Pyrrhus knew that the Romans were foes worthy of him. He had often heard of their fighting, and he suspected that the Roman legions were a match even for the Macedonian phalanx.
Both sides were therefore very anxious to win; and when the armies met at Heraclea, there was a terrible battle. The Romans had never seen any elephants before, and they were terrified when they heard these animals trumpet, and saw them catch the soldiers up with their trunks, dash them down, and crush them under their huge feet.
In spite of their fear the Romans fought with the utmost valor, but they were finally forced to retreat. They lost fifteen thousand men on this disastrous day, and eighteen hundred were made prisoners.
Pyrrhus won a victory, but he was obliged to pay for it very dearly, and lost so many soldiers that he was heard to exclaim: "One more victory like this, and I shall have to go home without any army."
As he was the victor, he remained on the battlefield, and on the next day he walked all over it. The ground was strewn with the dead, but every Roman soldier had evidently perished from a wound in front, which proved that there was not a single coward among them.
Pyrrhus was so struck with admiration at this circumstance, and at the sight of all those faces, which even in death bore the expression of stern resolve, that he exclaimed aloud:
"Ah, how easily I could conquer the world, had I the Romans for soldiers, or if they had me for king!"