John H. Haaren

William Pitt
(1708–1778)
While Frederick the Great was making Prussia a prominent European power, the elder William Pitt, first Earl of Chatham, was making England great.
He held the office of prime minister only once, and that for not more than two years; but his wisdom and uprightness gave him such influence that he was the real ruler of the country for many years.
He was born in 1708, in the southwestern part of England, his father being a country gentleman of prominent family and considerable wealth.
The childhood of the future statesman was passed amid rural scenes and pleasures. As a boy he was remarkably fond of books; and by his careful attention to study he gratified both his parents and his teachers.
He was also a lover of sports and games. This, however, did not prevent his suffering, even during his school days, from attack of gout, a disease which he inherited.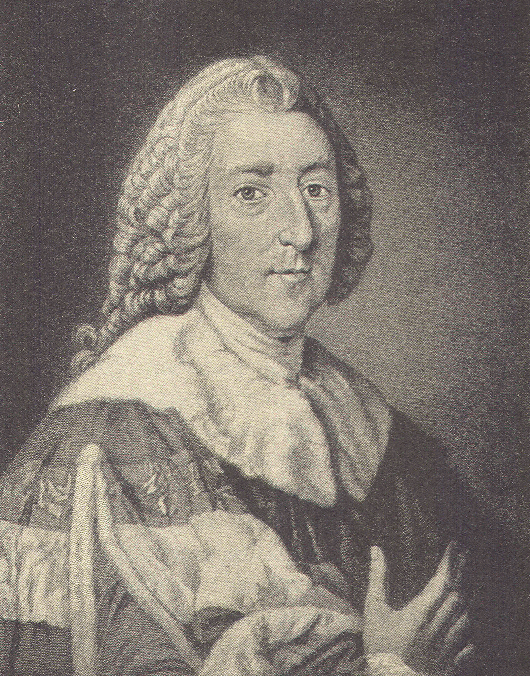 William Pitt
When he entered Trinity College, Oxford, few students of his age were so well-read. But owing to his lack of robust health he was obliged to leave the university, without taking his degree. Going to the continent, he spent two years in travel and study in France and Italy. He then returned to England, and secured an officer's commission in a regiment of dragoons.
He soon discovered that he had made a mistake in choosing the army as a profession. He saw that his best work could be done in public life.
The young officer immediately began to take steps to secure a public position. Fortunately, the right of representing the borough of Old Sarum belonged to his family, and thus he was enabled to become a member of Parliament.
His speeches in the House of Commons were forcible and at times very eloquent. One day he spoke against a measure proposed by Horace Walpole, then prime minister of England. Walpole was so offended at the strong language of Pitt that he had the latter dismissed from the army, with which he had not as yet severed his connection.
"Now I shall turn my energies wholly to politics," Pitt said to his friends. "I am really glad Walpole has prevented my remaining in the army. I am not in any way fitted to be a soldier."
From the time that Pitt entered Parliament to the last day of his life he was devoted to public affairs. He quickly showed that he had great genius for political management.
There was no orator in the House of Commons whose speeches commanded so much attention. But the source of his power was no mystery. It was the simple fact that he invariably advocated measures which he believed to be for the benefit of the people.
After some experience in political life he was chosen a member of the Cabinet, and though he was not nominally prime minister, he was really at the head of the government. Nearly all its important measures were suggested by him.
He ventured, on one occasion, to oppose the wishes of King George II, and consequently was obliged to resign his position. But the king found it impossible to carry on the government without him. The people demanded that he should return to office, and within a few months he was recalled.
The condition of England at this time was one of feebleness. Pitt put the army and navy into such a condition that during the famous "Seven Years' War" in which England, as the ally of Frederick the Great, was at war with France, the latter country was forced to cede to England most valuable possessions both in America and India.
Pitt inspired England with national enthusiasm. It was during the years 1756–1761 that he had the fullest opportunity to show his surpassing qualities. His wise choice of men like Wolfe in Canada and Clive in India, and his vigorous measures in the management of foreign affairs, made England respected in every part of the world.
The people called him the "great commoner," because, up to this time, he was without a title of nobility. Never before had so great a leader of public affairs appeared in England.
The young king was obstinate. He was determined to be "a real king," as he said. So one day when Pitt advised that war should be declared against Spain, which had made an alliance with France, the great enemy of England, the king and his council refused to agree to such a war. Pitt then decided to give up his office and have nothing further to do with the management of the government.
The king received his resignation calmly, and made no request to Pitt to remain in office; nevertheless, he granted him a pension of fifteen thousand dollars a year.
After his retirement from office, Pitt remained in the House of Commons; and was, as he had so long been, its foremost member. His eloquent voice was constantly heard in the debates, and his word had influence not only with Parliament, but with the whole nation.
Twice he was urged to take part in the government but refused. At last, in 1766, King George invited him to choose a ministry to suit himself, and Pitt accepted the invitation.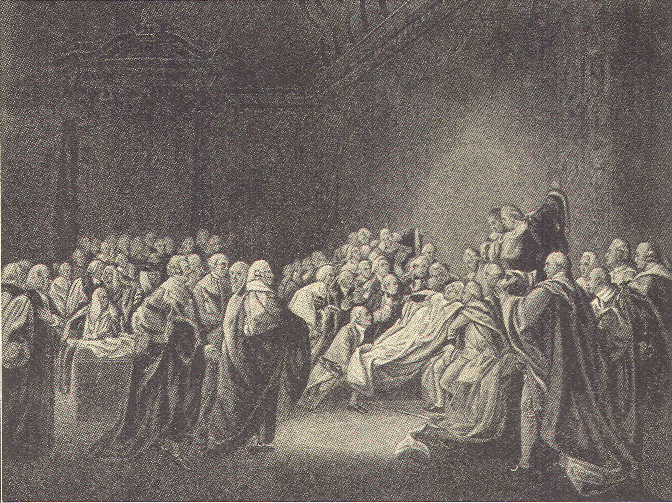 Death of William Pitt.
In the new ministry he selected for himself the office of Privy Seal, with a seat in the House of Lords as Viscount Pitt and Earl of Chatham. His acceptance of a title lost him at first considerable popularity; but his continued devotion to the people's interests, even as a member of the nobility, eventually restored public confidence.
He ceased to be prime minister in 1768 and was succeeded in that office by Lord North.
Like Burke, he denounced in the most fearless manner the arbitrary and unjust measures of the government of Lord North toward the American colonies. He insisted that the colonists were entitled to all the rights of British subjects; and urged in the warmest way that the difficulties between them and the government should be amicably settled.
The name of Pittsburg, in Pennsylvania, was given by his American admirers to commemorate his efforts in behalf of the rights of his colonial fellow citizens.
When he died, in May 1778, the entire English nation, in the colonies as well as at home, mourned with genuine grief. He had been a patriot and a statesman—not a mere politician.