Jeanie Lang

"Charlie Gordon"
Sixty years ago, at Woolwich, the town on the Thames where the gunners of our army are trained, there lived a mischievous, curly-haired, blue-eyed boy, whose name was Charlie Gordon.
The Gordons were a Scotch family, and Charlie came of a race of soldiers. His great-grandfather had fought for King George, and was taken prisoner at the battle of Prestonpans, when many other Gordons were fighting for Prince Charlie. His grandfather had served bravely in different regiments and in many lands. His father was yet another gallant soldier, who thought that there was no life so good as the soldier's life, and nothing so fine as to serve in the British army. Of him it is said that he was "kind-hearted, generous, cheerful, full of humour, always just, living by the code of honour," and "greatly beloved." His wife belonged to a family of great merchant adventurers and explorers, the Enderbys, whose ships had done many daring things on far seas.
Charlie Gordon's mother was one of the people who never lose their tempers, who always make the best of everything, and who are always thinking of how to help others and never of themselves.
So little Charlie came of brave and good people, and when he was a very little boy he must have heard much of his soldier uncles and cousins and his soldier brother, and must even have seen the swinging kilts and heard the pipes of the gallant regiment that is known as the Gordon Highlanders.
Charles George Gordon was born at Woolwich on the 28th January 1833, but while he was still a little child his father, General Gordon, went to hold a command in Corfu, an island off the coast of Turkey, at the mouth of the Adriatic Sea. The Duke of Cambridge long afterwards spoke of the bright little boy who used to be in the room next his in that house in Corfu, but we know little of Charles Gordon until he was ten years old. His father was then given an important post at Woolwich, and he and his family returned to England.
Then began merry days for little Charlie.
In long after years he wrote to one of his nieces about the great building at Woolwich where firearms for the British army are made and stored: "You never, any of you, made a proper use of the Arsenal workmen, as we did. They used to neglect their work for our orders, and turned out some splendid squirts—articles that would wet you through in a minute. As for the cross-bows they made, they were grand with screws."
There were five boys and six girls in the Gordon family. Charlie was the fourth son, and two of his elder brothers were soldiers while he was still quite a little lad. It was in his holidays that the Arsenal was his playground, for on the return from Corfu he was sent to school at Taunton, where you may still see his initials, "C.G.G.", carved deep on the desk he used.
At school he did not seem to be specially clever. He was not fond of lessons, but he drew very well, and made first-rate maps. He was always brimful of high spirits and mischief, and ready for any sort of sport, and the people of Woolwich must have sighed when Charlie came home for his holidays.
One time when he came he found that his father's house was overrun with mice. This was too good a chance to miss. He and one of his brothers caught all the mice they could, carried them to the house of the commandant of the garrison, which was opposite to theirs, gently opened the door, and let the mice loose in their new home.
Once, with the screw-firing cross-bows that the workmen at the Arsenal had made for them, the wild Gordon boys broke twenty-seven panes of glass in one of the large warehouses of the Arsenal. A captain who was in the room narrowly escaped being shot, one of the screws passing close to his head and fixing itself into the wall as if it had been placed there by a screwdriver.
Freddy, the youngest of the five boys, had an anxious, if merry, time when his big brothers came back from school. With them he would ring the doorbells of houses till the angry servants of Woolwich seemed for ever to be opening doors to invisible ringers. Often, too, little Freddy would be pushed into a house, the bell rung by his mischievous brothers, and the door held, so that Freddy alone had to face the surprised people inside.
But the wildest of their tricks was one that they played on the cadets at Woolwich—the big boys who were being trained to be officers of artillery. "The Pussies" was the name they went by, and it was on the most grown up of the Pussies that they directed their mischief. The senior class of cadets was then stationed in the Royal Arsenal, in front of which were earthworks on which they learned how to defend and fortify places in time of war. All the ins and outs of these earthworks were known to Charlie Gordon and his brothers. One dark night, when a colonel was lecturing to the cadets, a crash as of a fearful explosion was heard. The cadets, thinking that every pane of glass in the lecture hall was broken, rushed out like bees from a hive. They soon saw that the terrific noise had been made by round shot being thrown at the windows, and well they knew that Charlie Gordon was sure to be at the bottom of the trick. But the night was dark, and Charlie knew every passage of the earthworks better than any big cadet there. Although there were many big boys as hounds and only two little boys as hares, the Gordons easily escaped from the angry cadets. For some time afterwards they carefully kept away from the Arsenal, for they knew that if the "Pussies" should catch them they need expect no mercy.
From Taunton Charlie went for one year to be coached for the army at a school at Shooters Hill. From there, when he was not quite sixteen, he passed into the Royal Military Academy at Woolwich.
As a cadet, Charlie Gordon was no more of a book-worm than he had been as a schoolboy. There was no piece of mischief, no wild prank, that that boy with the curly fair hair and merry blue eyes did not have a share in. But if he fairly shared the fun, Charlie would sometimes take more than his fair share of blame or punishment. He was never afraid to own up, and he was always ready to bear his friends' punishment as well as his own for scrapes they had got into together. Of course he got into scrapes. There was never a boy that was full of wild spirits who did not. But Charlie Gordon never got into a scrape for any thoughtless mischief and naughtiness. He never did anything mean, never anything that was not straight, and true, and honourable.
He had been at the Academy for some time, and had earned many good-conduct badges, when complaint was made of the noise and roughness with which the cadets rushed down the narrow staircase from their dining-room. One of the senior cadets, a corporal, was stationed at the head of this staircase, his arms outstretched, to prevent the usual wild rush past. The sight of this severe little officer was too great a temptation for Charlie Gordon. Down went his head, forward he rushed, and the corporal was butted not only downstairs, but right through the glass door beyond. The corporal's body escaped unhurt, but his feelings did not, and Charlie was placed under arrest, and very nearly expelled from the College.
When his term at Woolwich was nearly over, a great deal of bullying was found to be going on, and the new boys were questioned about it by the officers in charge. One new boy said that Charlie Gordon had hit him on the head with a clothes-brush—"not a severe blow," he had to own. But Charlie's bear-fighting had this time a hard punishment, for he was put back six months for his commission.
Until then he had meant to be an officer of Artillery—a "gunner," as they are called. Now he knew that he would always be six months behind his gunner friends, and so decided to work instead for the Engineers, and get his commission as a "sapper."
At college, as well as at school, his map-drawing was very good, and his mother was very proud of what he did. One day he found her showing some visitors a map he had made. His hatred of being praised for what he thought he did not deserve, and his hot temper, sprang out together, and he tore up the map and threw it in the grate.
But almost at once he was sorry for his rudeness and unkindness, and afterwards he carefully pasted the torn pieces of the map together for his mother.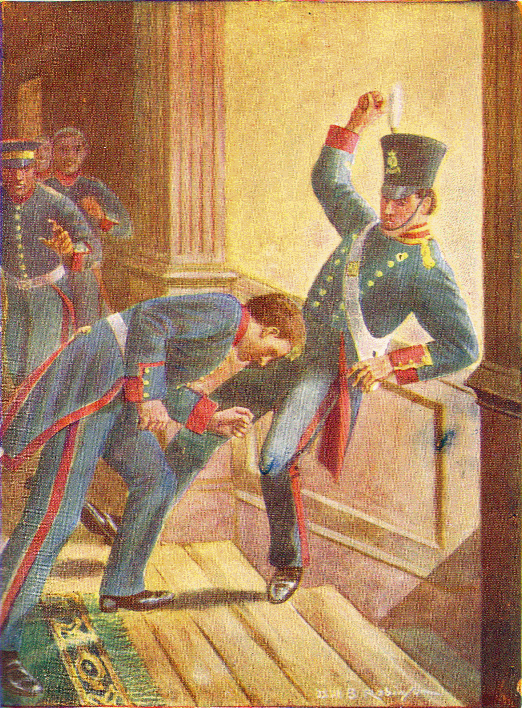 The Corporal was Butted Downstairs.
"How my mother loved me!" he wrote of her long years afterwards.
His hot temper was sometimes shown to his officers. He would bear more than his share of blame when he felt that he deserved it, but when he felt that blame was undeserved, his temper would flash out in a sudden storm.
One of his superiors at Woolwich once said, scolding him,—"You will never make an officer."
Charlie's honour was touched. His temper blazed out, and he tore off his epaulettes and threw them at the officer's feet.
He always hated his examinations, yet he never failed to pass them.
When he was fifty years old, he wrote to his sister,—"I had a fearful dream last night: I was back at the Academy, and had to pass an examination! I was wide awake enough to know I had forgotten all I had ever learnt, and it was truly some time ere I could collect myself and realise I was a general, so completely had I become a cadet again. What misery those examinations were!"
When he was nineteen, Charlie Gordon became Sub-Lieutenant Charles Gordon of the Royal Engineers.
From Woolwich he went to Chatham, the headquarters of the Royal Engineers, to have some special training as an Engineer officer.
There he found his cleverness at map-drawing a great help in his work, and for nearly two years he worked hard at all that an officer of Engineers must know, and soon he was looked on as a very promising young officer.
In February 1854, he gained the rank of full lieutenant, and was sent to Pembroke Dock to help with the new fortifications and batteries that were being made there.
Whatever Charlie Gordon did, he did with all his might, and he was now as keen on making plans and building fortifications, as he had once been in planning and playing mischievous tricks.
When he returned to Pembroke thirty years later, an old ferryman there remembered him.
"Are you the gent who used to walk across the stream right through the water?" he asked.
And all through his life no stream was too strong for Gordon to face.
Gordon had not been long at Pembroke when a great war broke out between Russia on one side, and England, France, and Turkey on the other. It was fought in a part of Russia called the Crimea, and is known as the Crimean War.
The two elder Gordons, Henry and Enderby, were out there with their batteries, and, like every other keen young soldier, Charlie Gordon was wild to go.
After a few months at Pembroke, orders came for him to go to Corfu. He suspected his father of having managed to get him sent there to be out of harm's way.
"It is a great shame of you," he wrote. But very shortly afterwards came fresh orders, telling him to go to the Crimea without delay.
A general whom he had told how much he longed to go where the fighting was, had had the orders changed.
On the 4th December 1854 his orders came to Pembroke. Two days later he reported himself at the War Office in London, and on the evening of the same day he was at Portsmouth, ready to sail. At first it was intended that he should go out in a collier, but that arrangement was altered. Back he came to London, and went from there to France.
At Marseilles he got a ship to Constantinople, and just as fearlessly and as happily as he had ever gone on one of his mischievous expeditions as a little boy, Charlie Gordon went off to face hardships, and dangers, and death in the Crimea, and to learn his first lessons in war.