James Otis

The Accident
Captain Smith had gone up the bay in the hope of soothing the trouble among the savages, and, failing in this effort, was returning, having got within four and twenty hours' journey of Jamestown, when the pinnace was anchored for the night.
The boat's company lay down to sleep, and then came that accident, if accident it may be called, the cause of which no man has ever been able to explain to the satisfaction of Master Hunt or myself.
Captain Smith was asleep, with his powder bag by his side, when in some manner it was set on fire, and the powder, exploding, tore the flesh from his body and thighs for the space of nine or ten inches square, even down to the bones.
In his agony, and being thus horribly aroused from sleep, hardly knowing what he did, he plunged overboard as the quickest way to soothe the pain. There he was like to have drowned but for Samuel White, who came near to losing his own life in saving him.
He was brought back to the town on the day before the ships of the fleet, which had brought so many quarrelsome people, were to sail for England. With no surgeon to dress his wounds, what could he do but depart in one of these ships with the poor hope of living in agony until he arrived on the other side of the ocean.
Nathaniel and I would have gone with him, willing, because of his friendship for us, to have served him so long as we lived. He refused to listen to our prayers, insisting that we were lads well fitted to live in a new land like Virginia, and that if we would but remain with Master Hunt, working out our time of apprenticeship, which would be but five years longer, then might we find ourselves men of importance in the colony. He doubted not, so he said, but that we would continue, after he had gone, as we had while he was with us.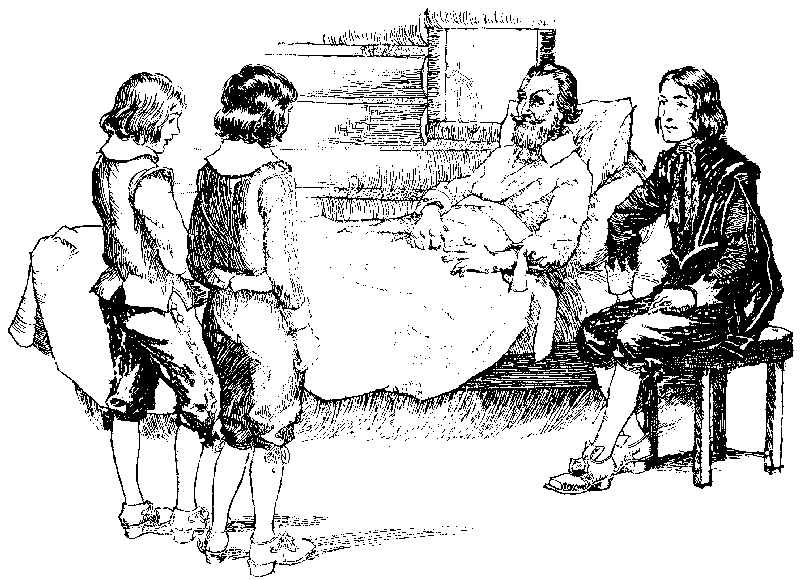 What could we lads do other than obey, when his commands were laid upon us, even though our hearts were so sore that it seemed as if it would no longer be possible to live when he had departed?
Even amid his suffering, when one might well have believed that he could give no heed to anything save his own plight, he spoke to us of what we should do for the bettering of our own condition. He promised that as soon as he was come to London, and able to walk around, if so be God permitted him to live, he would seek out Nathaniel's parents to tell them that the lad who had run away from his home was rapidly making a man of himself in Virginia, and would one day come back to gladden their hearts.