James Otis

Captain Smith Gains Authority
There was but little idle talk made by the members of the Council in deciding that Master Wingfield should be deprived of his office, and Master Ratcliffe set in his place.
Captain Smith was called upon to take his proper position in the government, and, what was more, to him they gave the direction of all matters outside the town, which was much the same as putting him in authority over even the President himself.
It was greatly to my pleasure that Captain Smith lost no time in exercising the power which had been given him. Nor was he at all gentle in dealing with those men who disdained to soil their hands by working, yet were willing to spend one day, and every day, searching for gold, without raising a finger toward adding to the general store, but at the same time claiming the right to have so much of food as would not only satisfy their hunger, but minister to their gluttony.
Nathaniel and I heard our master talking over the matter with the preacher, on the night the Council had given him full charge of everything save the dealings which might be had later with the London Company, therefore it was that we knew there would be different doings on the morrow.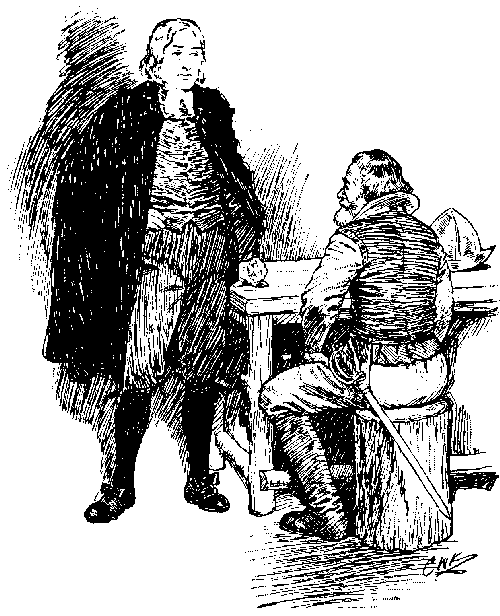 Greatly did we rejoice thereat, for Jamestown had become as slovenly and ill-kempt a village as ever the sun shone upon.
Now it must be set down that these gentlemen of ours, when not searching for gold, were wont to play at bowls in the lanes and paths, that they might have amusement while the others were working, and woe betide the serving man or laborer, who by accident interfered with their sports.
On this day, after the conversation with Master Hunt, all was changed. Captain Smith began his duties as guardian and director of the village by causing it to be proclaimed through the mouth of Nicholas Skot, our drummer, that there would be no more playing at bowls in the streets of Jamestown while it was necessary that very much work should be performed, and this spoken notice also stated, that whosoever dared to disobey the command should straightway be clapped into the stocks.