James Otis

Reading the London Company's Orders
An hour later, when those who had just come from the shore had been refreshed with food, I noted with much of anxiety that all the gentlemen of the company, not only such as belonged on board the Susan Constant, but those from the Speedwell, gathered in the great cabin of our ship, and, looking out ever so cautiously, while the door of Captain Smith's room was ajar, I saw them gather around the big table on which, as if it were something of greatest value, was placed a box made of some dark colored wood.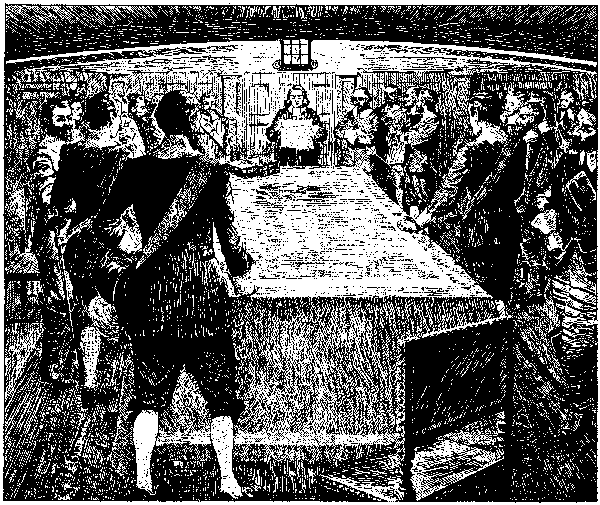 It was Master Hunt who opened this, and, taking out a paper, he read in a voice so loud that even my master, as he lay in his narrow bed, could hear the names of those who were chosen by the London Company to form the Council for the government of the new land of Virginia.
These are the names as he read them: Bartholomew Gosnold, Edward Wingfield, Christopher Newport, John Smith, John Ratcliffe, John Martin and George Kendall.
My heart seemingly leaped into my throat with triumph when I thus heard the name of my master among those who were to stand as leaders of the company, and so excited had I become that that which Master Hunt read from the remainder of the paper failed to attract my attention.
I learned afterward, however, that among the rules governing the actions of this Council, was one that a President should be chosen each year, and that matters of moment were to be determined by vote of the Council, in which the President might cast two ballots.