Mara L. Pratt

The Confederate States
The States that first withdrew from the Union were States farthest removed from the North. These States supposed that all the other slave States would at once join with them in their Confederacy. Those States which were farther north, nearer the Northern States, had more of the neighborly feeling than the first seceding States had ever dreamed of. In those States, Unionists and Confederates dwelt side by side, and in their legislatures, Unionists and Confederates voted side by side. So you see it was not so easy after all to pass "Secession" laws in these States.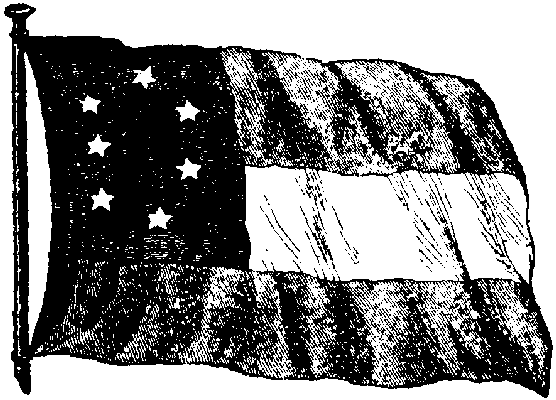 The Confederate Flag
Virginia was the first State to join the seven that had banded together to form their Confederacy. "Hurrah! hurrah!" cried the Confederates, "Virginia, Old Virginia, Virginia the mother of the Presidents, the home of George Washington, has joined us!"
But the Confederate joy was dampened a little when the western part of Virginia rose in rebellion, and said she would not belong to a secession State. This western Virginia held meetings, withdrew from the State, appealed to Congress, and, as a reward for her loyalty to the Union, was set off a State by herself, known ever after as "West Virginia."
Soon Arkansas joined the Confederacy; then followed North Carolina, then Tennessee. It is believed that Tennessee would not have seceded, had the Unionists not been threatened with "bullets and cold steel" if they dared say one word against the South, in the convention which was to be held in that State.
Kentucky and Missouri wished to have nothing to do with either side. They would stand by the Union, but they would not fight the South. Maryland, awed by the prompt action of Butler, was kept in the Union. Delaware, loyal little State that she was, and cautious too, preferred to stay where she was in comfort, rather than to join so uncertain a movement as this surely seemed to be.
The Confederacy then stood as follows:
These were the States that had left the Union and were ready to fight for their State rights, as they believed them to be. These were the States that had hauled down the "Stars and Stripes," and had hoisted in its place the Secession flag.
Seven Original Secession States.
SOUTH CAROLINA.
ALABAMA.
GEORGIA.
MISSISSIPPI.
FLORIDA.
LOUISIANA.
TEXAS.
The Later States.
OLD VIRGINIA.
TENNESSEE.
NORTH CAROLINA.
ARKANSAS.
The Southern Confederacy.
SOUTH CAROLINA.
OLD VIRGINIA.
GEORGIA.
TENNESSEE.
ALABAMA.
ARKANSAS.
LOUISIANA.
FLORIDA.
NORTH CAROLINA.
MISSISSIPPI.
TEXAS.
President of the Confederacy JEFFERSON DAVIS