Gertrude van Duyn Southworth

Andrew Carnegie
O N the 25th of November, 1837, Andrew Carnegie was born in Dunfermline, Scotland.
His father earned a modest living by making hand-woven linen and selling it to merchants. As time went on, the father became poorer and poorer because factories were being built, where steam was used to run the looms. This put an end to hand work, and ruined many a small weaver. Consequently the Carnegies turned their eyes to the New World.
It was a great sacrifice to the parents to leave their old home and friends; but they said, "It will be better for the boys." It was when their son Andrew was ten, that they embarked in a sailing vessel bound for America.
They settled in Allegheny City, Pennsylvania. Andrew was soon given work as a bobbin boy in a cotton mill, at one dollar and twenty cents a week. The father also was employed in the same place. The mother took in washing, besides working for a shoemaker.
The next year Andrew was promoted to the position of engine boy at a dollar and eighty cents a week. And after another year he secured work as a district messenger boy at three dollars a week.
In later years Mr. Carnegie thus describes this change in his life: "My entrance into the telegraph office was a transition from darkness to light, from firing a small engine in a dark and dirty cellar to a clean office with bright windows and a literary atmosphere; with books, newspapers, pens and pencils all around me, I was the happiest boy alive."
While sitting on a bench waiting for orders he was not idle. He was constantly listening to the telegraph instruments, and before long learned how to translate the sounds made by the ticker. One morning before the operator arrived, there came a message over the wire. Andrew rushed to the receiver and took the message accurately. The messenger boys were not allowed to take messages, but he was forgiven and promoted to the position of operator with a salary of three hundred dollars a year. As he was supporting his mother and younger brother at this time, the increase in salary was very welcome to the lad of sixteen.
Carnegie was so ambitious and quick that he attracted the attention of Colonel Scott, the superintendent of the Pennsylvania Railroad, who made him the telegraph operator in his office. One day an accident occurred which threatened to block traffic for some time. Colonel Scott was away; so his operator took matters into his own hands, sent orders to all the trains, telling them what to do, and signed Scott's name to the orders. Although Carnegie had no authority to do this, the superintendent was pleased. The young man had done the right thing at the right moment. Later, when Carnegie had devised a plan for managing the train schedule by telegraph, Colonel Scott appointed him his private secretary. When he was twenty-eight he was made superintendent of the Western Division of the Pennsylvania Railroad.
It was to Carnegie that the inventor of the sleeping car brought his plans. Carnegie saw at a glance what a valuable idea it was, and secured the introduction of these cars into his division.
At about this time the Pennsylvania Railroad began to use iron bridges instead of wooden ones. Carnegie organized the Keystone Bridge Works and built the first iron bridge over the Ohio River. Then he saw the need of producing his own iron, so he erected furnaces and rolling mills. This business was not very profitable at first.
Carnegie's readiness to seize the right opportunity, however, and his ability to judge men made his business prosperous. One plant after another was added, until he had the largest steel and iron business in the country.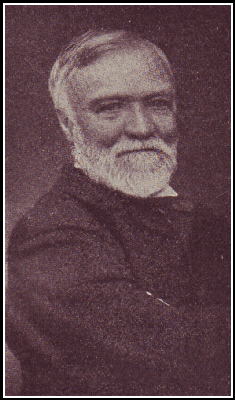 Andrew Carnegie
At Homestead, Pennsylvania, there are several immense establishments in which Carnegie has much money invested, although in 1901 he retired from active business. Here are made armor plates for the United States navy and building material of many kinds. Every working day over three thousand tons of steel ingots are turned out; and these are manufactured into a great variety of forms, from the steel rim of a bicycle to the armor plate of two hundred tons. These different articles are shipped all over the world. In six days, from one department, can be turned out all the material necessary for the great steel frame of a "skyscraper."
At the time of his retirement, Carnegie's company, which had been called The Carnegie Steel Company, and was valued at five hundred millions, was changed to The United States Steel Company. This was the fortune that Mr. Carnegie had built in the fifty years since, as a bobbin boy, he earned a dollar and twenty cents a week.
Mr. Carnegie has said that "the man who dies possessing millions, free and ready to be distributed, dies disgraced." He believes that "surplus wealth is a sacred trust to be administered for the highest good of the people." He is attempting to live up to that trust by distributing his own wealth, and by doing so wisely. He feels that if he gives his money without considering the needs and worth of those who receive it, he may be doing more mischief than good. So he has made it a rule to give only to those who help themselves. He has given many libraries and other public buildings, and in each case he obliges the town or city that receives the building and its endowment to pledge a certain amount each year to keep it in repair and pay the running expenses.
It was through an incident in his early life that Carnegie came to give libraries. While engaged in hard labor in Allegheny City, he was given the opportunity of browsing among the books of a small library. The owner had announced that on every Saturday he would be ready to lend books to working boys and men. Carnegie, remembering the pleasure given in this way, determined to use a good share of his millions in establishing libraries where he found the people willing to help.
Not only has he given libraries. Hospitals, public halls, baths, parks, churches, schools, and colleges are being built or helped through his kindness. His greatest single gift is Carnegie Institute at Pittsburg.