A First Book in American History by Edward Eggleston

William Penn
Part 1 of 2
William Penn, who founded Pennsylvania, was born in London, England, in 1644. He was the only son of Admiral William Penn. Admiral Penn had become a captain before he was twenty, and had distinguished himself in naval battles. He was a rich man, lived fashionably, and was received at court. He wanted to make his son William a man of importance in the world like himself. So William Penn was carefully educated. When he was at Oxford he heard a man named Thomas Loe preach against such things as the wearing of gowns by students. It had been the custom for the students in the colleges at Oxford to wear gowns; but the Puritans, who ruled England after Charles I was beheaded, forbade this, having a notion that it was wicked. When King Charles II was restored to the throne, the students were again required to put on gowns. Under the influence of Loe's preaching, Penn and some other young men refused to dress in this way, and they even went so far as to tear off the gowns of other students. For this Penn was expelled from the university.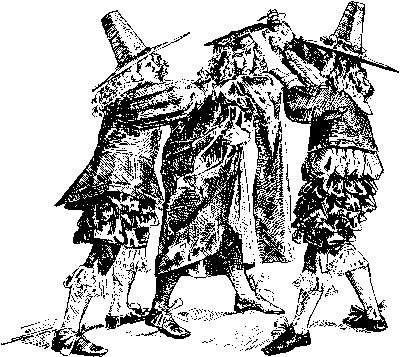 Tearing off a Students Gown
William Penn's father was very angry with his son when he came home expelled. He was afraid that his son would join the Friends, or Quakers, who not only refused to take part in the ceremonies of the English Church, but also refused to serve the king as soldiers, believing war to be wicked. They would not make oath in court, nor would they take off their hats to anybody. Admiral Penn did not like to see his son adopt the opinions and ways of a people so much despised and persecuted.
Hoping that William would forget these impressions, he sent him to France. Here young Penn was presented at the court of Louis XIV, and here he finished his education. He then traveled in Italy, and returned to England when he was twenty years old. His father was well pleased to see that he had improved in manners, and seemed to have forgotten his Quaker ideas.
He was presented at the court of Charles II, and became a law student. He also carried dispatches from his father's fleet to the king. In 1665 the plague broke out in London, and in these sad times William Penn's religious feelings began to return.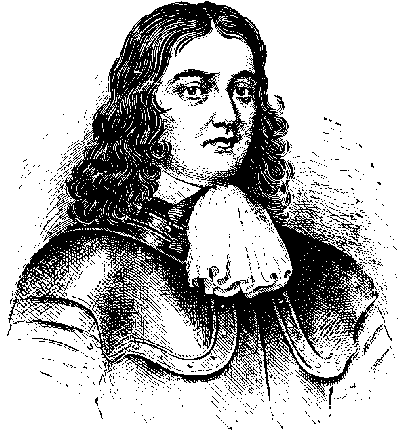 William Penn as a Young Man
His father, hoping to give him something else to think about, sent him to Ireland to attend to some land which belonged to the admiral. Here he was presented at the court of the viceroy, the Duke or Ormond. He served as a soldier for a little while during an insurrection. You will see that his portrait was painted in armor, after the fashion of fine gentlemen of that time. But while Penn was in Ireland, he heard that Thomas Loe, whose preaching had affected him so much when he was a student, was to preach in Cork. Penn went to hear him; all his old feelings revived, and he became a Friend. He now attended the meetings of the Friends, or Quakers, for which he was at length arrested and thrown into prison with the rest of the congregation. He was afterwards set free. His father, hearing of what his son had been doing, sent for him.
Admiral Penn was very angry with William, but he told him that he would forgive him everything else if he would take off his hat to his father, to the king, and to the king's brother, the Duke of York. William took some time to think of it, and then told his father that he could not promise even this. The admiral then turned his son out of doors. But his mother sent him money, and after a time he was allowed to come home, but not to see his father.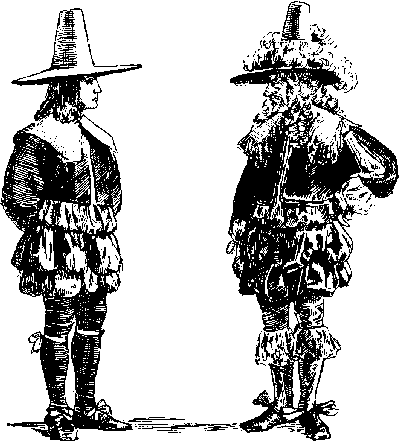 Penn Thinks It Wrong to Take Off his Hat to his Father