Stories of Great Americans for Little Americans by Edward Eggleston

Horace Greeley Learning To Print
H ORACE GREELEY had always wanted to be a printer. He liked books and papers. He thought it would be a fine thing to learn to make them.
One day he heard that the newspaper at East Poultney wanted a boy to learn the printer's trade. He walked many long miles to see about it. He went to see Mr. Bliss. Mr. Bliss was one of the owners of the paper. Horace found him working in his garden.
Mr. Bliss looked up. He saw a big boy coming toward him. The boy had on a white felt hat with a narrow brim. It looked like a half-peck measure. His hair was white. His trousers were too short for him. All his clothes were coarse and poor. He was such a strange-looking boy, that Mr. Bliss wanted to laugh.
"I heard that you wanted a boy," Horace said.
"Do you want to learn to print?" Mr. Bliss said.
"Yes," said Horace.
"But a printer ought to know a good many things," said Mr. Bliss. "Have you been to school much?"
"No," said Horace. "I have not had much chance at school. But I have read some."
"What have you read?" asked Mr. Bliss.
"Well, I have read some history, and some travels, and a little of everything."
Mr. Bliss had examined a great many schoolteachers. He liked to puzzle teachers with hard questions. He thought he would try Horace with these. But the gawky boy answered them all. This tow-headed boy seemed to know everything.
Mr. Bliss took a piece of paper from his pocket. He wrote on it, "Guess we'd better try him."
He gave this paper to Horace, and told him to take it to the printing office. Horace, with his little white hat and strange ways, went into the printing office. The boys in the office laughed at him. But the foreman said he would try him.
That night the boys in the office said to Mr. Bliss, "You are not going to take that towhead, are you?"
Mr. Bliss said, "There is something in that towhead. You boys will find it out soon."
A few days after this, Horace came to East Poultney to begin his work. He carried a little bundle of clothes tied up in a handkerchief.
The foreman showed him how to begin. From that time he did not once look around. All day he worked at his type. He learned more in a day than some boys do in a month.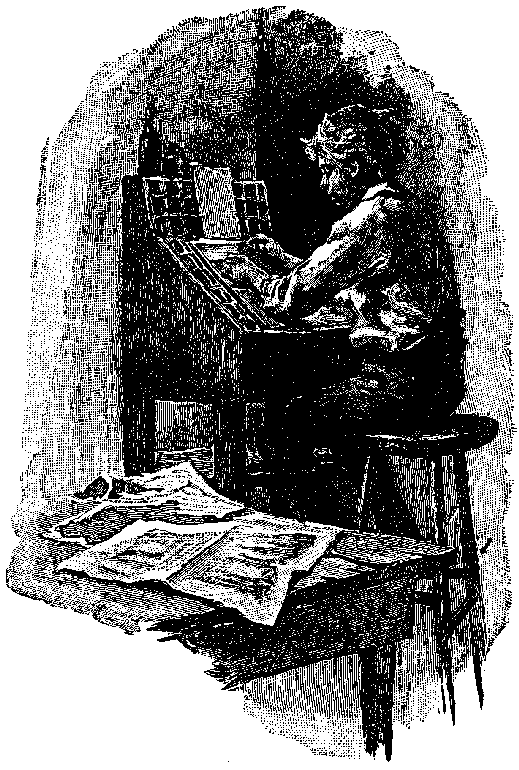 Greeley Setting Type
Day after day he worked, and said nothing. The other boys joked him. But he did not seem to hear them. He only kept on at his work. They threw type at him. But he did not look up.
The largest boy in the office thought he could find a way to tease him. One day he said that Horace's hair was too white. He went and got the ink ball. He stained Horace's hair black in four places. This ink stain would not wash out. But Horace did not once look up.
After that, the boys did not try to tease him any more. They all liked the good-hearted Horace. And everybody in the town wondered that the boy knew so much.
Horace's father had moved away to Pennsylvania. Horace sent him all the money he could spare. He soon became a good printer. He started a paper of his own. He became a famous newspaper man.