The Wind in the Willows by Kenneth Grahame

Toad's Adventures
Part 1 of 3
W HEN Toad found himself immured in a dank and noisome dungeon, and knew that all the grim darkness of a medieval fortress lay between him and the outer world of sunshine and well-metalled high roads where he had lately been so happy, disporting himself as if he had bought up every road in England, he flung himself at full length on the floor, and shed bitter tears, and abandoned himself to dark despair. "This is the end of everything" (he said), "at least it is the end of the career of Toad, which is the same thing; the popular and handsome Toad, the rich and hospitable Toad, the Toad so free and careless and debonair! How can I hope to be ever set at large again" (he said), "who have been imprisoned so justly for stealing so handsome a motor-car in such an audacious manner, and for such lurid and imaginative cheek, bestowed upon such a number of fat, red-faced policemen!" (Here his sobs choked him.) "Stupid animal that I was" (he said), "now I must languish in this dungeon, till people who were proud to say they knew me, have forgotten the very name of Toad! O wise old Badger!" (he said), "O clever, intelligent Rat and sensible Mole! What sound judgments, what a knowledge of men and matters you possess! O unhappy and forsaken Toad!" With lamentations such as these he passed his days and nights for several weeks, refusing his meals or intermediate light refreshments, though the grim and ancient gaoler, knowing that Toad's pockets were well lined, frequently pointed out that many comforts, and indeed luxuries, could by arrangement be sent in—at a price—from outside.
Now the gaoler had a daughter, a pleasant wench and good-hearted, who assisted her father in the lighter duties of his post. She was particularly fond of animals, and, besides her canary, whose cage hung on a nail in the massive wall of the keep by day, to the great annoyance of prisoners who relished an after-dinner nap, and was shrouded in an antimacassar on the parlour table at night, she kept several piebald mice and a restless revolving squirrel. This kind-hearted girl, pitying the misery of Toad, said to her father one day, "Father! I can't bear to see that poor beast so unhappy, and getting so thin! You let me have the managing of him. You know how fond of animals I am. I'll make him eat from my hand, and sit up, and do all sorts of things."
Her father replied that she could do what she liked with him. He was tired of Toad, and his sulks and his airs and his meanness. So that day she went on her errand of mercy, and knocked at the door of Toad's cell.
"Now, cheer up, Toad," she said, coaxingly, on entering, "and sit up and dry your eyes and be a sensible animal. And do try and eat a bit of dinner. See, I've brought you some of mine, hot from the oven!"
It was bubble-and-squeak, between two plates, and its fragrance filled the narrow cell. The penetrating smell of cabbage reached the nose of Toad as he lay prostrate in his misery on the floor, and gave him the idea for a moment that perhaps life was not such a blank and desperate thing as he had imagined. But still he wailed, and kicked with his legs, and refused to be comforted. So the wise girl retired for the time, but, of course, a good deal of the smell of hot cabbage remained behind, as it will do, and Toad, between his sobs, sniffed and reflected, and gradually began to think new and inspiring thoughts: of chivalry, and poetry, and deeds still to be done; of broad meadows, and cattle browsing in them, raked by sun and wind; of kitchen-gardens, and straight herb-borders, and warm snap-dragon beset by bees; and of the comforting clink of dishes set down on the table at Toad Hall, and the scrape of chair-legs on the floor as every one pulled himself close up to his work. The air of the narrow cell took a rosy tinge; he began to think of his friends, and how they would surely be able to do something; of lawyers, and how they would have enjoyed his case, and what an ass he had been not to get in a few; and lastly, he thought of his own great cleverness and resource, and all that he was capable of if he only gave his great mind to it; and the cure was almost complete.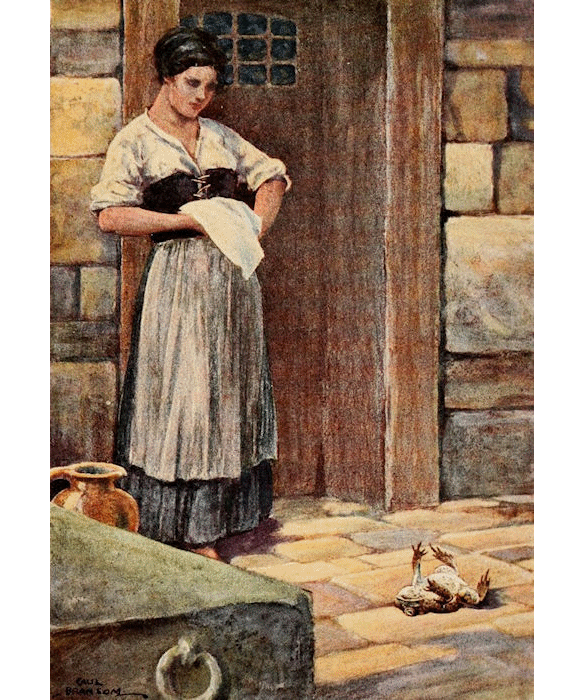 He lay prostrate in his misery on the floor.
When the girl returned, some hours later, she carried a tray, with a cup of fragrant tea steaming on it; and a plate piled up with very hot buttered toast, cut thick, very brown on both sides, with the butter running through the holes in it in great golden drops, like honey from the honeycomb. The smell of that buttered toast simply talked to Toad, and with no uncertain voice; talked of warm kitchens, of breakfasts on bright frosty mornings, of cosy parlour firesides on winter evenings, when one's ramble was over and slippered feet were propped on the fender; of the purring of contented cats, and the twitter of sleepy canaries. Toad sat up on end once more, dried his eyes, sipped his tea and munched his toast, and soon began talking freely about himself, and the house he lived in, and his doings there, and how important he was, and what a lot his friends thought of him.
The gaoler's daughter saw that the topic was doing him as much good as the tea, as indeed it was, and encouraged him to go on.
"Tell me about Toad Hall," said she. "It sounds beautiful."
"Toad Hall," said the Toad proudly, "is an eligible self-contained gentleman's residence very unique; dating in part from the fourteenth century, but replete with every modern convenience. Up-to-date sanitation. Five minutes from church, post-office, and golf-links. Suitable for—"
"Bless the animal," said the girl, laughing, "I don't want to take  it. Tell me something real  about it. But first wait till I fetch you some more tea and toast."
She tripped away, and presently returned with a fresh trayful; and Toad, pitching into the toast with avidity, his spirits quite restored to their usual level, told her about the boat-house, and the fish-pond, and the old walled kitchen-garden; and about the pig-styes and the stables, and the pigeon-house, and the hen-house; and about the dairy, and the wash-house, and the china-cupboards, and the linen-presses (she liked that bit especially); and about the banqueting-hall, and the fun they had there when the other animals were gathered round the table and Toad was at his best, singing songs, telling stories, carrying on generally. Then she wanted to know about his animal-friends, and was very interested in all he had to tell her about them and how they lived, and what they did to pass their time. Of course, she did not say she was fond of animals as pets,  because she had the sense to see that Toad would be extremely offended. When she said good-night, having filled his water-jug and shaken up his straw for him, Toad was very much the same sanguine, self-satisfied animal that he had been of old. He sang a little song or two, of the sort he used to sing at his dinner-parties, curled himself up in the straw, and had an excellent night's rest and the pleasantest of dreams.
They had many interesting talks together, after that, as the dreary days went on; and the gaoler's daughter grew very sorry for Toad, and thought it a great shame that a poor little animal should be locked up in prison for what seemed to her a very trivial offence. Toad, of course, in his vanity, thought that her interest in him proceeded from a growing tenderness; and he could not help half-regretting that the social gulf between them was so very wide, for she was a comely lass, and evidently admired him very much.
One morning the girl was very thoughtful, and answered at random, and did not seem to Toad to be paying proper attention to his witty sayings and sparkling comments.
"Toad," she said presently, "just listen, please. I have an aunt who is a washerwoman."
"There, there," said Toad, graciously and affably, "never mind; think no more about it. I have several aunts who ought  to be washerwomen."
"Do be quiet a minute, Toad," said the girl. "You talk too much, that's your chief fault, and I'm trying to think, and you hurt my head. As I said, I have an aunt who is a washerwoman; she does the washing for all the prisoners in this castle—we try to keep any paying business of that sort in the family, you understand. She takes out the washing on Monday morning, and brings it in on Friday evening. This is a Thursday. Now, this is what occurs to me: you're very rich—at least you're always telling me so—and she's very poor. A few pounds wouldn't make any difference to you, and it would mean a lot to her. Now, I think if she were properly approached—squared, I believe is the word you animals use—you could come to some arrangement by which she would let you have her dress and bonnet and so on, and you could escape from the castle as the official washerwoman. You're very alike in many respects—particularly about the figure."
"We're not,"  said the Toad in a huff. "I have a very elegant figure—for what I am."
"So has my aunt," replied the girl, "for what she  is. But have it your own way. You horrid, proud, ungrateful animal, when I'm sorry for you, and trying to help you!"
"Yes, yes, that's all right; thank you very much indeed," said the Toad hurriedly. "But look here! you wouldn't surely have Mr. Toad, of Toad Hall, going about the country disguised as a washerwoman!"
"Then you can stop here as a Toad," replied the girl with much spirit. "I suppose you want to go off in a coach-and-four!"
Honest Toad was always ready to admit himself in the wrong. "You are a good, kind, clever girl," he said, "and I am indeed a proud and a stupid toad. Introduce me to your worthy aunt, if you will be so kind, and I have no doubt that the excellent lady and I will be able to arrange terms satisfactory to both parties."