About Harriet by Clara Whitehill Hunt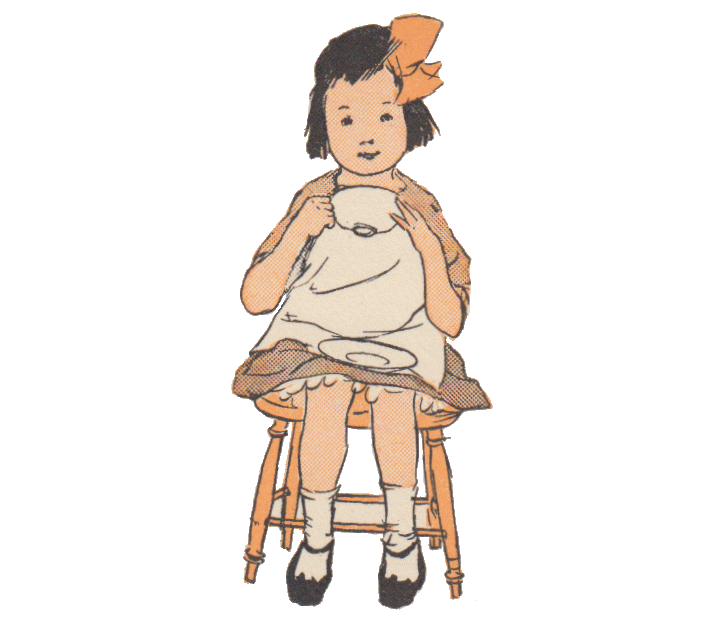 What Harriet Did on Monday
W HEN Harriet woke on Monday morning she did not see any gay little sunbeam dancing across her crib. Instead, her room was darkened by tiny streams of water which the gray rain clouds were pouring down upon her window panes.
Harriet hopped out of bed at once and ran to the front window, saying to herself, "I wonder if Dicky has on his new raincoat and rubber boots this morning."
Dicky was a little neighbor who lived across the street. He had had his fifth birthday on the very day that Harriet was four years old. His present had been a rainy-day suit. There were rubber boots, a broad-brimmed rubber hat, and a rubber coat. So Dicky loved a pouring rain when he could splash through the rivers in the gutters; and Harriet loved to watch Dicky's fun.
This morning no Dicky was in sight. The wet, shiny street was almost empty except for the baker's cart across the way. The baker's driver was just coming out of the basement where he had been leaving warm rolls for Dicky's breakfast, and when the driver jumped into his seat the poor wet horse started up as if he were in a hurry to get home to his dry stable.
Then Harriet hurried back to dress and eat her breakfast in time to be at the window when the children would all be passing on their way to school. It was fun to watch the umbrellas bobbing along with all sorts of feet walking under them. Harriet always imagined that she was looking down upon lots of queer little wonderland creatures, who had feet and legs, but no bodies, and whose heads were umbrellas.
After a while all the children were in school, and all the grown people were in their trains and trolleys or in their offices beginning the day's work, and the street was again deserted.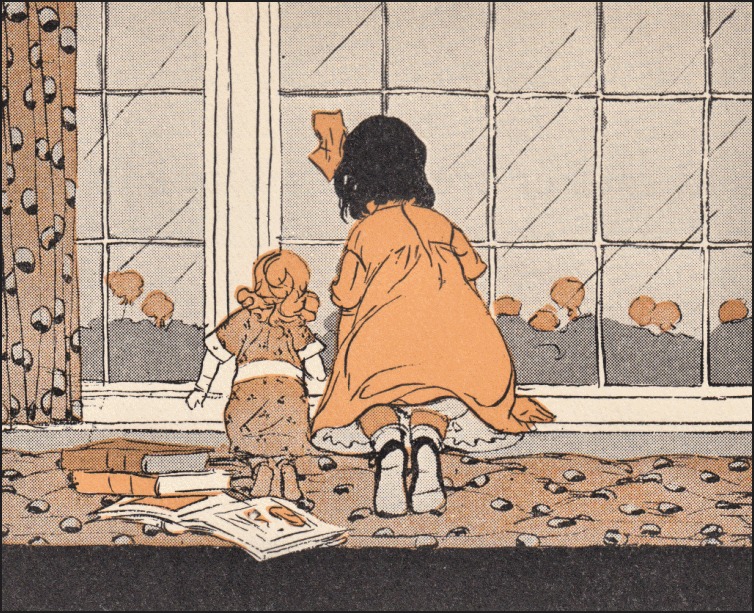 Harriet pressed her face against the window pane hoping to see something interesting. But it wasn't an interesting street. It was not at all like the country, where one sees great shady trees, and fields of daisies and buttercups; where birdies sing their lovely songs and bushy-tailed squirrels frisk along stone walls; where little boys and girls have brooks to wade and loads of hay to ride upon and big barns to play in. Harriet's Father had lived in country like that when he was a boy. And Harriet's Mother had lived in a little city, not a big one. In that little city every family had a whole house with an upstairs and downstairs and a yard, and the children could plant flowers and keep chickens and rabbits in their yards, and eat plums and grapes and pears from their own trees and vines.
The street down which Harriet was gazing seemed all made of stone and brick. There was a row of trees along each sidewalk, but the trees were not as high as the houses; and there were oh! such tiny squares of grass within the iron fences. And from one corner of the street up to the next corner it looked as if there were two long, long, high brick walls, trimmed with stone, and in each of these brick walls there were many, many windows, and near the ground were many doors with short flights of steps leading down to the sidewalks.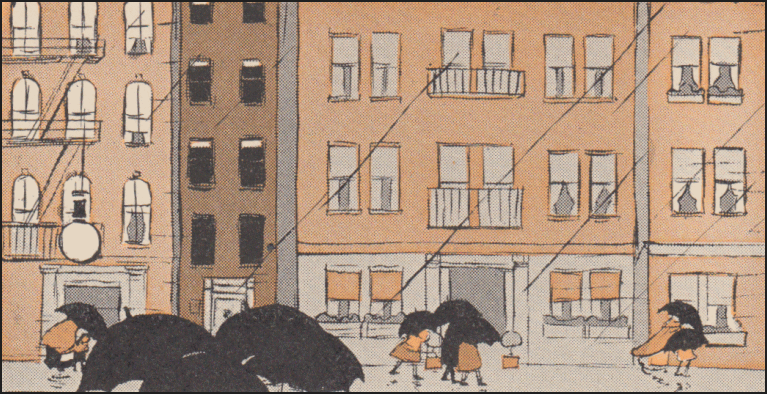 Behind those brick walls lived ever so many families. Some lived on the first floor, some on the second floor, some on the third, and some way up on the fourth floor. Harriet and her Father and Mother lived on the second floor. They called their home an "apartment" or "flat."
Just as Harriet was turning away from the window she heard a shrill whistle out in the kitchen. She knew what that meant. James, the janitor down in the basement, was whistling for the rubbish to be sent down on the dumb waiter. Out in the country people burn their own rubbish or feed some of the table leavings to the pigs or chickens. But in the city the janitor collects the waste from each apartment, then great carts come along the streets and carry the stuff away.
The dumb waiter is like a big box with two shelves for holding things, and it travels up to the top of the house or down to the basement when the janitor pulls a rope.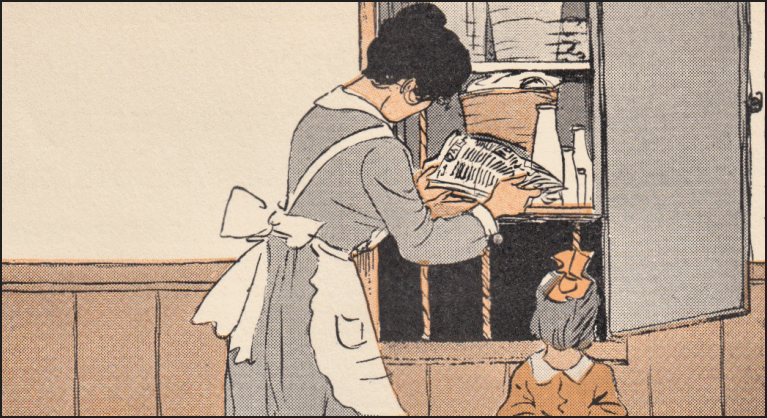 As Harriet's Mother was putting a bundle of old newspapers upon the dumb waiter, the doorbell rang and another sort of whistle was heard down in the hall at the street door.
"Oh, there's the postman," said Harriet. "May I go down to get the letters, Mother?"
"You can't reach the mail box, dear," said Mother. "I'll be ready in a minute."
Again the bell rang and the postman whistled again, so Mother said:—
"Run to the door, honey. Evidently the postman has something that will not go into the box."
So Harriet opened the door of the apartment and the postman called up:—
"Package for Miss Harriet Robertson. Any young lady of that name up there?"
And Harriet went down the stairs as fast as her short legs would carry her, for this was the nice funny postman who seemed a little like Santa Claus, he so often brought parcels for Harriet in his bag.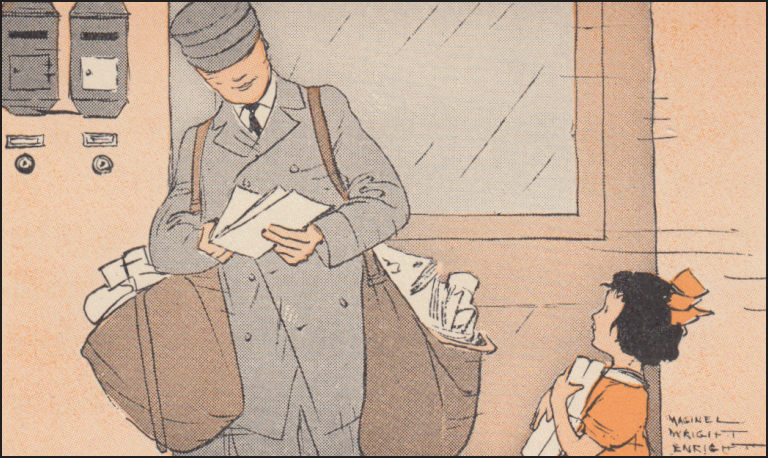 Down in the vestibule Miss Douglas had just taken the letters out of her mail box and was locking the box with its little key. When she saw Harriet she said:—
"Good morning, dear. Don't you think a rainy day like this is a good day for an afternoon tea-party?"
"Oh, yes!" said Harriet quickly, her eyes shining with delight at the thought.
"Very well. Please tell your Mother that Auntie Douglas and Miss Sally would be much pleased if Mrs. Robertson and Miss Robertson would bring their sewing down to the Douglas plantation this afternoon."
Harriet laughed. Her Father always called the little apartment in which Auntie Douglas lived "the plantation" because Auntie Douglas and Miss Sally and Linda, their maid, had lived on a cotton plantation way down South years ago.
Now Harriet climbed upstairs hugging her parcel and eager to tell Mother of Miss Sally's invitation.
It was very exciting to cut the strings and open the package. Harriet could not imagine what Grandma or the aunties were sending this time. When all the papers were taken off, there was a new sweater, a bright red one, with a pocket on each side, which Grandma's dear fingers had knitted for Harriet.
"Just the thing for Maine," said Mother, as Harriet put on the warm, gay little coat. "Your old sweater has grown quite too small. We will give it to James's little girl."
The new sweater suggested Harriet's favorite play, which was "Going to Maine." So the dining-room chairs were placed in a row to make a train of cars. After a while the young lady passenger changed from the cars to the steamboat, which was the big rocker; next she changed to the small steamboat, which was the little rocker; and last of all she took a short ride on the sailboat "Merry Wings," her own tiny rocker; and soon she jumped out at the little landing in front of Uncle Jack's bungalow, and there was Mrs. Barrows with her arms wide open to hug Harriet and the red sweater in a great big hug.
Harriet's plays were so real to her that, after she had imagined herself all the way to Maine, and then found that she was still in the city dining-room, with the rain beating against the window and keeping her indoors, she flung herself across her Mother's lap saying dolefully:—
"Oh, Mother, I'm so lonesome. I wish I had a little brother to play with me on rainy days."
"I wish you had, my darling," said Mother sadly; "on rainy days and sunny days and all the days, always."
Mother was thinking about the baby boy who had gone to Heaven before Harriet came to Father and Mother. Harriet often looked at the baby's laughing picture on Mother's bureau and found it hard to think that this baby was her older brother, older than Dicky across the street.
She lay in Mother's arms and rocked for a while, until Mother said:—
"I must telephone to Mr. O'Rourke, dearie, and ask him when he is going to send over our potatoes and string beans for dinner."
So Harriet slipped down from her Mother's lap and went to the bookcase. There were books everywhere in her house, but Harriet kept most of her favorites on the lowest shelf in the dining-room bookcase. It did not take her long to choose the picture books she wanted to show once more to Florella May.
First there was the "Dutchie Doings" picture book that told all about Jan and Mina of Holland and their little city cousin. Next there was "The Four and Twenty Toilers," that showed how the cobbler and the shipbuilder and the farmer and the miller and twenty other workers did their work. Then there was the German picture book called "Hausmütterchen," whose name, Harriet knew, meant "The Little House Mother."
Harriet took the books to the long cushioned seat in the bay window. Then she brought Florella May. Then the little girl mother and her dolly daughter lay flat on their "tummies," kicking their heels in the air, with the Dutch picture book spread open before them on the broad window seat.
What fun it was to make-believe be the little city cousin visiting Jan and Mina on the farm! How Harriet enjoyed seeing the pigs and the chickens and the cows! How scared she was by the old turkey gobbler, and by the donkey that tried to kick Jan off his back! And how surprised she was when Jan fell off the pier and had to be fished out of the water. She felt as if she had been to little Holland and had seen the windmills and the canals and the dogs drawing the milk carts and the people's clattering wooden shoes. Some day, Father said, they would all go to see the real Holland.
And Harriet wanted to go to England too, where "The Four and Twenty Toilers" lived. She liked the nice gardener who gave the little boy a ride on the pony that drew the big lawn mower; the bird man with his shop full of all sorts of queer birds; the verger of the old stone church who let the children climb the narrow, crooked stairs to the top of the tower to see him wind the great clock.
It always took a long time to look at "The Four and Twenty Toilers," because Harriet had to imagine herself so many different people before she finished it.
There wasn't much time left for "Hausmütterchen" because Mother said lunch would be ready in a very few minutes and Harriet must get washed and tidied up before coming to the table. Harriet was sorry because she and her Mother often played they were the German mother and daughter when Harriet learned to cook and wash and iron and sweep just as the little girl did in the pictures.
After lunch Harriet had a nap. When she woke up she and Mother got ready to go downstairs to see Auntie Douglas and Miss Sally.
How glad the ladies were to see their little neighbor! Auntie Douglas was an invalid and seldom got out of doors. She was a very happy invalid, though, and all the children loved her. She could tell the "Uncle Remus" stories almost as well as old Uncle Remus himself. Miss Sally, too, knew just what little girls liked, and so did Linda, the cook!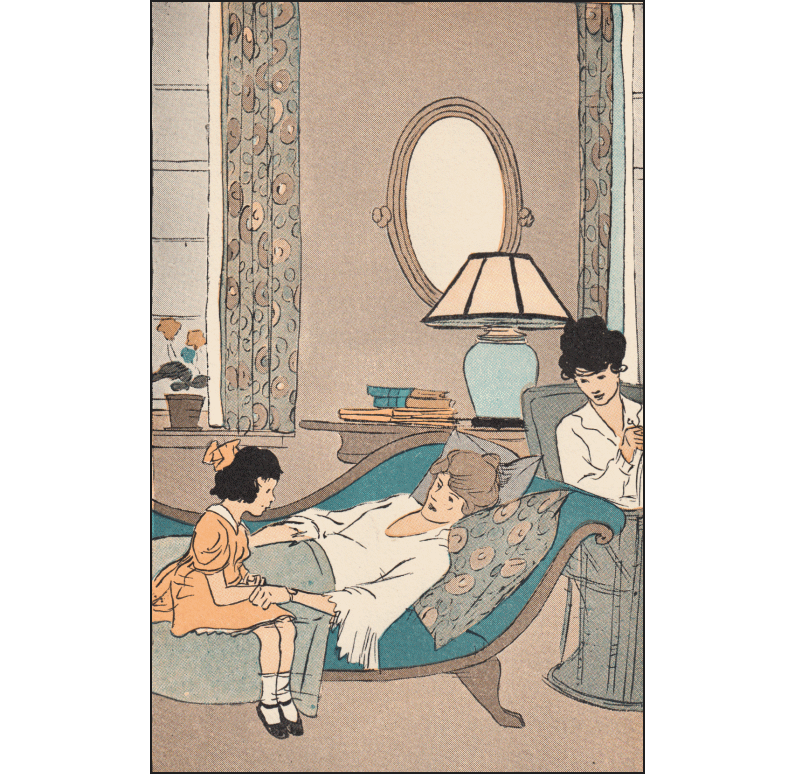 As soon as Harriet had pretended to take off her rubbers and raincoat,—you know she really had not been out of doors at all in coming down to Auntie Douglas's apartment,—Miss Sally said:—
"What would you like to do first, dearie?"
"I'd like to look at the treasure drawer," answered Harriet promptly.
"Very well, you may," said Miss Sally. "You are such a careful little girl nothing is ever disturbed by your fingers."
The treasure drawer was in a beautiful old mahogany secretary. It was filled with little boxes, and each little box contained something interesting to look at. There was a wee, tiny book carved out of a bone by a sailor who gave it to Miss Sally when she was a little girl. There was the nest of a trap-door spider with its wonderful hinge working so smoothly and its door fitting so perfectly. Miss Sally's uncle had brought it from California years before. There was a sandalwood box that smelled so sweet even though it was a long, long time since Auntie Douglas's brother had brought it from India. There were lovely beads from Venice and a necklace of beautiful tiny shells from Tasmania. There was a little ivory elephant; and a bear made by a wood-carver who lived away up in the Tyrolese Mountains. Harriet was delighted when her Aunt Helen found her the story of "Donkey John of the Toy Valley," because she was sure the bear must have been carved by one of John's neighbors, in the high valley where everybody helped make toys to send to little children all over the world.
There is not time to tell you all the good things about that visit in Auntie Douglas's apartment. Harriet enjoyed visiting the kitchen, too, and helping Linda get the tea and cakes ready. And though it was such a rainy afternoon it had seemed a very short and sunny one when Harriet and her Mother thanked their hostesses and said good-bye to them.
After dinner Father said, "Don't you think it's cold and damp enough for a fire, Mumsey dear?"
And Mother said, "Of course it is! Anything for an excuse to have an open fire!"
So Father laid the paper and the kindlings and Harriet lighted the fire on the hearth, and when the blaze was bright they put on more wood. Then they all sat before the little fire and talked about how nice it would be when they got to Maine and had a great roaring fire in their bungalow fireplace, which was ever and ever so much bigger than the tiny fireplace in their little apartment.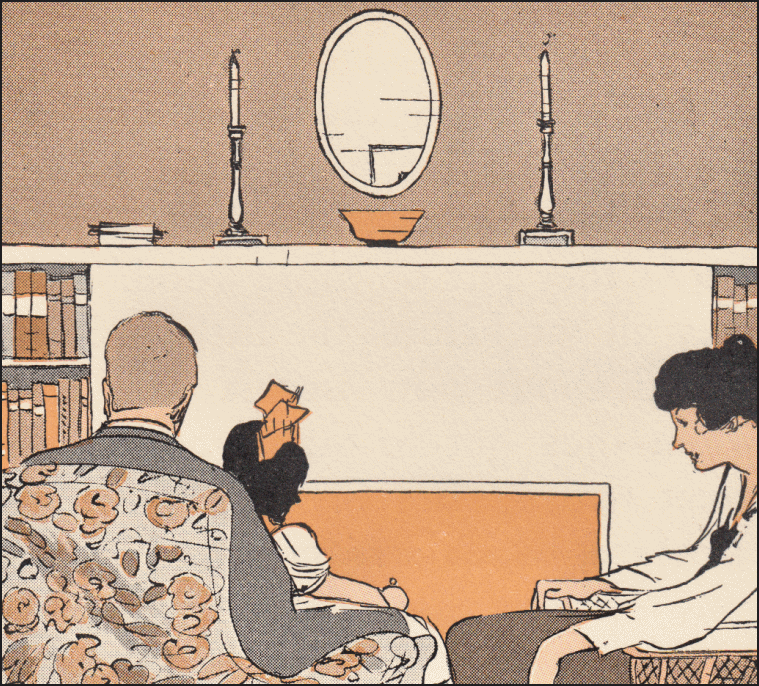 And before long the fire, or something, made Harriet very sleepy. So she undressed and climbed into her little white crib and in three winks she was far, far away in Dreamland.
So that is the end of the Fourth Story about Harriet and what she did on Monday.