Hurlbut's Story of the Bible by Jesse Lyman Hurlbut

The Crown of Thorns
Matthew xxvi: 57, to xxvii: 26; Mark xv: 1 to 15; Luke xxii: 66, to xxiii: 25; John xviii: 19, to xix: 16.
Part 2 of 2
Pilate thought that Jesus was a harmless man, but perhaps one whose mind was weak, and he could see no reason why the rulers and the people should be so bitter against him. But they cried out all the more, saying, "He stirs up the people everywhere, from Galilee even to this place."
When Pilate heard the word "Galilee," he asked if this man had come from that land. They told him that he had; and then Pilate said, "Galilee and its people are under the rule of Herod. He has come up to Jerusalem, and I will send this man to him."
So, from Pilate's court-room, Jesus was sent, still bound, to Herod's palace. This was the Herod who had put John the Baptist in prison, and had given his head to a dancing-girl, as we read in Story 127. Herod was very glad to see Jesus, for he had heard many things about him; and he hoped to see him do some wonderful thing. But Jesus would not work wonders as a show, to be looked at; and when Herod asked him many questions, Jesus would not speak a word. Herod would not judge Jesus, for he knew that Jesus had done nothing wrong; so he and his soldiers mocked Jesus, and dressed him in a gay robe, as though he were a make-believe king, and sent him back to Pilate.
So Pilate, much against his will, was compelled to decide either for Jesus or against him. And just as Jesus was standing bound before him a message came to Pilate from his wife, saying, "Do nothing against that good man; for in this night I have suffered many things in a dream on account of him."
Pilate said to the Jews, "You have brought this man to me as one who is leading the people to evil; and I have seen that there is no evil in him, nor has Herod; now I will order that he be beaten with rods, and then set free. For you know that it is the custom to set a prisoner free at the time of the feast."
They set some prisoner free, as a sign of the joy at the feast. And at that time there was in the prison a man named Barabbas, who was a robber and a murderer. Pilate said to the people, "Shall I set free Jesus, who is called the King of the Jews?"
But the rulers went among the people and urged them to ask for Barabbas to be set free.
And the crowd cried out, "Not this man, but Barabbas!"
Then Pilate said, "What, then, shall I do with Jesus?"
And they all cried out, "Crucify him! Let him die on the cross!"
Pilate wished greatly to spare the life of Jesus. To show how he felt, he sent for water, and he washed his hands before all the people, saying, "My hands are clean from the blood of this good man!"
And they cried out, "Let his blood be on us, and on our children after us! Crucify him! Send him to the cross!"
Then Pilate, to please the people, gave them what they asked. He set free Barabbas, the man of their choice, though he was a robber and a murderer; but before giving way to the cry that he should send Jesus to the cross, he tried once more to save his life. He caused Jesus to be beaten until the blood came upon him, hoping that this might satisfy the people. As Jesus was spoken of as a king, the soldiers who beat Jesus made a crown of thorns, and put it on his head, and they put on him a purple robe, such as was worn by kings, and bowing down before him they called out to him, "Hail, King of the Jews!"
Then, hoping to awaken some pity for Jesus, Pilate brought him out to the people, with the crown of thorns and the purple robe upon him, and Pilate said, "Look on this man!"
But again the cry arose, "Crucify him! Send him to the cross!"
And at last Pilate yielded to the voice of the people. He sat down on the judgment-seat, and gave commands that Jesus, whom he knew to be a good man, one who had done nothing evil, should be put to death upon the cross.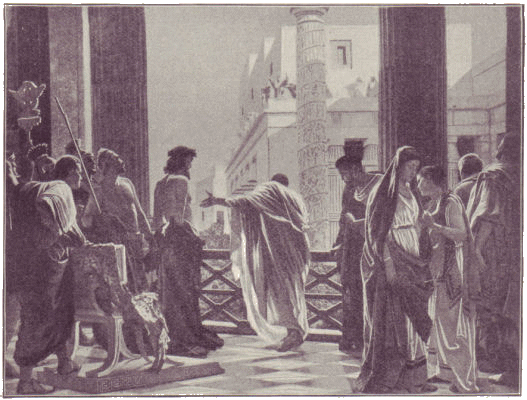 "Look on this man."