Bobby and the Big Road by Maud Lindsay

Christmas Morning
E ARLY Christmas morning Bobby waked up to find a stocking full of goodies hanging by the fireplace, and on a table near by a paint-box and a tool-chest and a little white note.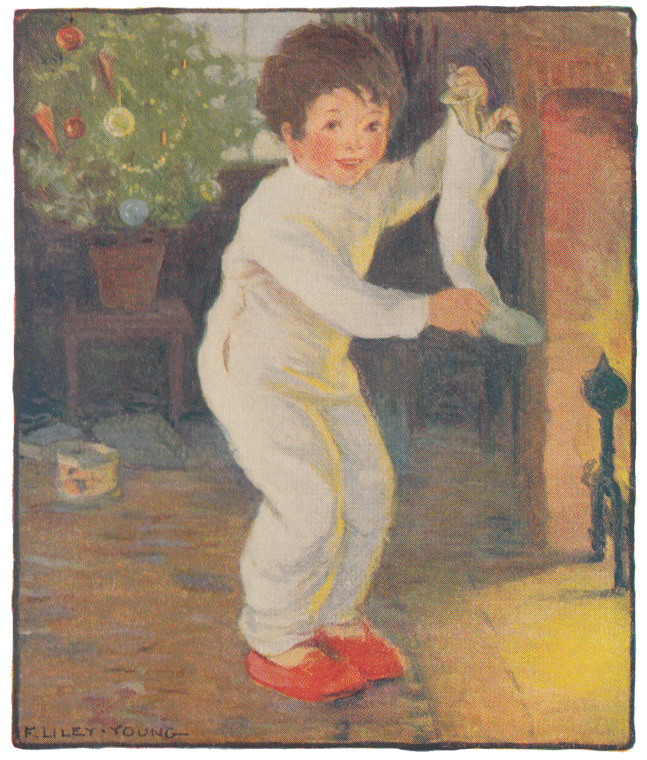 Bobby found a stocking full of goodies.
"Read it quick," begged Bobby, hopping about with one shoe off and one shoe on.
So Mother read:
"DEAR BOBBY:
"Merry Christmas! There is a present for somebody out here in the barn, and it isn't for me, though I like it. I think it is for you. Come and see.
Bobby's other shoe went on in a hurry then, and if you had seen him running to the barn you would have agreed with his father that he was Bobby Nimble-toes.
But when he got to the barn door he stopped and peeped in as if he had never seen the place before. There was the hay that Father had bought from the farmer stored away in one corner of the barn, and there was Greylocks looking out from his stall with kindly eyes, but where was the present?
Bobby was just going into the barn to look for it when something big and black came bounding out to meet him. A dog! A big, beautiful, curly, black Newfoundland dog.
"Oh, oh, oh! Is he really mine? Where did you get him? I'd rather have him than anything else," said Bobby, running to hug Mother and Father, who had followed him to the barn.
The Newfoundland dog had a collar around his neck with his name on it: "Playmate." Bobby thought Playmate was a splendid name for a dog. "Why, I like it better than I do Towser," he said.
Christmas Day was full of surprises. Bobby was still exclaiming with delight over his pet when the milkman drove up to the door with a jar of cream for Bobby's Christmas breakfast.
"I haven't forgotten the cool water he gave me in the summer time," he said.
The milkman was scarcely out of sight when the farmer's hired man came with a sack of red apples for Bobby from the farmer.
And after the hired man had gone the old lady and gentleman drove up to the gate.
"Here is a Christmas cake for our kind little friend," they said.
The jolly chauffeur was the next to come. He brought a box of candy from Florence.
"It is for Robert Lee Randolph, Junior, and Bobby both, so be sure to divide between them," he said.
The chauffeur was really the funniest man that Bobby had ever known.
Bobby had presents for Florence and Johnny, a paint-box like his own for each of them, and he sent Florence hers by the chauffeur.
When they had eaten their Christmas dinner Mother and Father and Bobby took Johnny his present. And what do you think? Playmate went, too, sitting up straight and tall in the bottom of the buggy!
The north wind was blowing through the bare branches of the trees as they drove along, and the sky overhead was misty and grey.
"Something else is coming to the Big Road," said Father.
And sure enough when they had given Johnny the paint-box, and Greylocks was hurrying to get them home again, little white snowflakes began to fall. By the time they got home the ground was white.
Oh, how pleasant it was to live by the Big Road all the year round!