The Beautiful Story of Joan of Arc by Viola Ruth Lowe

The Capture of the Maid
L IVING a quiet life at Bourges, Joan often slipped into a nearby church to pray and receive comfort from the holy atmosphere of her beloved Saints. She gave whatever she had freely to the poor and needy.
When a new baby was born in any of the neighboring villages, the mother would often come to Joan, begging her to hold the child over the baptismal font; they named the boys, Charles, after their King; the girls they often named Joan, for the pure young maiden, who stood before them and who was beloved by everyone.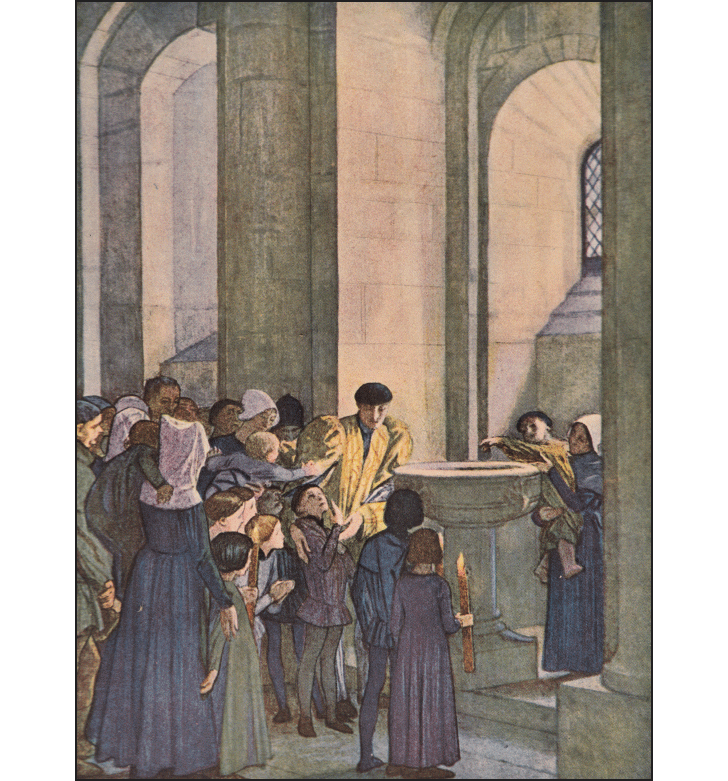 Joan of Arc and the Children
Finally King Charles decided to entrust to Joan the command of several troops with which to conquer the region of the Loire river, known as La Charité, where the Burgundians still held sway.
Before she set out, the people of the neighboring villages presented Joan with a new sword and two battle-axes in token of their love and admiration for their brave, plucky leader. However, due to many obstacles and difficulties which beset her path, Joan was not able to storm the walls of La Charité. The weather was bitter cold, food and ammunition were lacking, and the King offered no aid. Instead he eased his conscience by elevating Joan's family to the rank of nobles.
Word soon came to Joan's ears of the misery of the humble folk in pillaged villages, and she felt that her vital presence was still needed. Gathering to her side a troop of men, she set out again, about the middle of April, 1430, without waiting for the consent of the King, intending to reach the Ile de France.
She arrived first at a town called Lagny, and while there, Joan learned that a tiny baby just three days old was not baptized because it had not shown any sign of life. The infant had been placed in the church before the altar. Many young maidens remained there kneeling in prayer. Joan entered the church and joined them. Her ardent prayers mounted to Heaven with those of the other maidens. And behold! the infant stirred, gasped three times; there was just time to baptize it hastily, for, one moment later, death had seized it again.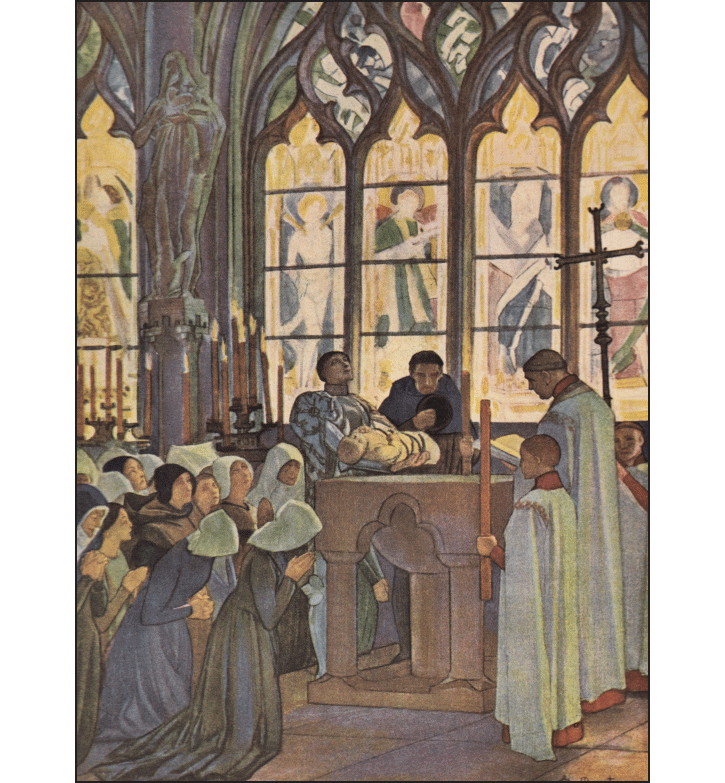 The Resurrection of the Infant at Lagny
Joan remained to pray awhile, and then set out for battle. Near the town of Compiegne, a furious battle was fought. The Soldier-Maid appeared everywhere at once, encouraging, pressing on, advancing at the head of her troops. Her men were forced to retreat before the great number of the Burgundian foes, and Joan herself remaining until the last, was brutally dragged from her horse by the folds of her gaily colored mantle and thrown upon the trampled ground.
The French, weeping and grief-stricken at her capture, gathered together in groups, and made public processions of mourning, chanting hymns, while priests sombrely dressed in black, led the processions with flaming torches.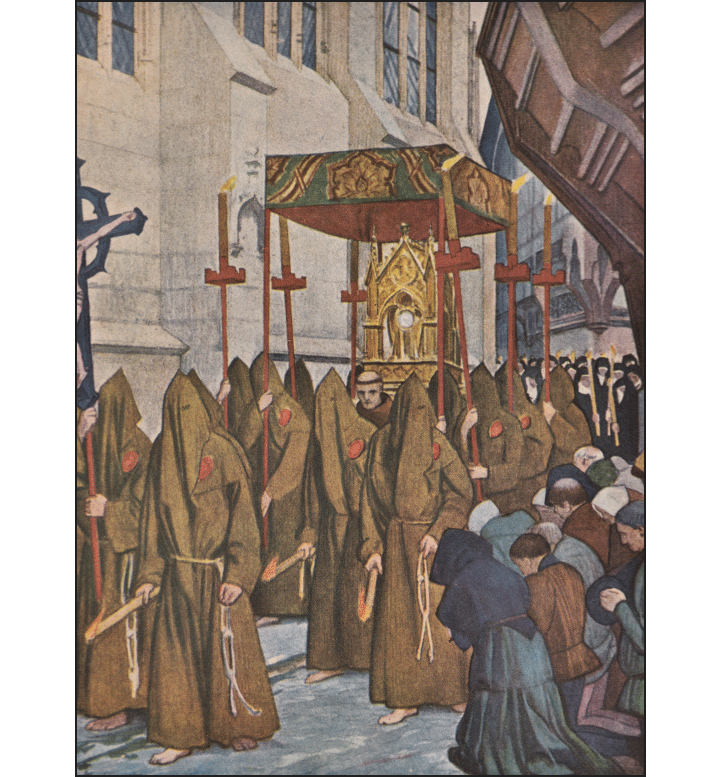 A grief-stricken procession mourned the capture of Joan of Arc.
Joan was held a prisoner under a warrior, Jean de Luxembourg. He sent her to his Castle of Beaurevior, where she was held in charge of three kind and gentle ladies, one of them the wife of Jean de Luxembourg. Joan found the society of these ladies pleasant as they chatted with her.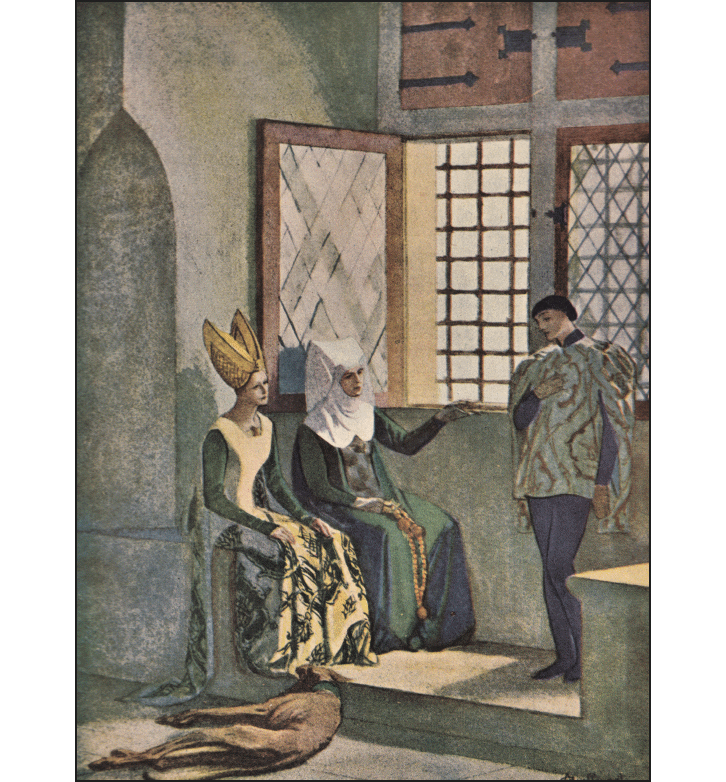 With Her Kindly Keepers in the Castle of Beaurevior
The Maid expected momentarily to be given into the hands of the English, and to avoid this, she attempted to escape, hurling herself down from the tower of the Castle. She was found stunned and nearly lifeless on the ground, and was again imprisoned in a strong castle at Rouen.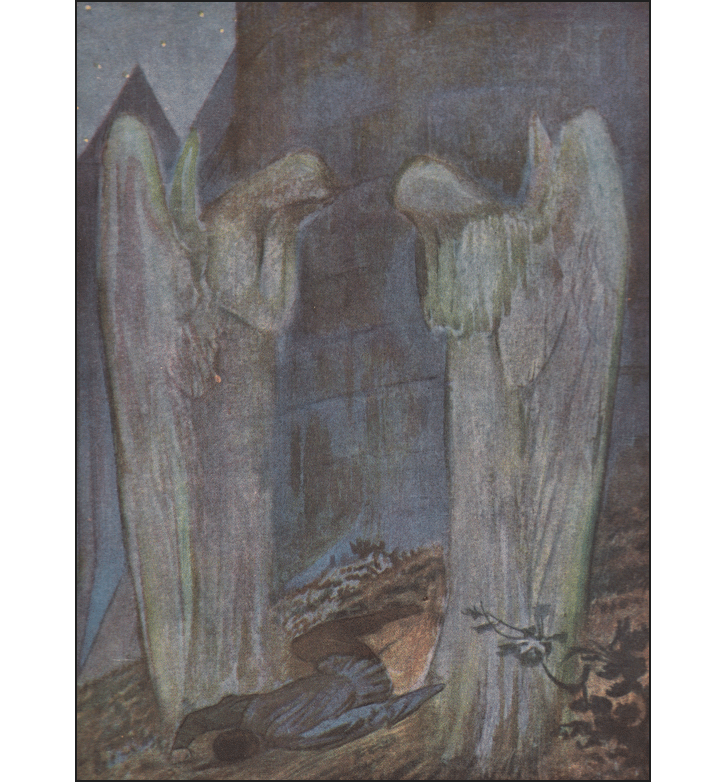 She tried to escape by flinging herself from the tower.
Meanwhile a learned body of men, presided over by Cauchon, Bishop of Beauvais, were preparing a series of questions with which they intended to entrap the innocent girl. They planned to bring her to trial before a court and condemn her for being a witch and for her supposed sins against the Church. They were jealous of her success and anxious to destroy her.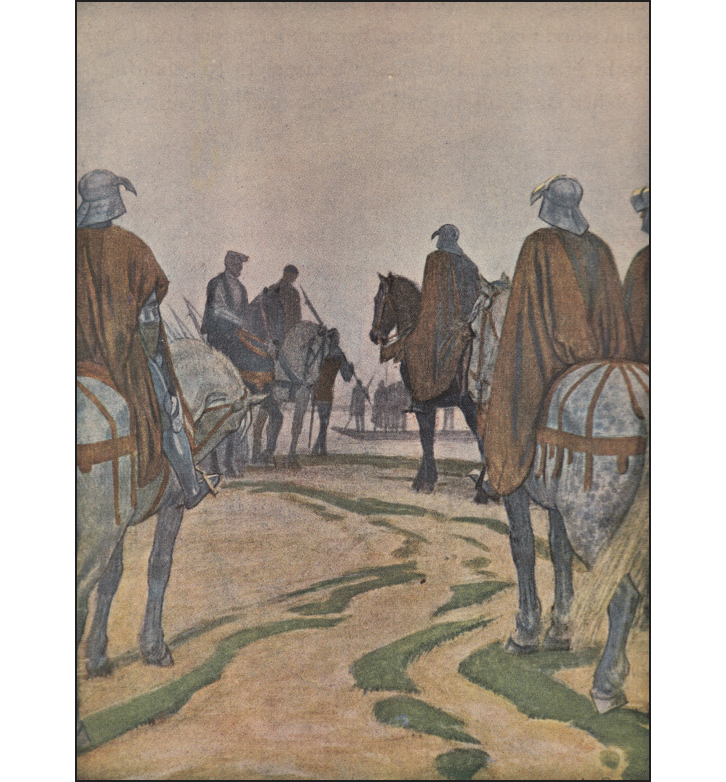 The captive maid was turned over to the English soldiers.
For five weary months, Joan endured the hardships of her life in prison. Finally, on a cold dreary morning in February, the Maid was told to prepare herself for trial. She was brought into the chapel of Rouen Castle, and appeared before the large assemblage of judges, dressed in black like a page and looking boyish with her hair clipped short.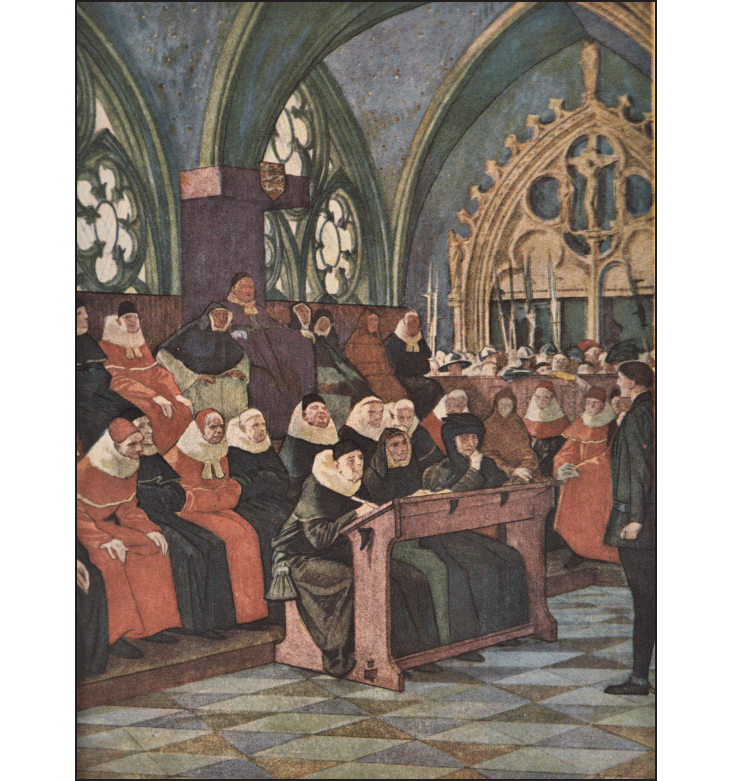 Before the Tribunal at Rouen
The Maid did not realize that for her this trial was a matter of life and death. Calmly she gazed at the great crowd of spectators, knights, nobles and soldiers, all her enemies, who pressed about her, clamoring loudly so that at times her words were lost in the noise.
It was Bishop Cauchon's intention to force Joan to admit that her Voices were false and that she had really been aided by evil spirits.
But Joan would not lose faith in her Visions and her Voices. She knew they had come from God and she would not allow herself to become entrapped or confused by the difficult questions the judges purposely put to her to puzzle her. The judges asked her if she did not consider it improper to wear the clothes of a man. Joan answered that she did only what God had ordered her to do.
Thus the long weary days went by, with the Maid winning the sympathy of all by her simple replies. One of the judges said, "Speak, Joan; do you know yourself to be in the grace of God?"
Bravely she replied: "If I am not, God bring me to it! If I am, God keep me in it! I should be of all women most miserable if I knew myself to be out of the love and favor of God."
She appeared so noble and righteous to the people that they had great pity for the helpless girl who wrung tears from their eyes, and the Bishop of Beauvais decided to conduct a private trial in a dark dungeon, with no sympathizing public present.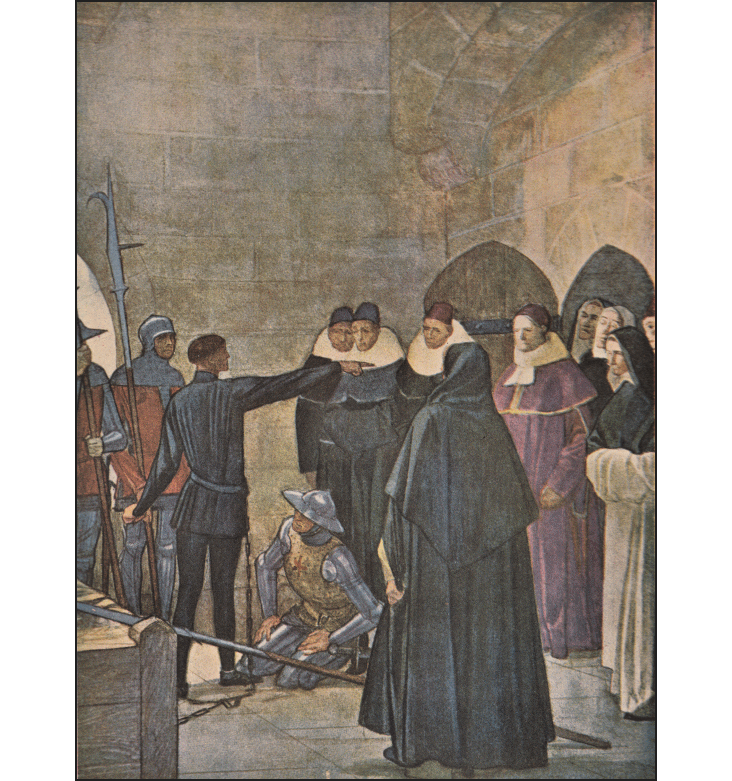 Bishop Cauchon visited Joan in prison.
The weary questions continued and poor Joan, accustomed to the sunshine and flowers, the clear air and freedom, now pined away in her dungeon prison. She became ill and weak in body but her spirit remained strong.
"If I must be put to death," she said, "I beg of you, my lords of the Church, that you will have the charity to allow me a woman's long dress, and a cap for my head."
"Why do you ask for a woman's dress if you wear man's clothes by command of God?" asked a judge.
Pitifully the worn and weakened little Maid replied, "It is enough that it should be long."
The helpless maiden, mindful of her modesty even in this terrible moment when she knew that death was near, must surely have wrung a little pity from the hardened hearts of her judges.