The Beautiful Story of Joan of Arc by Viola Ruth Lowe

The Journey to Chinon
I N the town of Vaucouleurs lived an honest wheelwright named Henri Royer and his kindly wife, Katherine. They were friendly to Joan and she dwelt with them during her stay there.
In the second week of February, the first ray of hope came to Joan in the person of a brave young soldier, aged twenty-seven, whose name was Jean de Metz.
One day Jean de Metz, who knew Joan's parents well, approached the threshold of the house where Joan was dwelling, and said to her teasingly, "My pet, what are you doing here? Must the King be turned out of his kingdom and are we all to be made into Englishmen?"
"I have come here," replied Joan with spirit, "because this is a royal town, and I have asked Robert de Baudricourt to lead me to the King. But Baudricourt cares nothing for me nor for what I say; none the less I must be with the King by Mid-Lent if I wear my legs down to the knees by walking there. No man in the world, neither Kings nor Dukes, can recover the kingdom of France, nor has our King any hope of aid but from myself though I would far rather be sewing by the side of my poor mother, for this deed does not suit my station. Yet go I must, for my Lord so wills it."
"And who is your Lord?" asked the youth.
"My Lord is God," said the Maid very simply.
The young soldier was convinced, and seized her hands with great emotion as he answered: "Then I, Jean de Metz, swear to you, Maid Joan, that God helping me, I will lead you to the King, and I only ask when are you ready to go."
"It is better to leave today than tomorrow," she answered smiling, "and better tomorrow than later."
The Duke of Lorraine had heard reports of this wonderful Maid, and he sent for her to come to his home at Nancy, a town some sixty miles away. Jean de Metz and Uncle Durand Laxart travelled with her.
The old Duke was unable to help Joan in her mission, she returned to Vaucouleurs where she talked again with Baudricourt. This time he listened to her but would not equip her for the journey. The good people of Vaucouleurs, now full of faith in the little Maid and her mission, were very enthusiastic and helped with her equipment. Most of her expenses, however, were met by the faithful Jean de Metz and also Bertrand de Poulengy, a young officer who admired Joan's bravery.
She set out for Chinon with her little band, consisting of Jean de Metz, Bertrand de Poulengy, Richard the Archer, the King's messenger, Colet de Vienne, and four servants. Joan had changed her little red wool dress and was now comfortably attired for horseback in the tunic, vest, high boots and leggings, spurs, and black cap of a page.
Straight-backed and sturdy, Joan sat upon her spirited horse, tossing back her black hair which was cut short like a soldier's. They rode through hostile country, and, after eleven days, reached Chinon, the town on the Loire river where the Dauphin had taken refuge.
After two days, Joan, often called the Pucelle, which is the French word for maiden, was granted an audience with the young Prince. When she entered the Castle of Chinon, its vast hall was filled with three hundred knights arrayed in velvet costumes of brightly colored crimson and azure, and cloth of gold, and there were fifty flaming torches lighting the brilliant scene.
Joan remained calm in her attitude as she stepped forward with great modesty and simplicity. She directly approached the Prince and as she knelt before him, she said, "Most noble Dauphin, I have come at the call of God to help you and your kingdom." Her sweet clear voice and her rustic beauty spoke in her favor. Prince Charles rejoiced at her speech, and drawing her aside, held an earnest conversation with her.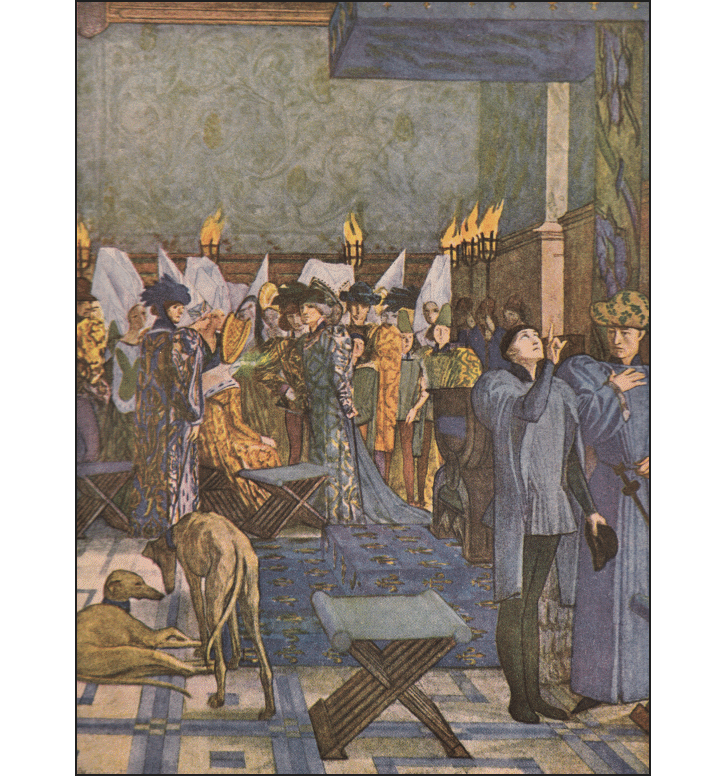 Joan told Charles of her mission to lead him to the throne.
The young Duke d'Alençon, just returned from the war and weary with suffering, took heart when he saw the Maid. She completely won his heart when he saw her skill and pluck in throwing a lance while on horseback.
Still Joan's troubles were not over, for she was sent before an assemblage of priests to tell her mission. After six long weary weeks of questions, during which Joan daily appeared before the men of the church, she finally won them to her cause by her sincerity and ardor. These men were stirred deeply and Joan's first moral victory was won.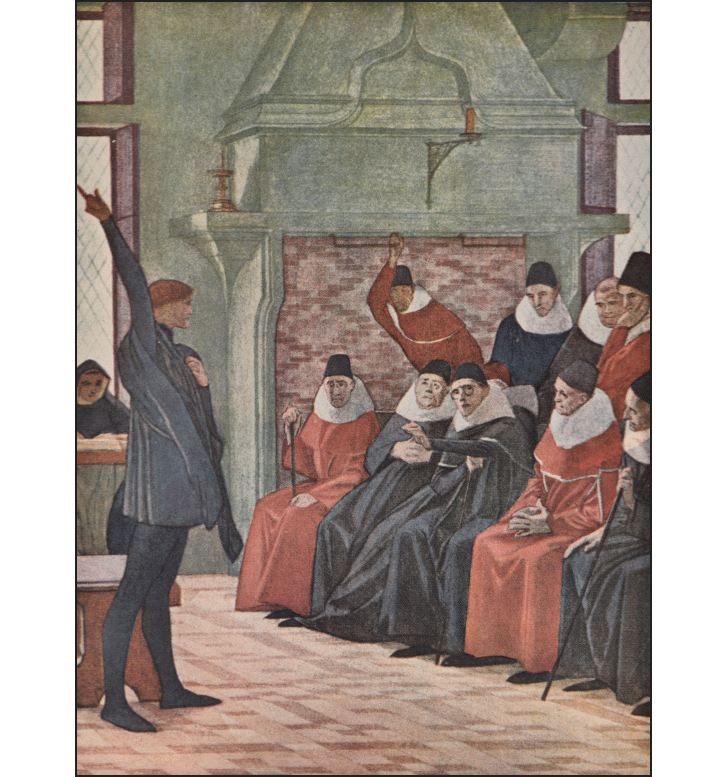 Before the priests, the maid revealed her high purpose.
One evening as Joan stood at her window, the figure of St. Michael appeared before her. In his arms he bore a golden crown. He followed her as she led him to the prince. "Sire, here is your sign," Joan said. Everyone saw the crown but only the maid and the prince saw the vision. From then on, his faith in Joan grew stronger.
Thus, the little peasant girl, who, a few short months before, had spent her days in tending sheep, was now the dignified companion of princes and nobles. Her tale might well have leaped forth from the pages of the Arabian Nights. But to Joan there was nothing unusual in the task which lay before her. There was only one thought uppermost in her mind, and that was to set forth to battle. At last the time drew near. An expedition was appointed to travel to Orleans and Joan was placed at its head to take command.