Stories of Roland Told to the Children by H. E. Marshall

Roland Sounds His Horn
A LONE, King Margaris fled, weary and wounded, until he reached King Marsil, and fell panting at his feet.
"Ride! ride! Sire," he cried, "thy army is shattered, thy knights to the last man lie dead upon the field; but thou wilt find the Franks in evil plight. Full half of them also lie dead. The rest are sore wounded and weary. Their armour is broken, their swords and spears are shattered. They have naught wherewith to defend themselves. To avenge the death of thy knights were now easy. Ride! oh, ride!"
In terrible wrath and sorrow King Marsil gathered a new army. In twenty columns through the valleys they came marching. The sun shone upon the gems and goldwork of their helmets, upon lances and pennons, upon buckler and embroidered surcoat. Seven thousand trumpets sounded to the charge, and the wind carried the clamour afar.
"Oliver, my comrade," said Roland, when he heard it, "Oliver, my brother, the traitor Ganelon hath sworn our death. Here his treachery is plainly to be seen. But the Emperor will bring upon him a terrible vengeance. As for us, we must fight again a battle fierce and keen. I will strike with my trusty Durindal and thou with thy Hauteclere bright. We have already carried them with honour in many battles. With them we have won many a victory. No man may say scorn of us."
And so once again the Franks made ready for battle.
But King Marsil was a wily foe. "Hearken, my barons all," he cried, "Roland is a prince of wondrous strength. Two battles are not enough to vanquish him. He shall have three. Half of ye shall go forward now, and half remain with me until the Franks are utterly exhausted. Then shall ye attack them. Then shall we see the day when the might of Charlemagne shall fall and France shall perish in shame."
So King Marsil stayed upon the hill-side while half of his knights marched upon the Franks with battle-cry and trumpet-call.
"Oh Heaven, what cometh now!" cried the Franks as they heard the sound. "Woe, woe, that ever we saw Ganelon the felon."
Then spoke the brave Archbishop to them. "Now it is certain that we shall die. But it is better to die sword in hand than in slothful ease. Now is the day when ye shall receive great honour. Now is the day that ye shall win your crown of flowers. The gates of paradise are glorious, but therein no coward shall enter."
"We will not fail to enter," cried the Franks. "It is true that we are but few, but we are bold and staunch," and striking their golden spurs into their chargers' flanks, they rode to meet the foe.
Once more the noise and dust of battle rose. Once more the plain was strewn with dead, and the green grass was crimson-dyed, and scattered wide were jewels and gold, splintered weapons, and shattered armour.
Fearful was the slaughter, mighty the deeds of valour done, until at last the heathen broke and fled amain. After them in hot pursuit rode the Franks. Their bright swords flashed and fell again and again, and all the way was marked with dead.
At length the heathen cries of despair reached even to where King Marsil stayed upon the hill-side. "Marsil, oh our King! ride, ride, we have need of thee!" they cried.
Even to the King's feet the Franks pursued the fleeing foe, slaying them before his face.
Then Marsil, mounting upon his horse, led his last knights against the fearful foe.
The Franks were nigh exhausted, but still three hundred swords flashed in the sunlight, three hundred hearts still beat with hope and courage.
As Roland watched Oliver ever in the thickest of the fight, dealing blow upon blow unceasingly, his heart swelled anew with love for him. "Oh, my comrade leal and true," he cried, "alas! this day shall end our love. Alas! this day we shall part on earth for ever."
Oliver heard him and through the press of fighting he urged his horse to Roland's side. "Friend," he said, "keep near to me. So it please God we shall at least die together."
On went the fight, fiercer and fiercer yet, till but sixty weary Franks were left. Then, sadly gazing upon the stricken field, Roland turned to Oliver. "Behold! our bravest lie dead," he cried. "Well may France weep, for she is shorn of all her most valiant knights. Oh my Emperor, my friend, alas, why wert thou not here? Oliver, my brother, how shall we speed him now our mournful news?"
"I know not," said Oliver sadly, "rather come death now than any craven deed."
"I will sound upon my horn," said Roland, all his pride broken and gone. "I will sound upon my horn. Charlemagne will hear it and the Franks will return to our aid."
"Shame would that be," cried Oliver. "Our kin would blush for us and be dishonoured all their days. When I prayed of thee thou wouldst not sound thy horn, and now it is not I who will consent to it. Sound upon thy horn! No! there is no courage, no wisdom in that now. Had the Emperor been here we had been saved. But now it is too late, for all is lost. Nay," he cried in rising wrath, "if ever I see again my fair sister Aude, I swear to thee thou shalt never hold her in thine arms. Never shall she be bride of thine." For Roland loved Oliver's beautiful sister Aude and was loved by her, and when Roland would return to France she had promised to be his bride.
"Ah, Oliver, why dost thou speak to me with so much anger and hate," cried Roland sadly.
"Because it is thy fault that so many Franks lie dead this day," answered Oliver. "It is thy folly that hath slain them. Hadst thou done as I prayed thee our master Charlemagne had been here. This battle had been fought and won. Marsil had been taken and slain. Thy madness it is, Roland, that hath wrought our fate. Henceforward we can serve Charlemagne never more. And now here endeth our loyal friendship. Oh, bitter the parting this night shall see."
With terrible grief in his heart, stricken dumb with misery and pain, Roland gazed upon his friend. But Archbishop Turpin had heard the strife between the two, and setting spurs to his horse he rode swiftly towards them. "Sir Roland, and you, Sir Oliver," he cried, "I pray you strive not thus. See! we all must die, and thy horn, Roland, can avail nothing now. Great Karl is too far and would return too late. Yet it were well to sound it. For the Emperor when he hears it will come to avenge our fall, and the heathen will not return joyously to their homes. When the Franks come, they will alight from their horses, they will find our bodies, and will bury them with mourning and with tears, so we shall rest in hallowed graves, and the beasts of the field shall not tear our bones asunder."
"It is well said," cried Roland.
Then to his lips he laid his horn, and taking a deep breath he blew mightily upon it. With all the strength left in his weary body he blew.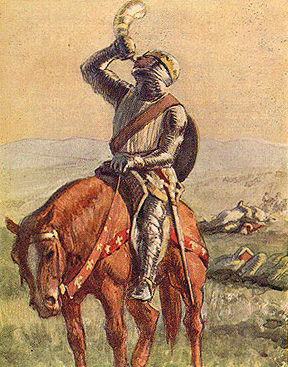 With all the strength left in his weary body he blew
Full, and clear and high the horn sounded. From mountain peak to mountain peak the note was echoed, till to the camp of Charlemagne, full thirty leagues away, it came.
Then as he heard it, sweet and faint, borne upon the summer wind, the Emperor drew rein, and bent his ear to listen, "Our men give battle; it is the horn of Roland," he cried.
"Nay," laughed Ganelon scornfully, "nay, Sire, had any man but thou said it I had deemed he lied."
So slowly and sad at heart, with many a backward glance, the Emperor rode on.
Again Roland put his horn to his mouth. He was weary now and faint. Blood was upon his pale lips, the blue veins in his temples stood out like cords. Very mournfully he blew upon his horn, but the sound of it was carried far, very far, although it was so feeble and so low.
Again to the soft, sweet note Charlemagne bent his ear. Duke Naimes, too, and all the Frankish knights, paused at the sound. "It is the horn of Roland," cried the Emperor, "and very surely had there been no battle, he had not sounded it."
"There is no battle," said Ganelon in fretful tones. "Thou art grown old and fearful. Thou talkest as a frightened child. Well thou knowest the pride of Roland, this strong, bold, great and boastful Roland, that God hath suffered so long upon His earth. For one hare Roland would sound his horn all day long. Doubtless now he laughs among his Peers. And beside, who would dare to attack Roland? Who so bold? Of a truth there is none. Ride on, Sire, ride on. Why halt? Our fair land is still very far in front."
So again, yet more unwillingly, the Emperor rode on.
Crimson stained were the lips of Roland. His cheeks were sunken and white, yet once again he raised his horn. Faintly now, in sadness and in anguish, once again he blew. The soft, sweet notes took on a tone so pitiful, they wrung the very heart of Charlemagne, where, full thirty leagues afar, he onward rode.
"That horn is very long of breath," he sighed, looking backward anxiously.
"It is Roland," cried Duke Naimes. "It is Roland who suffers yonder. On my soul, I swear, there is battle. Some one hath betrayed him. If I mistake not, it is he who now deceives thee. Arm, Sire, arm! Sound the trumpets of war. Long enough hast thou hearkened to the plaint of Roland."
Quickly the Emperor gave command. Quickly the army turned about, and came marching backward. The evening sunshine fell upon their pennons of crimson, gold and blue, it gleamed upon helmet and corslet, upon lance and shield. Fiercely rode the knights. "Oh, if we but reach Roland before he die," they cried, "oh, what blows we will strike for him."
Alas! alas! they are late, too late!
The evening darkened, night came, yet on they rode. Through all the night they rode, and when at length the rising sun gleamed like flame upon helmet, and hauberk and flowing pennon, they still pressed onward.
Foremost the Emperor rode, sunk in sad thought, his fingers twisted in his long white beard which flowed over his cuirass, his eyes filled with tears. Behind him galloped his knights, strong men though they were, every one of them with a sob in his throat, a prayer in his heart, for Roland, Roland the brave and fearless.
One knight only had anger in his heart. That knight was Ganelon. And he by order of the Emperor had been given over to the keeping of the kitchen knaves. Calling the chief among them, "Guard me well this felon," said Charlemagne, "guard him as a traitor, who hath sold all mine house to death."
Then the chief scullion and a hundred of his fellows surrounded Ganelon. They plucked him by the hair and buffeted him, each man giving him four sounding blows. Around his neck they then fastened a heavy chain, and leading him as one might lead a dancing bear, they set him upon a common baggage-horse. Thus they kept him until the time should come that Charlemagne would ask again for the felon knight.