Richard of Jamestown by James Otis

An Exciting Adventure
We waited to hear the tale until he had refreshed himself after the long journey, and then what Captain Smith told us was like unto this, as I remember it: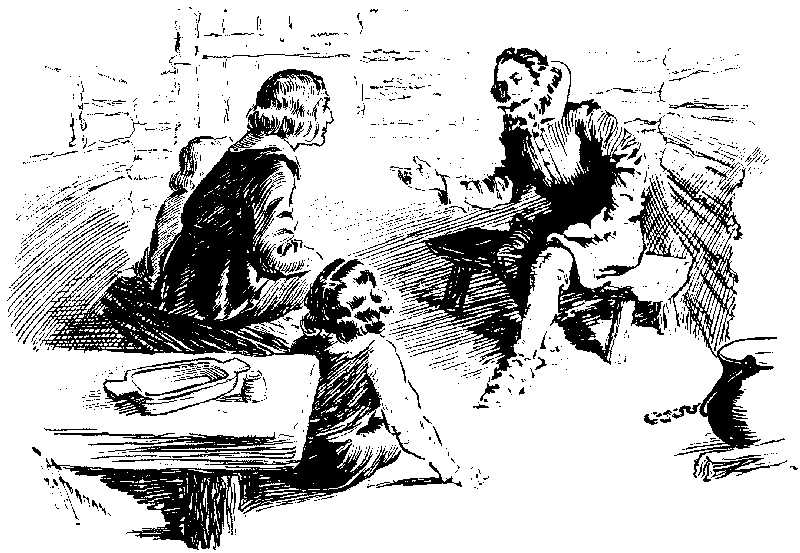 After leaving the village, he had sailed up the river until there was no longer water enough to float the barge, when, with two white men and the two Indians, he embarked in a canoe, continuing the voyage for a distance of twelve miles or more. There, in the wilderness, they made ready to spend the night, and with one of the savage guides my master went on shore on an island to shoot some wild fowls for supper. He had traveled a short distance from the boat, when he heard cries of the savages in the distance, and, looking back, saw that one of the men had been taken prisoner, while the other was fighting for his life.
At almost the very minute when he saw this terrible thing, he was suddenly beset by more than two hundred yelling, dancing savages, who were sweeping down upon him as if believing he was in their power beyond any chance. The Indian guide, who appeared to be terribly frightened, although it might have been that he was in the plot to murder my master, would have run away; but that Captain Smith held him fast while he fired one of his pistols to keep the enemy in check.
Understanding that he must do battle for his life, my master first took the precaution to bind the Indian guide to his left arm, by means of his belt, in such fashion that the fellow would serve as a shield against the shower of arrows the savages were sending through the air.
Protected in this manner, Captain Smith fought bravely, as he always does, and had succeeded in killing two of the Indians with his matchlock, when suddenly he sank knee deep into a mire. It seems that he had been retreating toward the canoe, hoping to get on board her where would be some chance for shelter, and was so engaged with the savages in front of him as to give little heed to his steps.
Once he was held prisoner by the mud, the enemy quickly surrounded him, and he could do no better than surrender. Instead of treating him cruelly, as might have been expected, these brown men carried him from village to village, as if exhibiting some strange animal.