Richard of Jamestown by James Otis

Captain Smith's Expedition and Return
Until winter was come we had food in plenty, for one could hardly send a charge of shot toward the river without bringing down swans, ducks, or cranes, while from the savages we got sufficient for our daily wants, meal made from the corn, pumpkins, peas, and beans.
But this did not cause Captain Smith to give over trying to buy from the Indians a store of corn for the winter, and shortly after Captain Kendall's death, he set off with nine white men and two Indian guides in a barge, counting to go as far as the head of the Chickahominy River.
This time twenty-two long, dreary days went by without his return, and we mourned him as dead, believing the savages had murdered him.
The discontented ones were in high glee because of thinking the man who had forced them to do that which they should, had gone out from their world forever, and we two lads were plunged in deepest grief, for in all the great land of Virginia, Captain Smith was our only true friend.
Then arrived that day when he suddenly appeared before us, having come to no harm, and as Master Hunt lifted up his hands in a prayer of thanksgiving because the man who was so sadly needed in Jamestown had returned, I fell on my knees, understanding for the first time in my life how good God could be to us in that wilderness.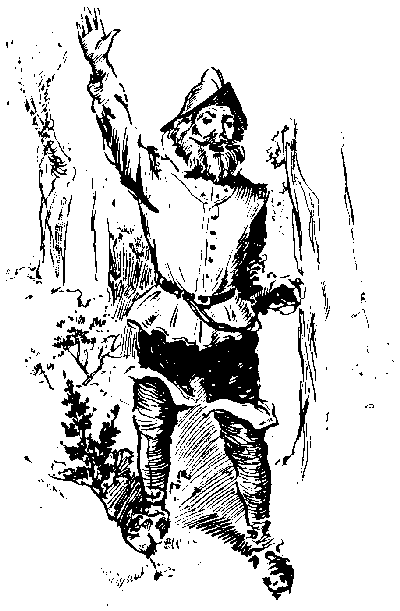 I would that I might describe the scene in our house that night, when Master Hunt was come to hear what all knew would be a story of wildest adventure, for it went without saying that my master never would have remained so long absent from Jamestown had it been within his power to return sooner.