Richard of Jamestown by James Otis

Captain Newport's Return
It was at the beginning of the new year, two days after my master was set free by the savages, that Captain Newport came back to us, this time in the ship John and Francis, and with him were fifty men who had been sent to join our colony.
Fortunately for us there were but few gentlemen among them, therefore did the work of building the village go on much more rapidly, because there were laborers in plenty.
A larger building, which was called the fort, and would indeed have been a safe place for refuge had the savages made an attack, was but just completed at the beginning of the third month, meaning March.
There Captain Smith had stored the supply of provisions and seed brought in the John and Francis, and we were already saying to ourselves that by the close of the summer we should reap a bountiful harvest.
All these plans and hopes went for naught, however, for on a certain night—and no man can say how it happened, save him who was the careless one—fire fastened upon the inside of the fort, having so much headway when it was discovered, that our people could do little toward checking it.
The flames burst out through the roof, which was thatched with dried grass, as were all the houses in the town, and leaped from one building to another until it seemed as if the entire village would be destroyed.
It is true that even the palisade, which was near to forty feet distant from the fort, was seized upon by the flames, and a goodly portion of that which had cost us so much labor was entirely destroyed.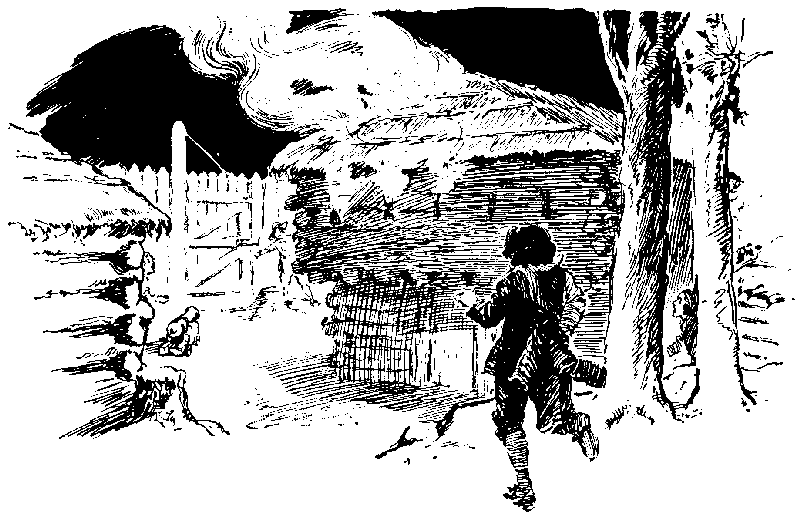 Out of all our houses only four remained standing when the flames had died away. The seed which we had counted on for reaping a harvest, the store of provisions, and a large amount of clothing and other necessaries, were thus consumed.
Good Master Hunt lost all his books, in fact, everything he owned save the clothes upon his back, and yet never once did I, who was with him very much, for he came to live at our house while the village was being rebuilt, hear him utter one word of complaint, or of sorrow.