Richard of Jamestown by James Otis

The Visit of Pocahontas
We had a visitor from the village of Powhatan very soon after Captain Smith took command of Jamestown to such an extent that the gentlemen were forced to work and to speak without oaths, through fear of getting too much cold water inside the sleeves of their doublets.
This visitor was the same Indian girl I had seen making bread, and quite by chance our house was the first she looked into, which caused me much pride, for I believed she was attracted to it because it was more cleanly than many of the others.
We were all at home when she came, being about to partake of the noonday meal, which was neither more nor less than a big turkey weighing more than two score pounds, and roasted to a brownness which would cause a hungry person's mouth to water.
Although she who had halted to look in at our door was only a girl, Captain Smith treated her as if she were the greatest lady in the world, himself leading her inside to his own place at the trencher-board, while she, in noways shy, began to help herself to the fattest pieces of meat, thereby besmearing herself with grease until there was enough running down her chin to have made no less than two rushlights, so Nathaniel Peacock declared.
Of course, being a savage, she could not speak in our language, but the master, who had studied diligently since coming to this world of Virginia to learn the speech of the Indians, made shift to get from her some little information, she being the daughter of Powhatan, the king concerning whom I have already set down many things.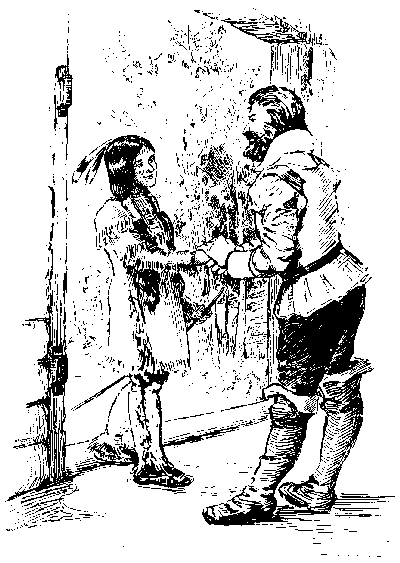 At first Captain Smith was of the belief that she had come on some errand; but after much questioning, more by signs than words, it came out, as we understood the matter, that the girl was in Jamestown for no other purpose than to see what we white people were like.
Captain Smith was minded that she should be satisfied, so far as her curiosity was concerned, for when the dinner had come to an end, and I had given this king's daughter some dry, sweet grass on which to wipe her hands and mouth, he conducted her around the village, allowing that she look in upon the tents and houses at her pleasure.
She stayed with us until the sun was within an hour of setting, and then darted off into the forest as does a startled pheasant, stopping for a single minute when she had got among the trees, to wave her hand, as if bidding us good-bye, or in plain mischief.