Richard of Jamestown by James Otis

Roasting Oysters
In the first place, the shell fish called oysters are readily cooked, or may be eaten raw with great satisfaction. I know not what our people of Virginia would have done without them, and yet it was only by chance or accident that we came to learn how nourishing they are.
A company of our gentlemen had set off to explore the country very shortly after we came ashore from the fleet, and while going through that portion of the forest which borders upon the bay, happened upon four savages who were cooking something over the fire.
The Indians ran away in alarm, and, on coming up to discover what the brown men had which was good to eat, the explorers found a large number of oysters roasting on the coals. Through curiosity, one of our gentlemen tasted of the fish, and, much to his surprise, found it very agreeable to the stomach.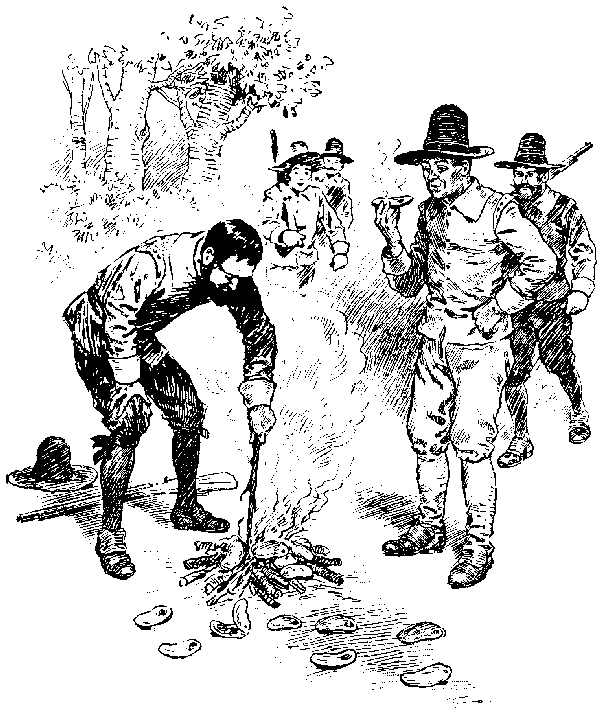 Before telling his companions the result of his experiment, he ate all the oysters that had been cooked, which were more than two dozen large ones, and then, instead of exploring the land any further on that day, our gentlemen spent their time gathering and roasting the very agreeable fish.
As a matter of course, the news of this discovery spread throughout the settlement, and straightway every person was eating oysters; but they soon tired of them, hankering after wheat of some kind.
Among those who served some of the gentlemen even as Nathaniel and I aimed to serve Captain Smith, was James Brumfield, a lazy, shiftless lad near to seventeen years old. Being hungry, and not inclined to build a fire, because it would be necessary to gather fuel, he ventured to taste of a raw oyster. Finding it pleasant to the mouth, he actually gorged himself until sickness put an end to the gluttonous meal.
It can thus be seen that even though Nathaniel and I had never been apprenticed to a cook, it was not difficult for us to serve our master with oysters roasted or raw, laid on that which answered in the stead of a table, in their own shells.