Richard of Jamestown by James Otis

Cooking a Turkey
And this is how we could roast a turkey: after drawing the entrails from the bird, we filled him full of chinquapin nuts, which grow profusely in this land, and are, perhaps, of some relation to the chestnut. An oaken stick, sufficiently long to reach from one side of the fireplace to the other, and trimmed with knives until it was no larger around than the ramrod of a matchlock, forms our spit, and this we thrust through the body of the bird from end to end. A pile of rocks on either side of the fireplace, at a proper distance from the burning wood, serves as rests for the ends of the wooden spit, and when thus placed the bird will be cooked in front of the fire, if whosoever is attending to the labor turns the carcass from time to time, so that each portion may receive an equal amount of heat.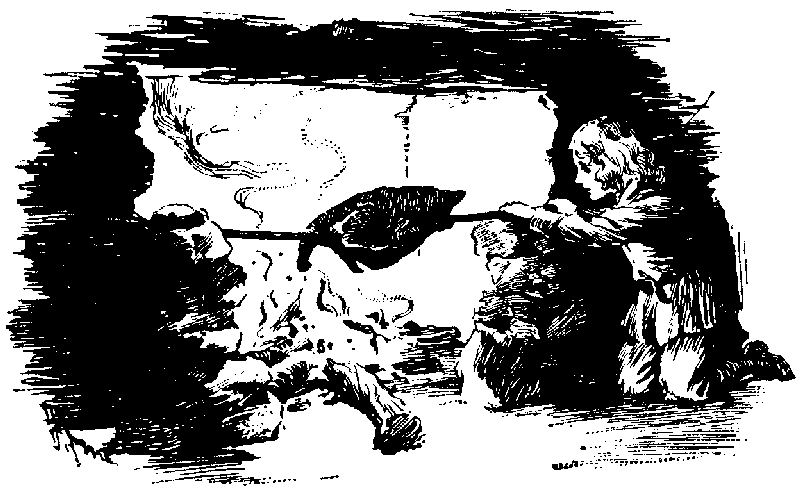 I am not pretending to say that this is a skillful method of cooking; but if you had been with us in Jamestown, and were as hungry as we often were, a wild turkey filled with chinquapin nuts, and roasted in such fashion, would make a very agreeable dinner.
We were put to it for a table; but yet a sort of shelf made from a plank roughly split out of the trunk of a tree, and furnished with two legs on either end, was not as awkward as one may fancy, for we had no chairs on which to sit while eating; but squatted on the ground, and this low bench served our purpose as well as a better piece of furniture would have done.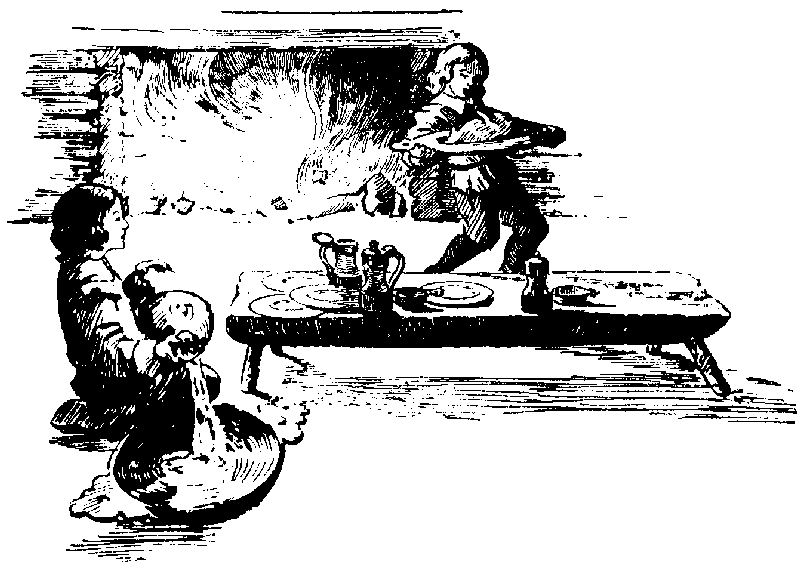 When the captain was at home, he carved the bird with his hunting knife, and one such fowl would fill the largest trencher bowl we had among us.
Nor could we be overly nice while eating, and since we had no napkins on which to wipe our fingers, a plentiful supply of water was necessary to cleanse one's hands, for these wild turkeys are overly fat in the months of September and October, and he who holds as much of the cooked flesh in his hand as is needed for a hearty dinner, squeezes therefrom a considerable amount in the way of grease.
We were better off for vessels in which to put our food, than in many other respects, for we had of trencher bowls an abundance, and the London Company had outfitted us with ware of iron, or of brass, or of copper, until our poor table seemed laden with an exceeding rich store.