The Rose and the Ring by William Makepeace Thackeray


How Princess Angelica Took a Little Maid
O NE day, when the Princess Angelica was quite a little girl, she was walking in the garden of the palace, with Mrs. Gruffanuff, the governess, holding a parasol over her head to keep her sweet complexion from the freckles, and Angelica was carrying a bun to feed the swans and ducks in the royal pond.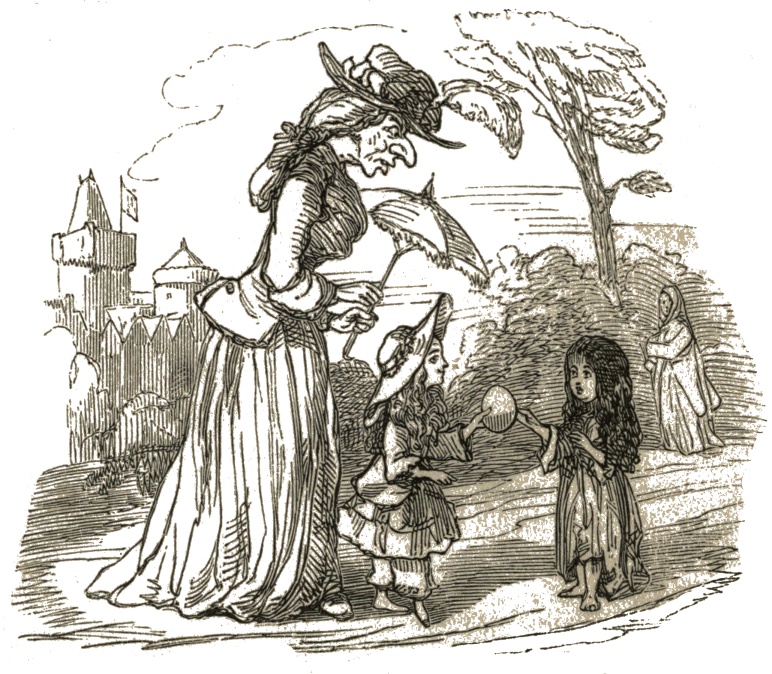 They had not reached the duck-pond, when there came toddling up to them such a funny little girl! She had a great quantity of hair blowing about her chubby little cheeks, and looked as if she had not been washed or combed for ever so long. She wore a ragged bit of a cloak, and had only one shoe on.
"You little wretch, who let you in here?" asked Gruffanuff.
"Dive me dat bun," said the little girl, "me vely hungy."
"Hungry! what is that?" asked Princess Angelica, and gave the child the bun.
"Oh, Princess!" says Gruffanuff, "how good, how kind, how truly angelical you are! See, your Majesties," she said to the King and Queen, who now came up, along with their nephew, Prince Giglio, "how kind the Princess is! She met this little dirty wretch in the garden—I can't tell how she came in here, or why the guards did not shoot her dead at the gate!—and the dear darling of a Princess has given her the whole of her bun!"
"I didn't want it," said Angelica.
"But you are a darling little angel all the same," says the governess.
"Yes; I know I am," said Angelica. "Dirty little girl, don't you think I am very pretty?" Indeed, she had on the finest of little dresses and hats, and, as her hair was carefully curled, she really looked very well.
"Oh, pooty, pooty!" says the little girl, capering about, laughing, and dancing, and munching her bun; and as she ate it she began to sing, "Oh what fun to have a plum bun! how I wis it never was done!" At which, and her funny accent, Angelica, Giglio, and the King and Queen began to laugh very merrily.
"I can dance as well as sing," says the little girl. "I can dance, and I can sing, and I can do all sorts of ting." And she ran to a flower-bed, and pulling a few polyanthuses, rhododendrons, and other flowers, made herself a little wreath, and danced before the King and Queen so drolly and prettily that everybody was delighted.
"Who was your mother—who were your relations, little girl?" said the Queen.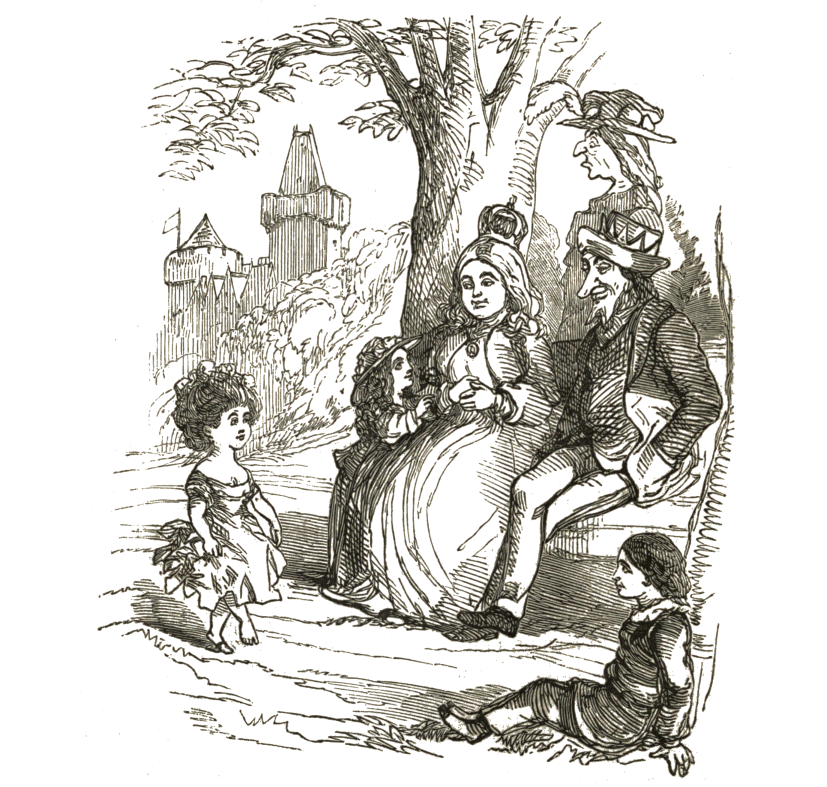 The little girl said: "Little lion was my brudder; great big lioness my mudder; neber heard of any udder." And she capered away on her one shoe, and everybody was exceedingly diverted.
So Angelica said to the Queen: "Mamma, my parrot flew away yesterday out of its cage, and I don't care any more for any of my toys, and I think this funny little dirty child will amuse me. I will take her home and give her some of my old frocks."
"Oh, the generous darling!" says Gruffanuff.
"Which I have worn ever so many times, and am quite tired of," Angelica went on; "and she shall be my little maid. Will you go home with me, little dirty girl?"
The child clapped her hands, and said: "Go home with you—yes! You pooty Princess!—Have a nice dinner and wear a new dress!"
And they all laughed again, and took home the child to the palace, where, when she was washed and combed, and had one of the Princess' frocks given to her, she looked as handsome as Angelica, almost. Not that Angelica ever thought so; for this little lady never imagined that anybody in the world could be as pretty, as good, or as clever as herself. In order that the little girl should not become too proud and conceited, Mrs. Gruffanuff took her old ragged mantle and one shoe, and put them into a glass box, with a card laid upon them, upon which was written: "These were the old clothes in which little BETSINDA was found when the great goodness and admirable kindness of her Royal Highness, the Princess Angelica, received this little outcast." And the date was added, and the box locked up.
For a while little Betsinda was a great favorite with the Princess, and she danced, and sang, and made her little rhymes, to amuse her mistress. But then the Princess got a monkey, and afterwards a little dog, and afterwards a doll, and did not care for Betsinda any more, who became very melancholy and quiet, and sang no more funny songs, because nobody cared to hear her. And then, as she grew older, she was made a little lady's-maid to the Princess; and though she had no wages, she worked and mended, and put Angelica's hair in papers, and was never cross when scolded, and was always eager to please her mistress, and was always up early and to bed late, and at hand when wanted, and in fact became a perfect little maid. So the two girls grew up, and when the Princess came out, Betsinda was never tired of waiting on her; and made her dresses better than the best milliner, and was useful in a hundred ways. Whilst the Princess was having her masters, Betsinda would sit and watch them; and in this way she picked up a great deal of learning; for she was always awake, though her mistress was not, and listened to the wise professors when Angelica was yawning, or thinking of the next ball. And when the dancing-master came, Betsinda learned along with Angelica; and when the music-master came, she watched him, and practised the Princess' pieces when Angelica was away at balls and parties; and when the drawing-master came, she took note of all he said and did; and the same with French, Italian, and all other languages—she learned them from the teacher who came to Angelica. When the Princess was going out of an evening she would say: "My good Betsinda, you may as well finish what I have begun."  "Yes, Miss," Betsinda would say, and sit down very cheerful, not to finish  what Angelica begun, but to do  it.
For instance, the Princess would begin a head of a warrior, let us say, and when it was begun it was something like this.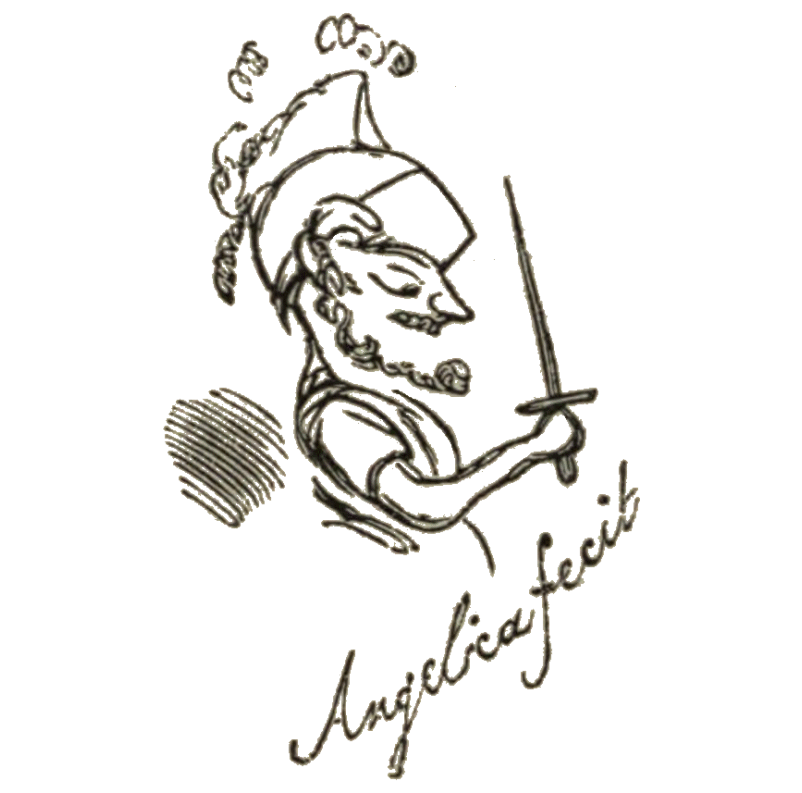 But when it was done, the warrior was like this (only handsomer still if possible), and the Princess put her name to the drawing; and the Court and King and Queen, and above all poor Giglio, admired the picture of all things, and said: "Was there ever a genius like Angelica?"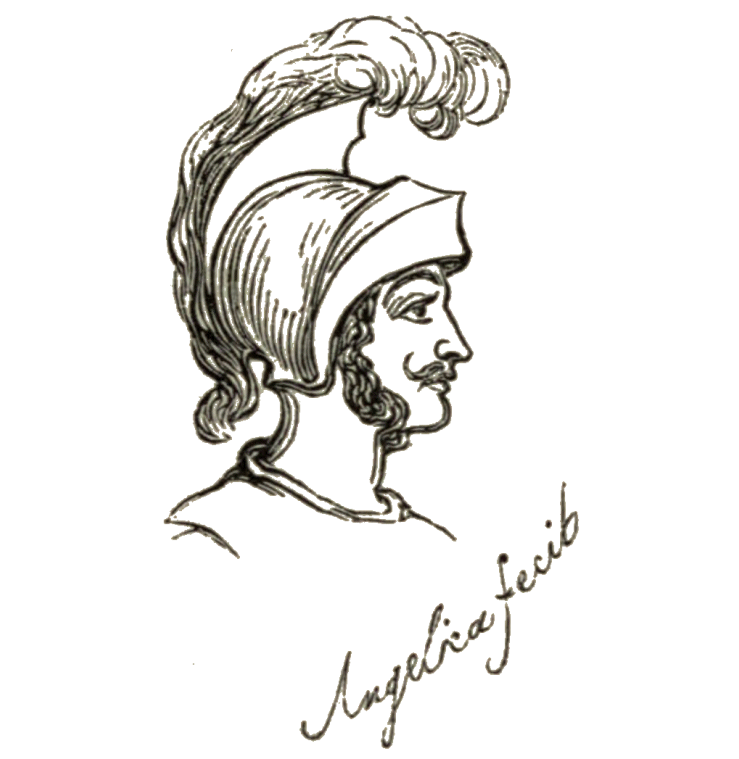 So, I am sorry to say, was it with the Princess' embroidery and other accomplishments; and Angelica actually believed that she did these things herself, and received all the flattery of the Court as if every word of it was true. Thus she began to think that there was no young woman in all the world equal to herself, and that there was no young man good enough for her. As for Betsinda, as she heard none of these praises, she was not puffed up by them, and being a most grateful, good-natured girl, she was only too anxious to do every thing which might give her mistress pleasure. Now you begin to perceive that Angelica had faults of her own, and was by no means such a wonder of wonders as people represented her Royal Highness to be.