Hannah Dustin
DURING the time of King William's War, there lived, near Haverhill, Massachusetts, a man named Thomas Dustin, and his wife, Hannah. They had built a home, and had a small family of children, among whom was a little baby. One day, Mr. Dustin left his wife and baby in the house, and, with his other children, was cutting wood some distance away. Possibly he was clearing ground for the planting of a new crop, for it was early spring, and the weather was good.
The Indians had not been giving them much trouble of late, and Mr. Dustin did not think it dangerous to leave his wife and baby with the nurse for a while. But, alas, the Indians were watching him, and, at a favorable moment, burst from the forest near by, rushed upon the house, slew the little baby and carried Mrs. Dustin and the nurse off into the woods!
Mr. Dustin heard the awful yells of the savages, and flew to the rescue of his wife and child. But it was too late! The party had been swallowed up in the forest, and, as the Indians leave no trail, the heart-broken man gave his loved ones up for lost.
For fifteen days the Indians forced Mrs. Dustin and the nurse to trudge with them through the forest. There was still some snow and ice in places, and neither woman was clad for such a journey. In fact, Mrs. Dustin had but one shoe, and traveled over a hundred miles, thus partly barefoot. They endured great hardships by day, and, at night, were so closely guarded by two Indians that there was no chance of escape. At last, they came to a place, now known as Dustin Island, where they found other white captives,—two men, one woman, and seven children. There was also a young boy, who had been held for over a year.
Mrs. Dustin gathered from what the Indians said that it was their intention to make their prisoners "run the gauntlet," when they reached their final destination. By "running the gauntlet" was meant that a prisoner was stripped to the waist and made to run between two files of Indians who beat him with clubs and sticks. He was indeed fortunate if he reached the end of the file alive.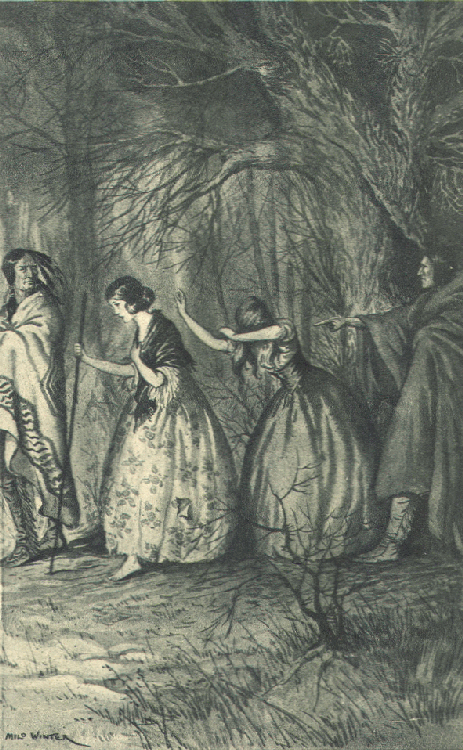 For fifteen days the Indians required Mrs. Dustin and the nurse to trudge with them through the woods.
For many days the party rested where they were, presumably waiting for more prisoners. Mrs. Dustin talked with the other captives, made friends with the Indians, and showed no suspicion of her designs, in order to throw them off their guard, if it could be done. She told the boy to do likewise; and he won the favor of a Chief, who explained to him how to scalp an enemy.
Mrs. Dustin now began to plan some definite way of escape. Five weeks had passed, and, at her suggestion, the prisoners showed no signs of trying to get away. In fact, they talked to the Indians as if they would like to be adopted into the tribe, and live a savage life. Mrs. Dustin succeeded in getting a little corn every day and hiding it, and she finally found out from the Indians exactly where they were, and in what direction lay the white settlements. In the meantime, she and the nurse had also learned how to scalp, and several sharp knives had been secured by them and hidden away.
At last a time came when the Indians no longer kept guard. They all slept, and sometimes their sleep was very deep. Mrs. Dustin often arose and went among the braves, to see how wakeful they were to sounds. But they slept as if no one was near. Then one night arrived, after a hard hunt, when the Indians were so tired and had feasted so fully that they had fallen into a very deep sleep indeed.
It was dark, and all around was still. Mrs. Dustin gently shook the boy and the nurse, who arose with tomahawks and knives in hand. Each selected three Indians, and Mrs. Dustin took four. Slowly they crept, by the dim light of the camp fire, close to the sleeping savages. Knife after knife descended with unerring aim, and the tomahawk struck its deadly blow quickly and surely, until ten Indians lay dead. Not a soul was left of them, except one old Indian woman and a boy of eleven, who escaped in the dark.
Mrs. Dustin and her companions freshly lighted the fire, and by the glow scalped all the dead Indians. Then they made their way to the canoes on the shore, and, scuttling the boats except those they needed, they took the guns, ammunition and food belonging to the Indians, as well as the food they had hidden, and started down the river.
Day after day they paddled, pausing at night to rest. Cautiously they built small fires to cook their much-needed food. While they slept, one was always left awake and on guard. After a while, the party reached home, and there was great rejoicing, for they had long since been given up as dead.
The General Assembly of Massachusetts voted Mrs. Dustin a large sum of money, and the Governor of Maryland sent her a silver tankard which, to this very day, is preserved with much pride by her descendants.