The Vale of Thorns
SEVEN years passed. In all the world there was not such another king as Charlemagne. Wherever his arms were carried, there victory followed; and neither Pagan nor haughty Christian foe dared lift up hands any more against him. His kingdom stretched from the Baltic Sea to the Italian shores, and from beyond the Rhine to the great Western Ocean. Princes were his servants; kings were his vassals; and even the Pope of Rome did him homage. And now he had crossed the Pyrenees, and was carrying fire and sword into the fair fields and rich towns of the Spanish Moors; for he had vowed to punish Marsilius, king of Spain, for the injuries he had done the French in former years. And he had overrun the whole of that haughty land, and had left neither castle, nor city, nor wall, unbroken, save only the town of Saragossa.
One day Charlemagne sat beneath the blossoming trees of an orchard near Cordova. White was his beard, and flowered was his head; yet still handsome was his body, and proud his form. Around him were the noblest of his knights, Roland and Oliver and old Duke Namon, and fifteen thousand of the choicest men of France. It was a gala-day for the French, and the warriors amused themselves with field-sports, and many pleasant games. Then a party of Moorish messengers were brought before the king. They came from Marsilius at Saragossa, who had sent to beg peace of Charlemagne.
"What will Marsilius give for peace?" asked the king.
"If you will go back to your own country, and cease this unhappy war," answered they, "then Marsilius binds himself to do this: he will go to Aix at Michaelmas, and be baptized; he will do homage then for Spain, and will faithfully hold it in fief from you; he will give you great store of treasures,—four hundred mules loaded with gold, and fifty cartloads of silver, besides numbers of bears and lions and tame greyhounds, and seven hundred camels, and a thousand moulted falcons. Too long has this cruel war been waging. Marsilius would fain have peace."
Charlemagne listened to the words of the messengers, but he was not quick to answer. He called together his peers, and laid the matter before them. "What think you of the Moor's offers of peace?" asked he.
"Put no trust in Marsilius!" cried Roland. "He is the most faithless of Pagans, and speaks only lies. Carry on the war as you have begun, and talk not of peace until Saragossa is ours."
Charlemagne's face grew dark, yet he said not a word. It was plain that he coveted the treasures which Marsilius had promised. Then Ganelon arose, and with curling lip, thus answered,—
"If Marsilius offers to do fealty for Spain, and to hold it as a gift from you, wherefore should we refuse his plea? He who would advise you otherwise cares not what manner of death we die."
And Namon of Bavaria added, "If the Moor is beaten, and cries for mercy, it would be an unknightIy act to continue warring against him. My voice is for peace."
And all the peers, save Roland and Oliver, cried out, "The duke hath spoken wisely. Let us have peace!"
"It is well," answered Charlemagne; "and so it shall be. But whom shall we send to Saragossa to treat with Marsilius, and to receive the pledges of good faith which he shall give?"
Then arose a great dispute among the peers as to which should undertake this dangerous errand. Duke Namon, who was never known to shirk a duty, offered to go; but the king would not consent. He liked not to part with his wise old friend, even for a single day.
"I will carry the message," said Roland.
"Not so, my brother," interrupted Oliver. "Thy pride will get the better of thy judgment, and thou wilt act rashly. Let me undertake the errand."
But Charlemagne refused them both. "Neither of you shall go," said he. "But you may choose one from among these other barons to be the messenger."
"Then send Ganelon of Mayence," said Roland. "He is in favor of this peace, and he is most fit to carry the message."
"Yes, send Ganelon of Mayence!" cried all the peers.
Ganelon rose from his seat in rage. Fire flashed from his hazel eyes; his lips quivered; he tore the sable border from his crimson tunic, and stood proudly before Roland. "Fool!" cried he. "Who art thou who wouldst send me to Marsilius? If I but live to come again from Saragossa, I will deal thee such a blow as thou shalt never forget."
"Speak softly, Sir Ganelon," said Roland. "Men know that I care not for threats. If thou art afraid of the danger, mayhap the king will allow me to go in thy place."
Hotter than before was Ganelon's wrath; but he held his tongue, and turned humbly toward the king.
"My lord," said he, "since you will that I bear this message to Marsilius, I go. But I know too well the false-hearted Moor to hope that I shall ever return. I pray you, care for my fair son Baldwin, to whom I leave my lands and all my fiefs. Keep him well, for these eyes of mine shall never see him again."
"Thou art too fearful, and too tender of heart," said the king, as he offered to Ganelon the staff and the glove which messengers were wont to carry as signs of their office. "Go now, and doubt not the issue of thine errand."
Ganelon took the staff; but his hand trembled, and the glove fell to the ground.
"An evil omen is that," whispered the peers who saw it. "It is a sign of no good fortune, either to him or to us."
Then Ganelon bade the king good-by, and went on his way. But he said to himself, "This is Roland's doings, and I shall hate him all my life long: neither shall I love Oliver his brother, nor any other of the twelve peers."
When he reached Saragossa, Ganelon was led into the presence of Marsilius. The Moorish king sat under a pine tree, and twenty thousand warriors stood around him.
"What answer bring you from your liege-lord Charlemagne?" asked he.
Ganelon had studied well what he should say; and he answered, like one long used to cunning guile, "If thou wilt be baptized and become a Christian, Charlemagne will give thee the half of Spain to hold in fief. If thou wilt not accept this offer, then he will besiege thee in Saragossa, and take thee prisoner; and he will send thee bound upon the back of a sumter horse to Aix, and there he will have thee put to death. This is the message while Charlemagne sends thee."
Great was the anger of the Moorish king, and he raised his javelin to strike the messenger dead. But Ganelon, no whit daunted, set his back against the trunk of a tree, and drew his sword part way from its scabbard.
"Good sword," said he, "thou art fair and bright, and thou hast done me many a service. Never shall it be said that Ganelon died alone in a strange land."
But the courtiers of King Marsilius stepped in between them. "It were better," said they, "to treat with this man than to slay him. If his face slander him not, he is a man who may be persuaded to help us. Try him."
Then Marsilius called Ganelon to his side, and offered him five hundred pounds of gold for his friendship. And the two sat long together, and plotted bloodshed and treason.
"Indeed, what think you of this Charlemagne?" asked the Moor. "Through how many lands has he carried that old body of his? How many scars are there on his shield? How many kingdoms has he stolen, and how many kings impoverished? Methinks that his days are well-nigh spent. He must be more than two hundred years old."
But Ganelon, although a traitor, would say naught against the king. "None can see him," said he, "but will say that he is a man. None can so praise or honor him, but that there shall yet be in him more worth and goodness."
"Yet, methinks," said the Moor, "that he is very old. His beard is white; his hair is flowered. It is strange that he grows not tired of fighting."
"That he will never do so long as Roland, his nephew, lives," answered Ganelon. "There, too, is Oliver; and there are the other peers of the realm, all of whom the king holds most dear. They alone are worth twenty thousand men."
"I have heard much of Roland," said the Moor; "and I would fain put him out of the way. Tell me how it can be done, and thou shalt have three baggage horseloads of gold, three of silver, and three of fine silk and red wine and jewels."
Now Ganelon desired, above all things, the death of Roland; and he eagerly made known his plans to Marsilius.
"Send to Charlemagne," said he, "great store of rich gifts, so that every Frenchman shall wonder at your wealth. Send also hostages, and promise him that on next Michaelmas you will be baptized at Aix and do him homage for Spain. Pleased with your promises, he will return to sweet France. But this rearguard, with Roland and Oliver, and twenty thousand Frenchmen, will be long among the passes of the Pyrenees. A hundred thousand Moors could well cope with them there."
Then the two traitors exchanged promises and pledges; and Ganelon, taking with him the keys of Saragossa, and rich presents for Charlemagne, went back to Cordova.
Right glad was Charlemagne to hear the message which the lying traitor brought. He was tired of warring, and he longed to return in peace to his own sweet France. The next day the trumpets sounded throughout the camp. The tents were struck; the baggage was packed on the sumter horses; the knights mounted their steeds; banners and pennons waved thick in the air; the great army began its glad march homeward. Joyful was the beginning of that march; but, ah, how sad the ending! The French did not see the crafty Moors following them through the upper valleys, their banners furled, their helmets closed, their lances in rest.
That first night the king was troubled with sad dreams. He thought that Ganelon seized his lance and shook it, and that it fell in pieces. He thought that he hunted in the forest of Ardennes, and that both a boar and a leopard attacked him. A thousand fearful fancies vexed him. Mountains fell upon him and crushed him; the earth yawned and swallowed him; perils beset him on every side: but amid them all, the face of Ganelon was ever to be seen.
By and by the army came to the Pyrenees, and the great land of France lay just beyond the mountains.
"To whom now," said the king to his peers, "shall we intrust our rearguards while we pass safely through the mountain gates?"
"Give it to Roland, your nephew," said Ganelon. "There is none more worthy than he."
"And who shall lead the vanguard?"
"Ogier, the Dane. Next to Roland, he is the bravest of your barons."
Right willingly did Roland accept the dangerous trust.
"I will see to it," said he, "that no harm come to the French while passing through the gates. Neither pack-horse, nor mule, nor palfrey, nor charger, nor man shall we lose, that shall not be paid for by the blood of our foes."
Then he mounted his steed, and rode back to the rear. And with him went Oliver and Gerin and Gerer and Josse and Berenger and Jastor and Anseis, and Duke Gaifer, and proud Gerard of Rousillon, and Turpin the archbishop, and twenty thousand valiant fighting-men.
High were the mountains, and gloomy the valleys; dark were the rocks, and fearful were the glens. But the day was fair, and the sky was clear; and the bright shields of the warriors glittered in the sunlight like flashes of fire. All at once a sound, as of a thousand trumpets blowing, was heard in the valley below them. The French knights hearkened.
"Comrades," said Oliver, "methinks that we are followed by the Moors."
"And may God grant us battle and victory!" said Roland earnestly. "Well is it that we are here to defend the king. For one should never murmur that he suffers distress for his friends: for them, he should lose, if need be, both blood and flesh and even life itself."
Then Oliver climbed a high pine tree, and looked down into the grassy valley behind them. There he beheld such troops of Pagan folk as he had never seen before.
"Comrades," cried he, "we shall have such a battle as no man has known. The passes are full of armed Moors: their hauberks and glittering helmets fill the lower valleys. Great mischief is in store for us, but may we stand to the field like men!"
"Shame be to him that flees!" said the warriors who heard him.
Bewildered and amazed at sight of so terrible an array of Pagans, Oliver descended from the tree.
"Brother Roland," said he, "I pray thee blow thy horn. The king will hear it, and he will turn him about and come to our succor."
"To do so would be to act as a craven," answered Roland. "Never shall it be said that I feared a foe. I will strike strong strokes with Durandal. Ill shall it fare with the Pagan traitors."
"Comrade Roland," again said Oliver, "now blow thy horn. Charlemagne will hear it, and he will make his host return."
"Never," answered Roland, "shall my kinsmen upbraid me, or be blamed by me. But I will strike with Durandal. The brand which the king gave me when he knighted me, that shall be our succor."
Then Oliver prayed him the third time, "Comrade Roland, sound now thine ivory horn. Charlemagne, who is passing the gates, will hear us and come to our aid."
"No man shall ever say," answered Roland, "that I have blown my horn for Pagans. My kinsmen shall not bear that reproach. But when the great battle is joined, then you shall see the lightning flashes of Durandal in the thickest of the fight. A thousand and seven hundred times shall the blade be dyed in the blood of the Moors. Better would it be to perish than suffer shame."
But Oliver was not yet satisfied. "I have seen the Moorish host," said he. "The mountains and the plains, the valleys and the groves, are full of them. Never have we fought against such great odds."
"Friend and brother," answered Roland, "say not another word. The king has left us here, with a rearguard of twenty thousand men, and he esteems everyone of us a hero. Do thou strike with thy lance and thy good blade Haultclear. As for me, Durandal shall serve me well. And, if I die, men shall say, 'This sword belonged to a noble knight.' "
Then the good Archbishop Turpin rode down the ranks, holding a sword in one hand and a crucifix in the other. "Comrades," cried he, "the king has left us here. He trusts in us, and for him we shall die. Cry now your sins to Heaven. Pray God's mercy, and ask his blessing."
In a moment every knight among those twenty thousand horsemen had dismounted. Humbly and reverently every knee was bent, and every head was bowed. And the good archbishop blessed the company in God's name.
"If ye die," said he, "ye shall have places in paradise."
Then the warriors arose, light-hearted and hopeful. They rode into the place which is called Roncevaux, the Vale of Thorns, and there they put themselves in battle-array, and waited the onset of their foes. Roland sat astride of his good war steed, and proudly faced the Moorish host. In his hand he held the bared blade Durandal, pointing toward heaven. Never was seen a more comely knight. Courteously he spoke to the warriors about him. Then, putting spurs to his steed, he cried,—
"Comrades, ride onward! The day shall be ours!"
"Forget not the war cry of Charlemagne," said Oliver.
At these words the rocks and valleys rang with the cry, "Monjoie! Monjoie!" And every warrior dashed forward to meet the foe.
Long and fierce was the fight, and terrible was the slaughter. With heart and strength the French knights struck. The Moors were slain by hundreds and by thousands. For a time victory seemed to be with the French. Many and valiant were the deeds achieved by Roland and Oliver and the archbishop and the peers that were with them. But at length Marsilius came down upon them with a fresh troop of seven thousand Moors. They hemmed the French heroes in on every side. Roland saw his knights falling one by one around him. All were slain save sixty men.
"Oliver, my fair dear comrade," said he, "behold how many brave vassals have fallen! The battle goes hard with us. If, now, we only knew how to send news to Charlemagne, he would return and succor us."
"It is too late," answered Oliver. "Better would we die than suffer shame."
Then said Roland, "I will sound my ivory horn. Mayhap Charlemagne, who is passing the gates of Spain, will hear it and return."
"Do no such thing," answered Oliver. "Great shame would be upon you and your kinsmen forever. You would not blow your horn when I advised it, and now you shall not do so because the day is lost."
Then the archbishop rode up, and said, "The day is indeed lost, and to blow the horn would now no more avail us. But, should the king hear it, he will come back through the passes. He will find us dead: his men will lift us in biers and carry us home to be buried in minsters, and we shall not be left as food for wolves and dogs."
"Thou sayest well," said Roland. And he placed the horn to his lips. High were the hills, deep and dark were the gorges, narrow were the ways among the mountains. Yet the sound of that horn was heard for thirty leagues. Charlemagne and Duke Namon heard it while yet they were between the gates.
"Hark!" said the king. "I hear Roland's horn. The felon Moors have attacked him: he is hard pressed in battle."
"You are foolishly mistaken," said Ganelon. "There is no battle. You are old, your beard is white, your head is flowery, you are growing childish. You love your silly nephew, Roland, too well. He is only hunting among the mountains. He would blow his horn all day for a single hare, and then he would boast before you of his valor. Ride on. Your own France is not far ahead."
But the king was not to be deceived. He ordered Ganelon to be seized and bound and given in charge of his cooks, who were to hold him a close prisoner. They bound him with a great chain, and laid him across the back of a sumter horse; they pulled his beard; they struck him with their fists; they beat him with sticks. Sorry indeed was the traitor's plight, but his punishment was just. As for Charlemagne, he turned and, with all his host, hastened back to the succor of Roland and the valiant rearguard. High were the mountain walls, and darkly did they overhang the way; deep were the mountain gorges; swift and strong were the torrents; narrow and steep was the road. The trumpets sounded: anxiously and with haste the king and his horsemen retraced their steps.
Fiercely still the battle raged in the fated Vale of Thorns. One by one the French knights fell; but for every one that was slain ten Pagans bit the dust. At length Oliver was wounded unto death; but still he sat on his horse and struck valiantly about him with his good Haultclear. His eyes lost their strength: he could not see. He met Roland, and struck him a blow which split his helmet down to the nose-piece, but luckily wounded him not.
"Brother," said Roland softly and gently, "thou has not done this willingly. I am Roland, he who has loved thee so long and so well."
"Ah, comrade!" said Oliver, "I hear thee; but I can not see thee. Pray forgive me if I have harmed thee."
"I am none the worse," answered Roland; "and there is naught to forgive."
Then the two brothers bent over from their steeds, and embraced each other; and amid much love and many hasty words of farewell, they parted.
And now all the French were slain, save only Roland and the archbishop. The hero was wounded in a dozen places: he felt his life-blood oozing away. Again he drew his ivory horn, and feebly sounded it. He would fain know whether Charlemagne were coming. The king was in the pass, not far away, and he heard the failing blast.
"Ah, Roland!" said he, "the battle goes ill with thee." Then he turned to his host, and said, "Blow loud your trumpets, that the hero may know that succor comes."
At once sixty thousand bugles were blown so loudly that the valleys and the caves resounded, and the rocks themselves trembled. Roland heard it and thanked God. The Pagans heard it and knew that it boded no good to them. They rushed in a body upon Roland and the archbishop. Roland's horse was slain beneath him; his shield was split in twain; his hauberk was broken. The archbishop was mortally wounded, and stretched upon the ground. Again the trumpets of Charlemagne's host were heard, and the Pagans fled in great haste toward Spain.
Then Roland knelt by the side of the dying archbishop. "Kind friend, so good and true," said he, "now the end has come. Our comrades whom we held so dear are all dead. Give me leave to bring them and lay them in order by thee, that we may all have thy blessing."
"It is well," answered the good Turpin. "Do as thou wilt. The field is thine and mine."
So Roland, weak and faint, went all alone through that field of blood, seeking his friends. He found Berenger and Otho and Anseis and Samson, and proud Gerard of Rousillon; and one by one he brought them and laid them on the grass before the archbishop. And lastly he brought back Oliver, pressed gently against his bosom, and placed him on a shield by the others. The archbishop wept; and he lifted up his feeble hands and blessed them: "Sad has it been with you, comrades. May God, the glorious King, receive your souls in his paradise!"
Then Roland, faint with loss of blood, and overcome with grief, swooned and fell to the ground. The good archbishop felt such distress as he had never known before. He staggered to his feet; he took the ivory horn in his hands, and went to fetch water from the brook which flows through the Vale of Thorns. Slowly and feebly he tottered onward, but not far: his strength failed and he fell to the ground. Soon Roland recovered from his swoon and looked about him. On the green grass this side of the rivulet, he saw the archbishop lying. The good Turpin was dead.
And now Roland felt that he, too, was nigh death's door. He took the ivory horn in one hand, and Durandal in the other, and went up a little hill that lies toward Spain. He sat down beneath a pine tree where were four great blocks of marble. He looked at the blade Durandal. "Ha, Durandal," he said, "how bright and white thou art! Thou shinest and flamest against the sun! Many countries have I conquered with thee, and now for thee I have great grief. Better would it be to destroy thee than to have thee fall into the hands of the Pagan folk."
With great effort he raised himself on his feet again. Ten times he smote with Durandal the great rock before him. But the sword was bright and whole as ever, while the rock was split in pieces. Then the hero lay down upon the grass, with his face toward the foe. He put the sword and the horn under him. He stretched his right glove toward heaven, and an unseen hand came and took it away. Dead was the matchless hero.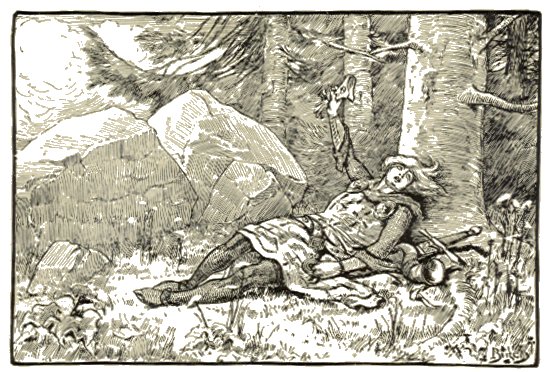 The Death of Roland
Not long after this King Charlemagne with his host came to the death-strewn Vale of Thorns. Great was the grief of the king and of all the French, when they found that they had come too late to save even a single life. Roland was found lying on the grass, his face turned toward Spain. Charlemagne took him up tenderly in his arms, and wept.
"Friend Roland," said he, "worthiest of men, bravest of warriors, noblest of all my knights, what shall I say when they in France shall ask news of thee? I shall tell them that thou art dead in Spain. With great sorrow shall I hold my realm from this time on. Every day I shall weep and bewail thee, and wish that my life, too, were ended."
Then the French buried their dead on the field where they had fallen. But the king brought Roland and Oliver and the archbishop to Blaye in France, and laid them in white marble tombs; and there they lie until this day, in the beautiful little chapel of St. Roman's. And he took the ivory horn to Bordeaux, and filled it with fine gold, and laid it on the altar of the church in that city; and there it is still seen by the pious pilgrims who visit that place.