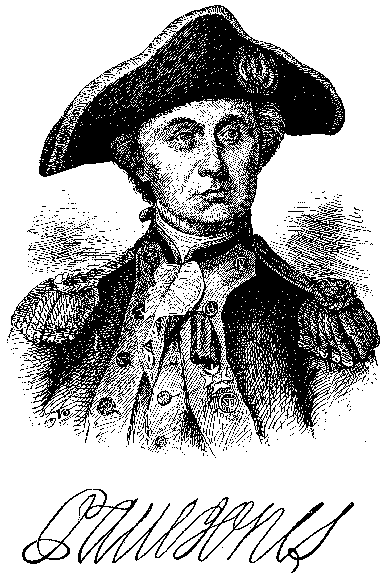 The Story of Paul Jones
The Little Scotch
Many years ago there lived, in the southwestern part of Scotland, on the beautiful bay called Solway Firth, a gentleman whose name was Mr. Craik. In Scotland, a large farm is called an estate. Mr. Craik named his estate Arbigland.
His large house stood high on the shore overlooking the sea. The lawn sloped gradually to the firth.
Mr. Craik's gardener, John Paul, lived in a cottage on the estate. Mr. Craik was very fond of John Paul, for he worked well. He made the grounds like a beautiful park, and planted many trees, some of which are still standing.
One day John Paul married Jean Macduff. She was the daughter of a neighboring farmer. She and John lived very happily in their little cottage. They had seven children. The fifth child was a boy, named for his father, John Paul. He was born July 6, 1747.
When little John was large enough to run about he liked to play on the beautiful lawn and to wander along the shore of the firth. Sometimes he would sit still for hours watching the waves.
Sometimes he and Mr. Craik's little boy would play with tiny sailboats and paddle about in the water. When they grew tired of this, they would climb among the rocks on the mountains which were back of the estate.
When there were storms at sea, vessels would come into Solway Firth for a safe harbor. The water was very deep near the shore. Because of this the ships could come so near the lawn of Arbigland that their masts seemed to touch the overhanging trees.
Little John Paul and his playmates liked to watch the sailors, and sometimes could even talk to them. They heard many wonderful stories of a land called America, where grew the tobacco that was packed in some of the ships.
The children would often take their little sailboats to some inlet, where they would play sailor. John Paul was always the captain. Ile had listened carefully to the commands given by the captains of the large vessels. These he would repeat correctly and with great dignity, though he did not always understand them.
John Paul spent more time in this kind of play than in going to school. In those days there were few schools, and book-learning was not thought to be of much use. At a parish school near by, John learned to spell and to repeat the rules of grammar.
When he was twelve years old he felt that the time had come when he could be a real sailor. So his father allowed him to go across the firth to an English town called Whitehaven. There he was apprenticed to Mr. Younger, a merchant, who owned a ship and traded in goods brought from foreign lands.
He soon went to sea in Mr. Younger's vessel, the Friendship. This ship was bound for America to get tobacco from the Virginia fields.