Gordon's First Battles
The Crimean War had been going on for several months when, on New Year's Day 1855, Gordon reached Balaclava.
The months had been dreary ones for the English soldiers, for, through bad management in England, they had had to face a bitter Russian winter, and go through much hard fighting, without proper food, without warm clothing, and with no proper shelter.
Night after night, and day after day, in pitilessly falling snow, or in drenching rain, clad in uniforms that had become mere rags, cold and hungry, tired and wet, the English soldiers had to line the trenches before Sebastopol.
These trenches were deep ditches, with the earth thrown up to protect the men who fired from them, and in them the men often had to stand hour after hour, knee deep in mud, and in cold that froze the blood in their veins.
Illness broke out in the camp, and many men died from cholera. Many had no better bed than leaves spread on stones in the open could give them.
Some of those who had tents, and used little charcoal fires to warm them, were killed by the fumes of charcoal.
A "Black Winter" it was called, and the Black Winter was not over when Gordon arrived. He had been sent out in charge of 320 huts, which had followed him in the collier from Portsmouth, so that now, at least, some of the men were better sheltered than they had been before. But they were still half-starved, and in very low spirits. Officers and men had constantly to go foraging for food, or else to go hungry, and men died every day of the bitter cold. And all the time the guns of the Russians were never idle.
It was not a very gay beginning for a young officer's active service, but Gordon, like his mother, had a way of making the best of things. Even when, as he wrote, the ink was frozen, and he broke the nib of his pen as he dipped it, "There are really no hardships for the officers," he wrote home; "the men are the sufferers."
Before he had been a month out, Gordon was put on duty in the trenches before Sebastopol, a great fortified town by the sea.
On the night of 14th February, with eight men with picks and shovels, and five double sentries, he was sent to make a connection between the French and English outposts by means of rifle-pits. It was a pitch black night, and as yet Gordon did not know the trenches as well as he had known the earthworks at Woolwich Arsenal. He led his men, and, missing his way, nearly walked into the town filled with Russians. Turning back, they crept up the trenches to some caves which the English should have held, but found no sentries there. Taking one man with him, Gordon explored the caves. He feared that the Russians, finding them undefended, might have taken possession of them when darkness fell, but he found them empty. He then posted two sentries on the hill above the caves, and went back to post two others down below. No sooner did he and these two appear below than "Bang! bang!" went two rifles, and the bullets ripped up the ground at Gordon's feet. Off rushed the two men who were with him, and off scampered the eight sappers, thinking that the whole Russian army was at their heels. But all that had really happened was that the sentries on the hill above, seeing Gordon and his men coming stealthily out of the caves in the darkness, had taken them for Russians, and fired straight at them. The mischief did not end there. A Russian picket was stationed only 150 yards away, and the sound of the shots made them also send a shower of bullets, one of which hit a man on the breast, passed through his coats, grazed his ribs, and passed out again without hurting him. But no serious harm was done, and by working all night Gordon and his men carried out their orders.
It was not long before Gordon learned so thoroughly all the ins and outs of the trenches that the darkest night made no difference to him. "Come with me after dark, and I will show you over the trenches," he said to a friend who had been away on sick leave, and who complained to him that he could not find his way about. "He drew me a very clear sketch of the lines," writes his friend, Sir Charles Stavely, "explained every nook and corner, and took me along outside our most advanced trench, the bouquets (volleys of small shells fired from mortars) and other missiles flying about us in, to me, a very unpleasant manner, he taking the matter remarkably coolly."
Before many weeks were past, Gordon not only knew the trenches as well as any other officer or man there, but he knew more of the enemy's movements than did any other officer, old or young. He had "a special aptitude for war," says one general. "We used to send him to find out what new move the Russians were making."
Shortly after his adventure in the caves, Gordon had another narrow escape. A bullet fired at him from one of the Russian rifle-pits, 180 yards away, passed within an inch of his head. "It passed an inch above my nut into a bank I was passing," wrote Gordon, who had not forgotten his school-boy slang. But the only other remark he makes about his escape in his letter home is, "They (the Russians) are very good marksmen; their bullet is large and pointed."
Three months later, one of his brothers wrote home—"Charlie has had a miraculous escape. The day before yesterday he saw the smoke from an embrasure on his left and heard a shell coming, but did not see it. It struck the ground five yards in front of him, and burst, not touching him. If it had not burst, it would have taken his head off."
The soldiers at Sebastopol were not long in learning that amongst their officers there was one slight, wiry young lieutenant of sappers, with curly hair and keen blue eyes, who was like the man in the fairy tale, and did not know how to shiver and shake.
One day as Gordon was going the round of the trenches he heard a corporal and a sapper having hot words. He stopped and asked what the quarrel was about, and was told that the men were putting fresh gabions (baskets full of earth behind which they sheltered from the fire of the enemy's guns) in the battery. The corporal had ordered the sapper to stand up on a parapet where the fire from the guns would hail upon him, while he himself, in safety down below, handed the baskets up to him. In one moment Gordon had jumped up on to the parapet, and ordered the corporal to stand beside him while the sapper handed up baskets to them. The Russian bullets pattered around them as they worked, but they finished their work in safety. When it was done, Gordon turned to the corporal and said: "Never order a man to do anything that you are afraid to do yourself."
On 6th June there was a great duel between the guns of the Russians and those of their besiegers. A stone from a round shot struck Gordon, and stunned him for some time, and he was reported "Wounded" by the surgeon, greatly to his disgust. All day and all night, and until four o'clock next day, the firing went on. At four o'clock on the second day the English and their allies began to fire from new batteries. A thousand guns kept up a steady, terrible fire of shells, and, protected by the fire, the French dashed forward and seized one of the Russians' most important positions. Attacking and being driven back, attacking again and gaining some ground, once more attacking and losing what they had gained, leaving men lying dead and dying where the fight had been fiercest, so the weary days and nights dragged past.
"Charlie is all right," his brother wrote home, "and has escaped amidst a terrific shower of grape and shells of every description.... He is now fast asleep in his tent, having been in the trenches from two o'clock yesterday morning during the cannonade until seven last night, and again from 12-30 this morning until noon."
Both sides agreed to stop fighting for a few days after this, in order to bury the dead.
The whole ground before Sebastopol was, Gordon wrote, "one great graveyard of men, freshly made mounds of dark earth covering English, French, and Russians."
From this time until September the war dragged on. It was a dull and dreary time, and as September drew near Gordon thought of happy days in England, with the scent of autumn leaves, and the whir of a covey of birds rising from the stubble, and he longed for partridge-shooting. But they shot men, not birds, in the Crimea. "The Russians are brave," he wrote, "certainly inferior to none; their work is stupendous, their shell practice is beautiful." Gordon was never one to grudge praise to his enemies.
Every day men died of disease, or were killed or wounded. On 31st August 1855, Gordon wrote that "Captain Wolseley (90th Regiment), an assistant engineer, has been wounded by a stone." In spite of stones and shells, Captain Wolseley fought many brave fights, and years afterwards became Lord Wolseley, Commander-in-Chief of the British Army, a gallant soldier and a brilliant leader of men.
On 8th September one of the chief holds of the Russians was stormed by the French, who took it after a fierce fight and hoisted on it their flag. This was the signal for the English to attack the great fort of the Redan. With a rush they got to the ditch between them and the fortress, put up their ladders, and entered it. For half-an-hour they held it nobly. Then enormous numbers of fresh Russian troops came to the attack, and our men were driven out with terrible loss. At the same time, at another point, the French were driven back. Nothing was left for the allied troops but to wait till morning. It was decided that when morning came the Highland soldiers must storm and take the Redan. But this the Russians gave them no chance to do.
While Gordon was on duty in the trenches that night he heard a terrific explosion.
"At four next morning," he writes, "I saw a splendid sight. The whole of Sebastopol was in flames, and every now and then great explosions took place, while the rising sun shining on the place had a most beautiful effect. The Russians were leaving the town by the bridge; all the three-deckers were sunk, the steamers alone remaining. Tons and tons of powder must have been blown up. About eight o'clock I got an order to commence a plan of the works, for which purpose I went to the Redan, where a dreadful sight was presented. The dead were buried in the ditch—the Russians with the English—Mr. Wright" (an English chaplain), "reading the burial service over them."
The fires went on all day, and there were still some prowling Russians in the town, so that it was not safe to enter it.
When the allied forces did go in, they found many dreadful sights. For a whole day and night 3000 wounded men had been untended, and a fourth of them were dead. The town was strewn with shot and shell; buildings were wrecked, or burned down.
"As to plunder," wrote Gordon, "there is nothing but rubbish and fleas, the Russians having carried off everything else."
For some time after the fall of Sebastopol, Gordon and his men were kept busy clearing roads, burning rubbish, counting captured guns, and trying to make the town less unhealthy.
He then went with the troops that attacked Kinburn, a town many miles from Sebastopol, but also on the shores of the Black Sea. When it was taken, he returned to Sebastopol.
For four months he was there, destroying forts, quays, storehouses, barracks, and dockyards; sometimes being fired on by the Russians from across the harbour; never idle, always putting his whole soul into all that he did.
His work was finished in February 1856, and in March peace was declared between Russia and Britain.
The name of Lieutenant Gordon was included by his general in a list of officers who had done gallant service in the war.
By the French Government he was decorated with the Legion of Honour, a reward not often given to so young a man.
A little more than a year of hard training in war had turned Charlie Gordon the boy into Gordon the soldier.
In May 1856 Gordon was sent to Bessarabia, to help to arrange new frontiers for Russia, Turkey, and Roumania. In 1857 he was sent to do the same work in Armenia.
The end of 1858 saw him on his way home to England, a seasoned soldier, and a few months later he was made a captain.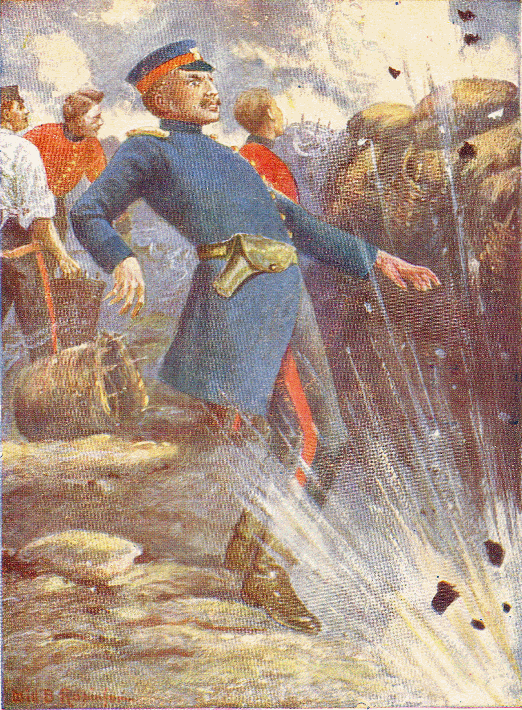 The shell struck the ground five yards in front of him.