Voltaire and Frederick the Great

Voltaire and Frederick the Great
Voltaire, who was an adept in the art of making France too hot to hold him, had gone to Prussia, as a place of rest for his perturbed spirit, and, in response to the repeated invitations of his ardent admirer, Frederick the Great. It was a blunder on both sides. If they had wished to continue friends, they should have kept apart. Frederick was autocratic in his ways and thoughts; Voltaire embodied the spirit of independence in thought and speech. The two men could no more meet without striking fire than flint and steel. Moreover, Voltaire was normally satirical, restless, inclined to vanity and jealousy, and that terrible pen of his could never be brought to respect persons and places. With a martinet like Frederick, the visit was sure to end in a quarrel, despite the admiration of the prince for the poet.
Frederick, though a German king, was French in his love for the Gallic literature, philosophy, and language. He cared little for German literature—there was little of it in his day worth caring for—and always wrote and spoke in French, while French wits and thinkers who could not live in safety in straitlaced Paris, gained the amplest scope for their views in his court. Voltaire found three such emigrants there, Maupertuis, La Mettrie, and D'Arnaud. He was received by them with enthusiasm, as the sovereign of their little court of free thought. Frederick had given him a pension and the post of chamberlain,—an office with very light duties,—and the expatriated poet set himself out to enjoy his new life with zest and animation.
"A hundred and fifty thousand victorious soldiers," he wrote to Paris, "no attorneys, opera, plays, philosophy, poetry, a hero who is a philosopher and a poet, grandeur and graces, grenadiers and muses, trumpets and violins, Plato's symposium, society and freedom! Who would believe it? It is all true, however."
"It is Cæsar, it is Marcus Aurelius, it is Julian, it is sometimes Abbe Chaulieu, with whom I sup," he further wrote; "there is the charm of retirement, there is the freedom of the country, with all those little delights which the lord of a castle who is a king can procure for his very obedient humble servants and guests. My own duties are to do nothing. I enjoy my leisure. I give an hour a day to the King of Prussia to touch up a bit his works in prose and verse; I am his grammarian, not his chamberlain ... Never in any place in the world was there more freedom of speech touching the superstitions of men, and never were they treated with more banter and contempt. God is respected, but all they who have cajoled men in His name are treated unsparingly."
It was, in short, an Eden for a free-thinker; but an Eden with its serpent, and this serpent was the envy, jealousy, and unrestrainable satiric spirit of Voltaire. There was soon trouble between him and his fellow-exiles. He managed to get Arnaud exiled from the country, and gradually a coolness arose between him and Maupertuis, whom Frederick had made president of the Berlin Academy. There were other quarrels and complications, and Voltaire grew disgusted with the occupation of what he slyly called "buck-washing" the king's French verses,—poor affairs they were. Step by step he was making Berlin as hot as he had made Paris. The new Adam was growing restless in his new Paradise. He wrote to his niece,—
"So it is known by this time in Paris, my dear child, that we have played the 'Mort de Cæsar' at Potsdam, that Prince Henry is a good actor, has no accent, and is very amiable, and that this is the place for pleasure? All this is true, but—The king's supper parties are delightful; at them people talk reason, wit, science; freedom prevails thereat; he is the soul of it all; no ill-temper, no clouds, at any rate no storms; my life is free and well occupied,—but—Opera, plays, carousals, suppers at Sans Souci, military manœuvres, concerts, studies, readings,—but—The city of Berlin, grand, better laid out than Paris; palaces, play-houses, affable queens, charming princesses, maids of honor beautiful and well-made, the mansion of Madame de Tyrconnel always full and sometimes too much so,—but—but—My dear child, the weather is beginning to settle down into a fine frost."
Voltaire brought the frost. He got into a disreputable quarrel with a Jew, and meddled in other affairs, until something very like a quarrel arose between him and Frederick. The king wrote him a severe letter of reprimand. The poet apologized. But immediately afterwards his irrepressible spirit of mischief broke out in a new place. It was his ill-humor with Maupertuis which now led him astray. He wrote a pamphlet, full of wit and as full of bitterness, called "La diatribe du docteur Akakia," so evidently satirizing Maupertuis that the king grew furious. It was printed anonymously, and circulated surreptitiously in Berlin, but a copy soon fell into Frederick's hand, who knew at once that but one man in the kingdom was capable of such a production. He wrote so severely to Voltaire that the malicious satirist was frightened and gave up the whole edition of the pamphlet, which was burnt before his eyes in the king's own closet, though Frederick could not help laughing at its wit.
But Voltaire's daring was equal to a greater defiance than Frederick imagined. Despite the work of the flames, a copy of the diatribe found its way to Paris, was printed there, and copies of it made their way back to Prussia by mail. Everybody was reading it, everybody laughing, people fought for copies of the satire, which spread over Europe. The king, enraged by this treacherous disobedience, as he deemed it, retorted on Voltaire by having the pamphlet burned in the Place d'Armes.
This brought matters to a crisis. The next day Voltaire sent his commissions and orders back to Frederick; the next, Frederick returned them to him. He was bent on leaving Prussia at once, but wished to do it without a quarrel with the king.
"I sent the Solomon of the North," he wrote to Madame Denis, "for his present, the cap and bells he gave me, with which you reproached me so much. I wrote him a very respectful letter, for I asked him for leave to go. What do you think he did? He sent me his great factotum, Federshoff, who brought me back my toys; he wrote me a letter saying that he would rather have me to live with than Maupertuis. What is quite certain is that I would rather not live with either the one or the other."
In truth, Frederick could not bear to lose Voltaire. Vexed as he was with him, he was averse to giving up that charming conversation from which he had derived so much enjoyment. Voltaire wanted to get away; Frederick pressed him to stay. There was protestation, warmth, coolness, a gradual breaking of links, letters from France urging the poet to return, communications from Frederick wishing him to remain, and a growing attraction from Paris drawing its flown son back to that centre of the universe for a true Frenchman.
At length Frederick yielded; Voltaire might go. The poet approached him while reviewing his troops.
"Ah! Monsieur Voltaire," said the king, "so you really intend to go away?"
"Sir, urgent private affairs, and especially my health, leave me no alternative."
"Monsieur, I wish you a pleasant journey."
This was enough for Voltaire; in an hour he was in his carriage and on the road to Leipsic. He thought he was done for the rest of his life with the "exactions" and "tyrannies" of the King of Prussia. He was to experience some more of them before he left the land. Frederick bided his time.
It was on March 26, 1753, that Voltaire left Potsdam. It was two months afterwards before he reached Frankfort. He had tarried at Leipsic and at Gotha, engaged in the latter place on a dry chronicle asked for by the duchess, entitled "The Annals of the Empire." During this time also, in direct disregard of a promise he had made Frederick, there appeared a supplement to "Doctor Akakia," more offensive than the main text. It was followed by a virulent correspondence with Maupertuis. Voltaire was filling up the vials of wrath of the king.
On May 31 he reached Frankfort. Here the blow fell. There occurred an incident which has become famous in literary history, and which, while it had some warrant on Frederick's side, tells very poorly for that patron of literature. No unlettered autocrat could have acted with less regard to the rights and proprieties of citizenship.
"Here is how this fine adventure came about," writes Voltaire. "There was at Frankfort one Freytag, who had been banished from Dresden and had become an agent for the King of Prussia....He notified me, on behalf of his Majesty, that I was not to leave Frankfort till I had restored the valuable effects I was carrying away from his Majesty.
"'Alack, sir, I am carrying away nothing from that country, if you please, not even the smallest regret. What, pray, are those jewels of the Brandenburg crown that you require?'
"'It be, sir,' replied Freytag, 'the work of poeshy of the king, my gracious master.'
"'Oh, I will give him back his prose and verse with all my heart,' replied I, 'though, after all, I have more than one right to the work. He made me a present of a beautiful copy printed at his expense. Unfortunately, the copy is at Leipsic with my other luggage.'
"Then Freytag proposed to me to remain at Frankfort until the treasure which was at Leipsic should have arrived; and he signed an order for it."
The volume which Frederick wanted he had doubtless good reason to demand, when it is considered that it was in the hands of a man who could be as malicious as Voltaire. It contained a burlesque and licentious poem, called the "Palladium," in which the king scoffed at everybody and everything in a manner he preferred not to make public. Voltaire in Berlin might be trusted to remain discreet. In Paris his discretion could not be counted on. Frederick wanted the poem in his own hands.
There was delay in the matter; references to Frederick and returns; the affair dragged on slowly. The package arrived. Voltaire, agitated at his detention, ill and anxious, wanted to get away, in company with Madame Denis, who had just joined him. Freytag refused to let him go. Very unwisely, the poet determined to slip away, imagining that in a "free city" like Frankfort he could not be disturbed. He was mistaken. The freedom of Frankfort was subject to the will of Frederick. The poet tells for himself what followed.
"The moment I was off, I was arrested, I, my secretary and my people; my niece is arrested; four soldiers drag her through the mud to a cheesemonger's named Smith, who had some title or other of privy councillor to the King of Prussia; my niece had a passport from the King of France, and, what is more, she had never corrected the King of Prussia's verses. They huddled us all into a sort of hostelry, at the door of which were posted a dozen soldiers; we were for twelve days prisoners of war, and we had to pay a hundred and forty crowns a day."
Voltaire was furious; Madame Denis was ill, or feigned to be; she wrote letter after letter to Voltaire's friends in Prussia, and to the king himself. The affair was growing daily more serious. Finally the city authorities themselves, who doubtless felt that they were not playing a very creditable part, put an end to it by ordering Freytag to release his prisoner. Voltaire, set free, travelled leisurely towards France, which, however, he found himself refused permission to enter. He thereupon repaired to Geneva, and thereafter, freed from the patronage of princes and the injustice of the powerful, spent his life in a land where full freedom of thought and action was possible.
As for the worthy Freytag, he felicitated himself highly on the way he had handled that dabbler in poeshy. "We would have risked our lives rather than let him get away," he wrote; "and if I, holding a council of war with myself, had not found him at the barrier but in the open country, and he had refused to jog back, I don't know that I shouldn't have lodged a bullet in his head. To such a degree had I at heart the letters and writing of the king."
The too trusty agent did not feel so self-satisfied on receiving the opinion of the king.
"I gave you no such orders as that," wrote Frederick. "You should never make more noise than a thing deserves. I wanted Voltaire to give you up the key, the cross, and the volume of poems I had intrusted to him; as soon as all that was given up to you I can't see what earthly reason could have induced you to make this uproar."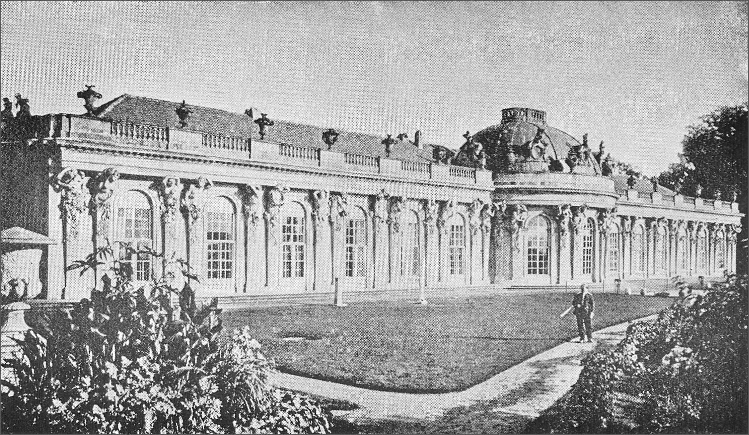 Sans Souci, Palace of Frederick the Great.
It is very probable, however, that Frederick wished to humiliate Voltaire, and the latter did not fail to revenge himself with that weapon which he knew so well how to wield. In his poem of "La Loi naturelle" he drew a bitter but truthful portrait of Frederick which must have made that arbitrary gentleman wince. He was, says the poet,—
"Of incongruities a monstrous pile,
Calling men brothers, crushing them the while;
With air humane, a misanthropic brute;
Ofttimes impulsive, sometimes over-'cute;
Weak 'midst his choler, modest in his pride;
Yearning for virtue, lust personified;
Statesman and author, of the slippery crew;
My patron, pupil, persecutor too."