A Round Goldenrod Gall
The Yellow Spider
Blue Chicory
Flyaway Seeds
Some Birds Go South
Broad Leaves in Fall
Fall Picnics
What Do You Remember?
Some Insects in Winter
A New Year's Party
Some Trees with Cones
Tracks on the Snow
What Do You Remember?
Sounds of Spring
Ladybird Flies Away
Broad Leaves in Spring
Young Frogs
Don's Yellow Spring Flower
White Feathers
Nan's Blue Spring Flower
What Do You Remember?
Helping Mother Oriole
A Stem with Three Sides
Some Very Small Snails
Ladybird's Children
Johnny Darter
A Spider's Tower
The Bee That Cut Leaves
Box Turtle
Ants with Wings
Berries for Bluebirds
What Do You Remember?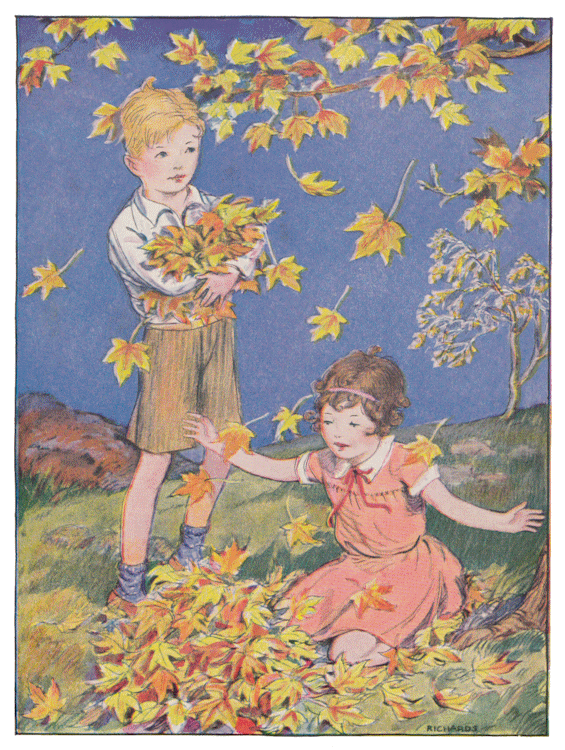 A Pleasant Game
In summer, Don and Nan played outdoors most of the time. In September they went to school.
"Outdoors was one of our homes in summer," said Nan. "We lived there almost every day."
"Now school is one of our homes," said Don.
"Yes," said Nan, "when we go outdoors, now, we go for visits. We call on little animals."
"We call on plants, too," said Don. "And each visit is a pleasant game."