Two Young Ladies
F OR a little time there was a pause of deep silence, during which the fluttering leaves came drifting down from the broken arbor above.
It was the Lady Anne who first spoke. "Who art thou, and whence comest thou?" said she, tremulously.
Then Myles gathered himself up sheepishly. "My name is Myles Falworth," said he, "and I am one of the squires of the body."
"Oh! aye!" said the Lady Alice, suddenly. "Methought I knew thy face. Art thou not the young man that I have seen in Lord George's train?"
"Yes, lady," said Myles, wrapping and twining a piece of the broken vine in and out among his fingers. "Lord George hath often had me of late about his person."
"And what dost thou do here, sirrah?" said Lady Anne, angrily. "How darest thou come so into our garden?"
"I meant not to come as I did," said Myles, clumsily, and with a face hot and red. "But I slipped over the top of the wall and fell hastily into the garden. Truly, lady, I meant ye no harm or fright thereby."
He looked so drolly abashed as he stood before them, with his clothes torn and soiled from the fall, his face red, and his eyes downcast, all the while industriously twisting the piece of clematis in and around his fingers, that Lady Anne's half-frightened anger could not last. She and her cousin exchanged glances, and smiled at one another.
"But," said she at last, trying to draw her pretty brows together into a frown, "tell me; why didst thou seek to climb the wall?"
"I came to seek a ball," said Myles, "which I struck over hither from the court beyond."
"And wouldst thou come into our privy garden for no better reason than to find a ball?" said the young lady.
"Nay," said Myles; "it was not so much to find the ball, but, in good sooth, I did truly strike it harder than need be, and so, gin I lost the ball, I could do no less than come and find it again, else our sport is done for the day. So it was I came hither."
The two young ladies had by now recovered from their fright. The Lady Anne slyly nudged her cousin with her elbow, and the younger could not suppress a half-nervous laugh. Myles heard it, and felt his face grow hotter and redder than ever.
"Nay," said Lady Anne, "I do believe Master Giles—"
"My name be'st Myles," corrected Myles.
"Very well, then, Master Myles, I say I do believe that thou meanest no harm in coming hither; ne'theless it was ill of thee so to do. An my father should find thee here, he would have thee shrewdly punished for such trespassing. Dost thou not know that no one is permitted to enter this place—no, not even my uncle George? One fellow who came hither to steal apples once had his ears shaven close to his head, and not more than a year ago one of the cook's men who climbed the wall early one morning was shot by the watchman."
"Aye," said Myles, "I knew of him who was shot, and it did go somewhat against my stomach to venture, knowing what had happed to him. Ne'theless, an I gat not the ball, how were we to play more to-day at the trap?"
"Marry, thou art a bold fellow, I do believe me," said the young lady, "and sin thou hast come in the face of such peril to get thy ball, thou shalt not go away empty. Whither didst thou strike it?"
"Over yonder by the cherry-tree," said Myles, jerking his head in that direction. "An I may go get it, I will trouble ye no more." As he spoke he made a motion to leave them.
"Stay!" said the Lady Anne, hastily; "remain where thou art. An thou cross the open, some one may haply see thee from the house, and will give the alarm, and thou wilt be lost. I will go get thy ball."
And so she left Myles and her cousin, crossing the little plots of grass and skirting the rosebushes to the cherry-tree.
When Myles found himself alone with Lady Alice, he knew not where to look or what to do, but twisted the piece of clematis which he still held in and out more industriously than ever.
Lady Alice watched him with dancing eyes for a little while. "Haply thou wilt spoil that poor vine," said she by-and-by, breaking the silence and laughing, then turning suddenly serious again. "Didst thou hurt thyself by thy fall?"
"Nay," said Myles, looking up, "such a fall as that was no great matter. Many and many a time I have had worse."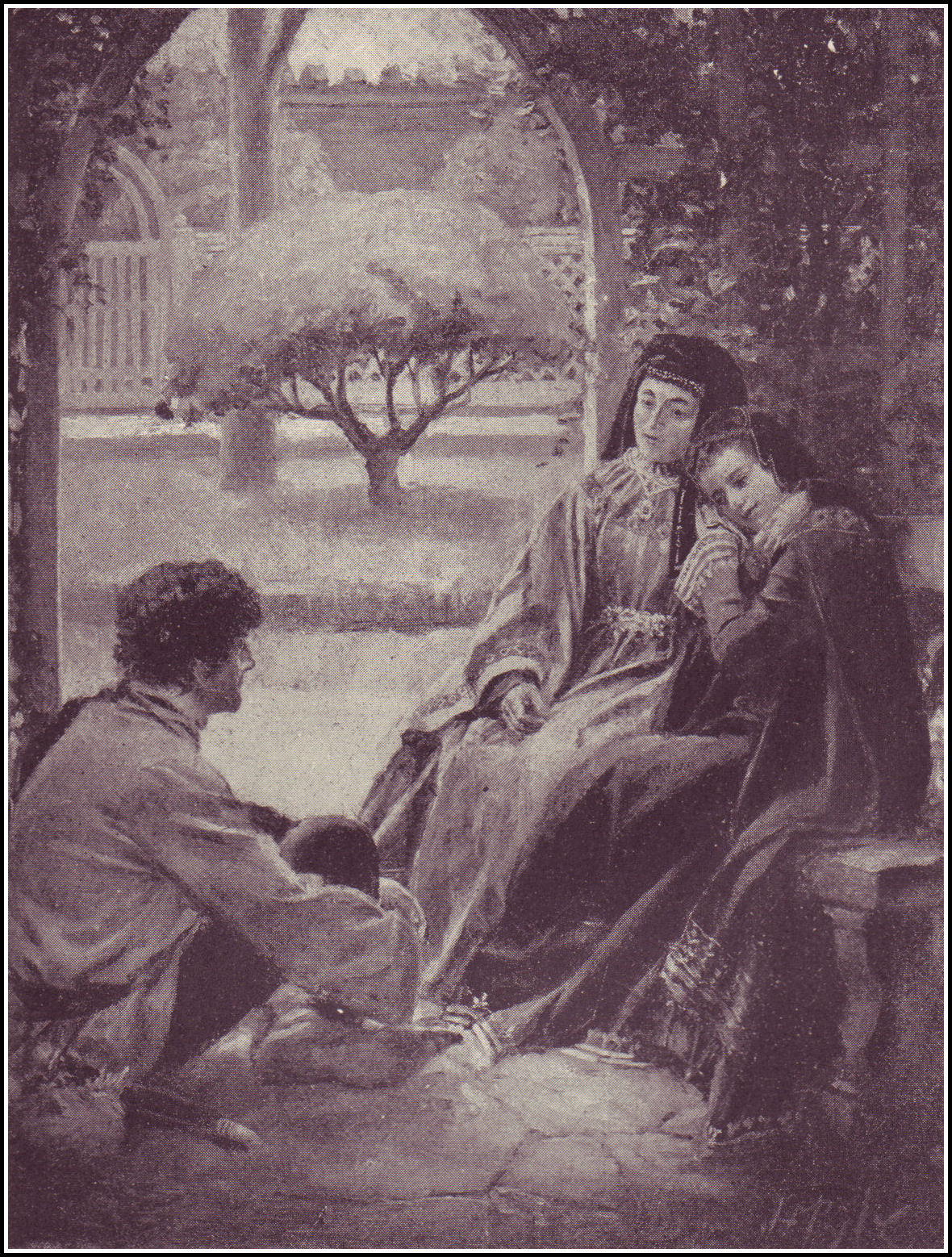 Myles entertains the Lady Anne and the Lady Alice with his adventures.
"Hast thou so?" said the Lady Alice. "Thou didst fright me parlously, and my coz likewise."
Myles hesitated for a moment, and then blurted out, "Thereat I grieve, for thee I would not fright for all the world."
The young lady laughed and blushed. "All the world is a great matter," said she.
"Yea," said he, "it is a great matter; but it is a greater matter to fright thee, and so I would not do it for that, and more."
The young lady laughed again, but she did not say anything further, and a space of silence fell so long that by-and-by she forced herself to say, "My cousin findeth not the ball presently."
"Nay," said Myles, briefly, and then again neither spoke, until by-and-by the Lady Anne came, bringing the ball. Myles felt a great sense of relief at that coming, and yet was somehow sorry. Then he took the ball, and knew enough to bow his acknowledgment in a manner neither ill nor awkward.
"Didst thou hurt thyself?" asked Lady Anne.
"Nay," said Myles, giving himself a shake; "seest thou not I be whole, limb and bone? Nay, I have had shrewdly worse falls than that. Once I fell out of an oak-tree down by the river and upon a root, and bethought me I did break a rib or more. And then one time when I was a boy in Crosbey-Dale—that was where I lived before I came hither—I did catch me hold of the blade of the windmill, thinking it was moving slowly, and that I would have a ride i' th' air, and so was like to have had a fall ten thousand times worse than this."
"Oh, tell us more of that!" said the Lady Anne, eagerly. "I did never hear of such an adventure as that. Come, coz, and sit down here upon the bench, and let us have him tell us all of that happening."
Now the lads upon the other side of the wall had been whistling furtively for some time, not knowing whether Myles had broken his neck or had come off scot-free from his fall. "I would like right well to stay with ye," said he, irresolutely, "and would gladly tell ye that and more an ye would have me to do so; but hear ye not my friends call me from beyond? Mayhap they think I break my back, and are calling to see whether I be alive or no. An I might whistle them answer and toss me this ball to them, all would then be well, and they would know that I was not hurt, and so, haply, would go away."
"Then answer them," said the Lady Anne, "and tell us of that thing thou spokest of anon—how thou tookest a ride upon the windmill. We young ladies do hear little of such matters, not being allowed to talk with lads. All that we hear of perils are of knights and ladies and jousting, and such like. It would pleasure us right well to have thee tell of thy adventures."
So Myles tossed back the ball, and whistled in answer to his friends.
Then he told the two young ladies not only of his adventure upon the windmill, but also of other boyish escapades, and told them well, with a straightforward smack and vigor, for he enjoyed adventure and loved to talk of it. In a little while he had regained his ease; his shyness and awkwardness left him, and nothing remained but the delightful fact that he was really and actually talking to two young ladies, and that with just as much ease and infinitely more pleasure than could be had in discourse with his fellow-squires. But at last it was time for him to go. "Marry," said he, with a half-sigh, "methinks I did never ha' so sweet and pleasant a time in all my life before. Never did I know a real lady to talk with, saving only my mother, and I do tell ye plain methinks I would rather talk with ye than with any he in Christendom—saving, perhaps, only my friend Gascoyne. I would I might come hither again."
The honest frankness of his speech was irresistible; the two girls exchanged glances and then began laughing. "Truly," said Lady Anne, who, as was said before, was some three or four years older than Myles, "thou art a bold lad to ask such a thing. How wouldst thou come hither? Wouldst tumble through our clematis arbor again, as thou didst this day?"
"Nay," said Myles, "I would not do that again, but if ye will bid me do so, I will find the means to come hither."
"Nay," said Lady Anne, "I dare not bid thee do such a foolhardy thing. Nevertheless, if thou hast the courage to come—"
"Yea," said Myles, eagerly, "I have the courage."
"Then, if thou hast so, we will be here in the garden on Saturday next at this hour. I would like right well to hear more of thy adventures. But what didst thou say was thy name? I have forgot it again."
"It is Myles Falworth."
"Then we shall yclep thee Sir Myles, for thou art a soothly errant-knight. And stay! Every knight must have a lady to serve. How wouldst thou like my Cousin Alice here for thy true lady?"
"Aye," said Myles, eagerly, "I would like it right well." And then he blushed fiery red at his boldness.
"I want no errant-knight to serve me," said the Lady Alice, blushing, in answer. "Thou dost ill tease me, coz! An thou art so free in choosing him a lady to serve, thou mayst choose him thyself for thy pains."
"Nay," said the Lady Anne, laughing; "I say thou shalt be his true lady, and he shall be thy true knight. Who knows? Perchance he may serven thee in some wondrous adventure, like as Chaucer telleth of. But now, Sir Errant-Knight, thou must take thy leave of us, and I must e'en let thee privily out by the postern-wicket. And if thou wilt take the risk upon thee and come hither again, prithee be wary in that coming, lest in venturing thou have thine ears clipped in most unknightly fashion."
That evening, as he and Gascoyne sat together on a bench under the trees in the great quadrangle, Myles told of his adventure of the afternoon, and his friend listened with breathless interest.
"But, Myles," cried Gascoyne, "did the Lady Anne never once seem proud and unkind?"
"Nay," said Myles; "only at first, when she chid me for falling through the roof of their arbor. And to think, Francis! Lady Anne herself bade me hold the Lady Alice as my true lady, and to serve her in all knightliness!" Then he told his friend that he was going to the privy garden again on the next Saturday, and that the Lady Anne had given him permission so to do.
Gascoyne gave a long, wondering whistle, and then sat quite still, staring into the sky. By-and-by he turned to his friend and said, "I give thee my pledge, Myles Falworth, that never in all my life did I hear of any one that had such marvellous strange happenings befall him as thou."
Whenever the opportunity occurred for sending a letter to Crosbey-Holt, Myles wrote one to his mother; and one can guess how they were treasured by the good lady, and read over and over again to the blind old Lord as he sat staring into darkness with his sightless eyes.
About the time of this escapade he wrote a letter telling of those doings, wherein, after speaking of his misadventure of falling from the wall, and of his acquaintance with the young ladies, he went on to speak of the matter in which he repeated his visits. The letter was worded in the English of that day—the quaint and crabbed language in which Chaucer wrote. Perhaps few boys could read it nowadays, so, modernizing it somewhat, it ran thus:
"And now to let ye weet that thing that followed that happening that made me acquaint with they two young Damoiselles. I take me to the south wall of that garden one day four and twenty great spikes, which Peter Smith did forge for me and for which I pay him fivepence, and that all the money that I had left of my half-year's wage, and wot not where I may get more at these present, withouten I do betake me to Sir James, who, as I did tell ye, hath consented to hold those moneys that Prior Edward gave me till I need them.
"Now these same spikes, I say, I take me them down behind the corner of the wall, and there drave them betwixt the stones, my very dear comrade and true friend Gascoyne holping me thereto to do. And so come Saturday, I climb me over the wall and to the roof of the tool-house below, seeking a fitting opportunity when I might so do without being in too great jeopardy.
"Yea; and who should be there but they two ladies, biding my coming, who, seeing me, made as though they had expected me not, and gave me greatest rebuke for adventuring so moughtily. Yet, methinks, were they right well pleasured that I should so aventure, which indeed I might not otherwise do, seeing as I have telled to thee, that one of them is mine own true lady for to serven, and so was the only way that I might come to speech with her."
Such was Myles's own quaint way of telling how he accomplished his aim of visiting the forbidden garden, and no doubt the smack of adventure and the savor of danger in the undertaking recommended him not a little to the favor of the young ladies.
After this first acquaintance perhaps a month passed, during which Myles had climbed the wall some half a dozen times (for the Lady Anne would not permit of too frequent visits), and during which the first acquaintance of the three ripened rapidly to an honest, pleasant friendship. More than once Myles, when in Lord George's train, caught a covert smile or half nod from one or both of the girls, not a little delightful in its very secret friendliness.