George Bird Grinnell

The Way to Live
I must have been ten years old when my uncle first began to talk to me. Long before this, when he had made a bow and some arrows for me, he had told me that I must learn to hunt, so that in the time to come I would be able to kill food, and to support my mother and sisters. "We must all eat," he had said, "and the Creator has given us buffalo to support life. It is the part of a man to kill food for the lodge, and after it has been killed, the women bring in the meat, and prepare it to be eaten, while they dress the hides for robes and lodge skins."
My uncle was a brave man, and was always going off on the warpath, searching for the camps of enemies, taking their horses, and sometimes fighting bravely. He was still a young man, not married; but was quiet and of good sense and all the people respected him. Even the chiefs and older men used to listen to him when he spoke; and sometimes he was asked to a feast to which many older men were invited.
All my life I have tried to remember what he told me this first time that he talked with me, for it was good advice, and came to me from a good man, who afterwards became one of the chiefs of the tribe.
One day, soon after he had returned from one of his warpaths, he said to me, early in the morning: "My son, get your bow and arrows, and you and I will go over into the hills, hunting. We will try to kill some rabbits, and perhaps we may find a deer."
I was glad to go with my uncle; no grown man had ever before asked me to go with him, and to have him speak to me like this made me feel glad and proud. I ran quickly and got my bow, and we set out, walking over the prairie. We walked a long way, and I was beginning to get tired, when we came to a place where we started first one rabbit and then another, and then a third. I shot at one, but missed it; and my uncle killed all three. After this we went up to the top of a high hill, to look over the country. We saw nothing, but as we sat there my uncle spoke to me, telling me of the things that he had done not long before; and after a time he began to tell me how I ought to live, and what I ought to do as I grew older.
He said to me: "My son, I am going to tell you some things that will be useful to you; and if you listen to what I say, your life will be easier for you to live; you will not make mistakes, and you will come to be liked and respected by all the people. Before many years now you will be a man, and as you grow up you must try more and more to do the things that men do. There are a few things that a boy must always remember.
"When older people speak to you, you must stop what you are doing and listen to what they say, and must do as they tell you. If anyone says to you, 'My son, go out and drive in my horses,' you must go at once; do not wait; do not make anyone speak to you a second time; start at once.
"You must get up early in the morning; do not let the sun, when it first shines, find you in bed. Get up at the first dawn of day, and go early out into the hills and look for your horses. These horses will soon be put in your charge, and you must watch over them, and must never lose them; and you must always see that they have water."
"You must take good care of your arms. Always keep them in good order. A man who has poor arms cannot fight."
"It is important for you to do all these things. But there is one thing more important than anything else, and that is to be brave. Soon you will be going on a warpath, and then you must strive always to be in the front of the fighting, and to try hard to strike many of the enemy. You must be saying all the time to yourself, 'I will be brave; I will not fear anything.' If you do that, the people will all know of it, and will look on you as a man."
"There is another thing: if by chance you should do anything that is great, you must not talk of it; you must never go about telling of the great things that you have done, or that you intend to do. To do that is not manly. When you are at war you may do brave things, and other people will see what you have done, and will tell of it. If you should chance to perform any brave act, do not speak of it; let your comrades do this; it is not for you to tell of the things that you have done."
"If you listen to my words you will become a good man, and will amount to something. If you let the wind blow them away, you will become lazy, and will never do anything."
So my uncle talked to me for a long time, and just as he had finished his talking, we saw, down in the valley below us, a deer come out from behind some brush, and feed for a little while, and then it went back into another patch of brush, and did not come out again.
"Ah," said my uncle, "I think we can kill that deer." We went around a long distance, to come down without being seen to where the deer was, and we had crept up close to the edge of the bushes before the deer knew that we were there. When we reached the place we walked around it, he on one side and I on the other; and presently the deer sprang up out of the bushes, and my uncle shot it with his arrow; and after it had run a distance it fell down, and when we got to it, was dead. I also shot at it with one of my sharp-pointed arrows, but I did not hit it. After we had cut up the meat of the deer, and made it into a pack, done up in the hide, we started back to the camp. I felt proud to have gone on a hunt with a man and to be carrying the rabbits.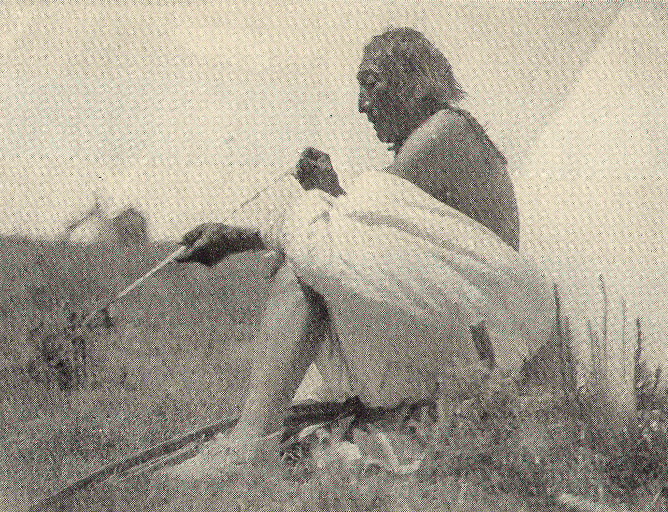 My Grandfather . . . long before had given up the warpath.
As we walked along to the camp that night, my uncle told me other things. He said: "Always be careful to do nothing bad in camp. Do not quarrel and fight with your fellows. Men do not fight with each other in the camp; to do that is not manly."
You see, my uncle thought that I was now old enough to be taught some of the things a man ought to do, and he tried to help me; for my father was dead, and I had no one else to teach me. The words he spoke were all good words, and I have tried always to remember them.
The white people gather up their children and send them all to one place to be taught; but that is not the way we Indians do. Nevertheless, we try to teach our children in our way; for children must be taught, or they will not know anything, and if they do not know anything they will have no sense, and if they have no sense they will not know how to act.
When our children are small, the mother tries to keep them from making a noise. It is not fitting that young children should disturb older people. I am telling you about the way I was taught in the old times, when there were but few white people in the country.
Because we have no schools, like the white people, we have to teach our children by telling them what to do; it is only in this way that they can learn. They have lived but a short time, and cannot know much. We older ones, after we have lived many years, and have listened to what our fathers and brothers have taught us, know a good many things; but little children know nothing. We want them to be wise, so that they may live well with their people. But we want them to be wise also, so that when they are the chiefs and braves of the tribe they may rule the people well. We remember that before very long we ourselves shall no longer be here; and then the ones who are caring for the people's welfare will be these children that now are playing about the camps. Their relations, therefore, talk to the children, for they want their lives to be made easier for them; and they want also to have the next generation of people wise enough to help all the people to live. The men must hunt and go to war; the women must be good women, not foolish ones, and must be ready to work, and glad to take care of their husbands and their children. This is one of the reasons why we like to have them play at moving the camp, harnessing the old dogs to the travois, pitching the lodges, making clothing for the dolls; while the boys play at hunting buffalo and at making war journeys against their enemies. All are trying to learn how to live the life that our people have always lived.
My grandfather was an old man, who long before this had given up the warpath. He spent most of his time in the camp, and he used to make speeches to the little and big boys, and give them much good advice. Once I heard him talk to a group of boys playing near the lodge, and this is what he said: "Listen, you boys; it is time you did something. You sit here all day in the sun, and throw your arrows, and talk about things of the camp, but why do you not do something? When I was a boy it was not like this; then we were always trying to steal off and follow a war party. Some of those who did so were too little to fight; but we used to follow along, and try to help. In this way, even though we did nothing, we learned the ways of warriors. I do not want you boys to be lazy. It is not a lazy man who does great things, so that he is talked about in the camp, and his name is called aloud by all the people, when the war party returns."