George Hodges

The Minister's Little Daughter
There were two kinds of churches in that country: the temple in Jerusalem and the synagogues in other places. There was only one temple, and it was great and beautiful, as we have seen, like a cathedral, with carved stone and brass. There the Feast of the Passover, and the Feast of Pentecost, and the Feast of Tabernacles—like Easter and Whitsunday and Christmas—were celebrated, and the sacrifices were offered. The men who conducted these services were called priests. There were a great many synagogues; at least, one in every town and village of the Jews' own country, and in every place about the world where Jews were living. They looked, as I have said, like New England meeting-houses, and the services which were held in them consisted of Bible-reading and preaching. The men who conducted them were called ministers and rulers of the synagogue. Thus there was much the same difference then that there is now between priests and ministers.
One of the Ministers of the Capernaum synagogue was named Jairus. He had one only daughter, a little girl of twelve, and she was very sick, so that day by day she grew worse rather than better, until at last the doctor had to tell her father and mother that he could do no more. She lay a-dying. But that very morning our Lord came back from his hasty visit to the land across the lake, and found all the people waiting for him. For Jairus remembered that wonderful sabbath in the synagogue when Jesus had cast out the unclean spirit, and he felt, and his friends felt, that our Lord might help him in his deep distress. So out of the waiting crowd came the minister as our Lord approached, and fell down at his feet and begged him to come into his house. "My little daughter," he said, "lies at the point of death, but come and lay thy hand upon her and she shall live;" and immediately our Lord raised him up and followed him.
But there was a great crowd in the street. Some were there from curiosity, that they might see him; some because they had heard him speak and wished to hear him speak again, desiring to know more about God and the kingdom of God; some because they were in trouble and hoped that he might help them. And in the crowd that day there was one woman who was in two kinds of trouble at the same time; she was both sick and poor. She had spent all her money, and she had spent it all upon the doctors, trying to get well, in vain. The worst use of money is to spend it for things which make the spender and his friends sick; but the next to the worst use is to spend it in seeking for health without finding it. This poor woman had gone to one physician after another. Every doctor in Capernaum had knocked at her door; and not one had done her any good. There she was, able to walk out a little way in the street, but still hopelessly sick. And that day as she walked she heard the footsteps and voices of a crowd coming behind her, and looking about she saw our Lord in the midst of them. And immediately she said to herself, "If I may but touch his garment, I shall be whole." But she was very timid. She did not dare to go to him before all those people, and tell him how she needed his blessing. She just waited till the throng overtook her, and mingled with the others, and made her way, nearer and nearer to him, and at last got where she could put out her hand and touch his cloak. And at once she was made whole.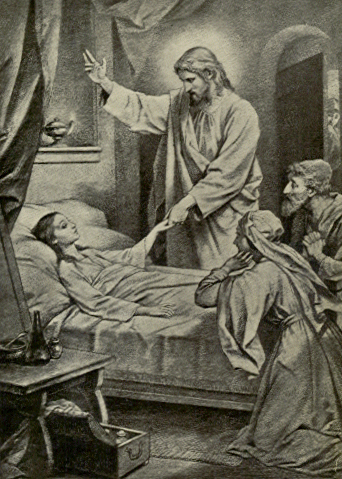 jairus' daughter
But the King stopped. He looked about upon the crowd and said, "Who touched me? who pulled my coat?" And one drew back and said, "Not I;" and another said, "Not I." And Peter said, "Master, the multitude throng thee, and press thee, and sayest thou 'Who touched me?' " But our Lord repeated, the question. "Somebody," he said, "hath touched me, for I perceive that strength has gone out to somebody here from me." Then when the woman saw that she could not be hid, she came trembling, and fell down on her knees before him in the dusty road, and told him what had happened. And he put his hand upon her head. "Daughter," he said, "be of good comfort: thy faith hath made thee whole."
Meanwhile, the minister stood by, anxious and impatient, thinking of his little daughter. And as the woman went away and our Lord turned to go with him to his house, there came a messenger with great sadness, saying, "It is all over, do not trouble the Master further; the little daughter is dead." But when Jesus heard it, he said, "Fear not; only believe, and she shall be made whole." So they went on together. And as they came near the minister's house, they heard the sound of crying, and saw that there were many people in the street. It looked as if the whole parish had come to show their sympathy. In that country, when people cry, they cry with their lips as well as with their eyes, and when anybody is dead they hire mourners who can cry very loud indeed to come and help them make their lamentation. And there they were, weeping and screaming, making a dreadful noise.
The first thing which our Lord did was to turn all of these people out of the minister's house. "Give place," he said, "for the maid is not dead; she is asleep." Then he went in, taking with him only Peter and James and John and the father and mother of the child. So they stood at last in the silent room, where the little girl, all still and white, lay upon the bed, and our Lord took her by the hand. "Talitha cumi," he said, for that was the language which they spoke then; meaning, "Get up, little daughter." And the child opened her eyes and rose up. And our Lord led her to her mother saying, "She is hungry; give her something to eat."