James Otis

Tobacco
Just here I am minded to set down that which the girl Pocahontas told us concerning the raising of tobacco, and it is well she spent the time needed to instruct us, for since then I have seen the people in this new world of Virginia getting more money from the tobacco plant, than they could have gained even though Captain Newport's yellow sand had been veritable gold.
You must know that the seed of tobacco is even smaller than grains of powder, and the Indians usually plant it in April. Within a month it springs up, each tiny plant having two or four leaves, and one month later it is transplanted in little hillocks, set about the same distance apart as are our hills of Indian corn.
Two or three times during the season the plants have to be hoed and weeded, while the sickly leaves, which peep out from the body of the stock, must be plucked off.
If the plant grows too fast, which is to say, if it is like to get its full size before harvest time, the tops are cut to make it more backward.
About the middle of September it is reaped, stripped of its leaves, and tied in small bunches; these are hung under a shelter so that the dew may not come to them, until they are cured the same as hay.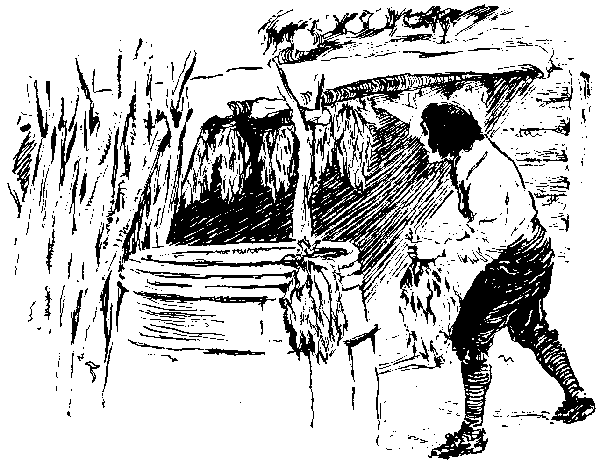 Having thus been dried, and there must be no suspicion of moisture about, else they will mold, the whole is packed into hogsheads.
I have lived to see the days go by since the girl Pocahontas showed Nathaniel and me how to cultivate the weed, until the greatest wealth which Virginia can produce comes from this same tobacco, which, Master Hunt says, not only induces filthiness in those who use it, but works grievous injury to the body.