James Otis

Busy Days
I suppose because of our having shown ourselves good nail makers, some of the people believed Jethro and I might be able to do the work of men, therefore on this winter when the Friends' meeting-house was to be built near the river, we were asked to lend a hand.
It was to have a framework of logs, covered with good, fair boards on the outside, and with clapboards inside. Until this time the Friends' meetings had been held in this house or that, as was most convenient; but when Governor Penn had come, it seemed certain we ought to have some regular meeting-house.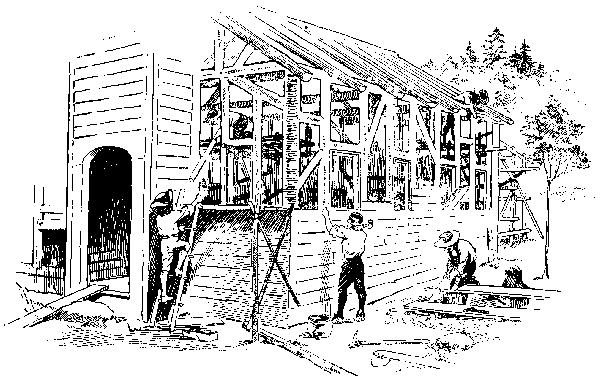 Save for the fact that this inviting us to take part in the labor seemed to show we were looked upon as nearly men, instead of boys, I should not have felt pleased at being thus remembered; but we could not well refuse, since all the nails were bought from us, and, as our share, we put in three full days of work far more wearying than standing at the forge hammering iron.
By the time we had done with this job, Samuel Carpenter took it into his head to build a dock just above Walnut Street, and, instead of buying his spikes in England, he proposed to Jethro and me that he would furnish us with the iron at cost price, if we would fashion it into such shape as he desired, paying for the finished work the same amount of money that he would be forced to give in London.
Surely that was a contract to be proud of, when you consider that we were but little more than fourteen years old, and I swelled considerably when father, hearing of Samuel Carpenter's proposition, said he was glad to know I had shown myself worthy to be trusted by my elders.
How Jethro and I worked making those spikes! Again and again, when the men at the wharf were getting ahead of us, were we lads at the forge when the watchmen went their rounds looking for idlers or brawlers, and at such times the only light we had was that given by the red-hot iron we pounded into shape.