Mara L. Pratt

On to Atlanta
When Grant took command of the United States' armies, he put William T. Sherman in full control of the "Army of the West."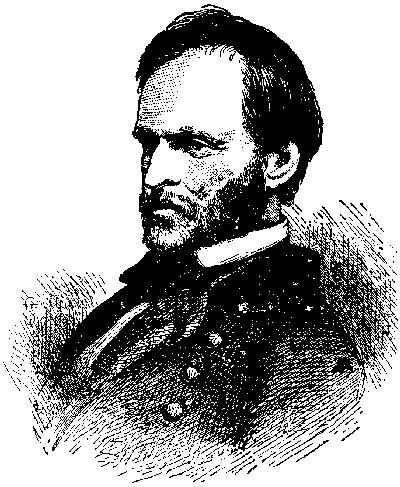 Gen. William T. Sherman
On the day following the one in which Grant started out for Richmond, Sherman began his march toward Atlanta.
"On to Atlanta!" was their watch-word, just as in Grant's army, "On to Richmond!" was the watch-word.
I shall not try to tell you of the battle after battle in Sherman's Great March. At Atlanta the enemy drew up all their forces, determined that this place should be fought for inch by inch. It was a hard, close fight, both generals equally wise and brave; but after several days, the Confederate general gave way, and Sherman telegraphed to Grant, "Atlanta is ours, and fairly won."
Hood, the Confederate general wild over the loss of Atlanta, made a desperate dash back towards Nashville, hoping to cut off Sherman's supplies.
Sherman was brave as a lion, but he was also wise as a serpent. He saw at once what Hood was hoping to do. Gen. Thomas, called by his men, "Old Reliable," saved the city. For two days the battle raged: but twilight of the second day saw the Confederates in full retreat. On they went throwing away as they ran, their guns, knapsacks, all that would hinder their flight. Our troops pursued till darkness stopped the race. Next day the pursuit was continued. Thomas strongly hoped to capture all Hood's army. On this point Hood disappointed him. Gathering his troops together, he formed now an orderly retreat, and crossed the Tennessee with what was left of his army. The flight had been indeed Bull Run over again; only this time the Confederates were flying and the Unionists were pursuing.
Sherman feeling sure that Thomas would be equal to any battle with Hood's army, had kept straight on with his plan of marching now "from Atlanta to the sea."
His object was to destroy the railroads, and cut off the supplies of food, clothing, powder and cannon of the Confederate army. This seems almost cruel; but it wasn't half so cruel, in reality, as it would have been to let the war drag on for many months more.
Taking only twenty days' provisions, Sherman told his men they must find their living in the country over which they marched. The men understood what their General meant, and about the middle of November, while Grant was holding Lee's army in Petersburg, Sherman started across "from Atlanta to the Sea."
Just before Christmas, Sherman's army marched into Savannah, and hoisted "Old Glory," as they called their flag. At once he telegraphed to Lincoln, "I beg to present to you as a Christmas present, the city of Savannah, with one hundred and fifty guns, plenty of powder, and twenty-five thousand bales of cotton."
After a long rest, which Sherman's army so greatly needed, and which they so richly deserved, they next moved towards Charleston. The North stood breathless when word came that Sherman was marching towards Charleston. Charleston! the centre of the whole secession country! Charleston! the city that was said to be unconquerable!
But Sherman conquered it, and once more the Union flag waved over old Fort Sumter.
And now the Union Army felt their journey was nearly over. In a few days they would join forces with Grant's own.
Goldsboro' was the next place to fall upon.
Here Gen. Joseph Johnston was straining every nerve for a final battle. It was like a drowning man catching at a straw. He had with him, Bragg from Wilmington, Hardee from Savannah, Beauregard from Charleston, and Wade Hampton, with his cavalry. The shattered remnant of Hood's army from Nashville had joined him.
But affairs looked dark for the Southerners. Their army in Tennessee had been broken up, Lee was held by Grant in Virginia; Sherman had conquered Georgia and South Carolina; if he now joined Grant, Lee's army would be captured. The only hope was that Johnston might defeat one or all of the armies marching on Goldsboro', and prevent their junction with the Army of the Potomac; then go north and help Lee drive Grant from his post near Richmond. It was a desperate last chance, and might be successful.
A bloody battle followed, but when night fell, Sherman's soldiers had not fallen back one inch. During the night several fresh divisions had come and joined the Union soldiers, making our lines now too strong to be broken. Johnston retreated during the night and Goldsboro' was won.
It was not long after this that Johnston surrendered to Sherman, knowing that since Lee had surrendered to Grant, the war was indeed at an end. Johnston accordingly wrote to Sherman asking that there be no further bloodshed between their soldiers, and offering to surrender his whole army.