Amy Steedman

Paul Veronese
I T was in the city of Verona that Paul Cagliari, the last of the great painters of the Venetian school, was born. The name of that old city of the Veneto makes us think at once of moonlight nights and fair Juliet gazing from her balcony as she bids farewell to her dear Romeo. For it was here that the two lovers lived their short lives which ended so sadly.
But Verona has other titles to fame besides being the scene of Shakespeare's story, and one of her proudest boasts is that she gave her name to the great Venetian artist Paolo Veronese, or Paul of Verona, as we would say in English.
There were many artists in Verona when Paolo was a boy. His own father was a sculptor and his uncle a famous painter, so the child was encouraged to begin work early. As soon as he showed that he had a talent for painting, he was sent to his uncle's studio to be taught his first lessons in drawing.
Verona was not very far off from Venice, and Paolo was never tired of listening to the tales told of that beautiful Queen of the Sea. He loved to try and picture her magnificence, her marble palaces overlaid with gold, her richly-dressed nobles, and, above all, the wonder of those pictures which decked her walls. The very names of Giorgione and Titian sounded like magic in his ears. They seemed to open out before him a wonderful new Paradise, where stately men and women clad in the richest robes moved about in a world of glowing colour.
At last the day came when he was to see the city of his dreams, and enter into that magic world of Art. What delight it was to study those pictures hour by hour, and learn the secrets of the great masters. It was the best teaching that heart could desire.
No one in Venice took much notice of the quiet, hard-working young painter, and he worked on steadily by himself for some years. But at last his chance came, and he was commissioned to paint the ceiling of the church of St. Sebastian; and when this was finished Venice recognised his genius, and saw that here was another of her sons whom she must delight to honour.
These great pictures of Veronese were just the kind of work to charm the rich Venetians, those merchant princes who delighted in costly magnificence. Never before had any painter pictured such royal scenes of grandeur. There were banqueting halls with marble balustrades just like their own Venetian palaces. The guests that thronged these halls were courtly gentlemen and high-born ladies arrayed in rich brocades and dazzling jewels. Men-servants and maidservants, costly ornaments and golden dishes were there, everything that heart could desire.
True, there was not much room for religious feeling amid all this grandeur, although the painter would call the pictures by some Bible name and would paint in the figure of our Lord, or the Blessed Virgin, among the gay crowd. But no one stopped to think about religion, and what cared they if the guests at the "Marriage Feast of Cana" were dressed in the rich robes of Venetian nobles, and all was as different as possible from the simple wedding-feast where Christ worked his first miracle.
So the fame of Paolo Veronese grew greater and greater, and he painted more and more gorgeous pictures. But here and there we find a simpler and more charming piece of his work, as when he painted the little St. John with the skin thrown over his bare shoulder and the cross in his hand. He is such a really childlike figure as he stands looking upward and rests his little hand confidingly on the worn and wounded palm of St. Francis, who stands beside him.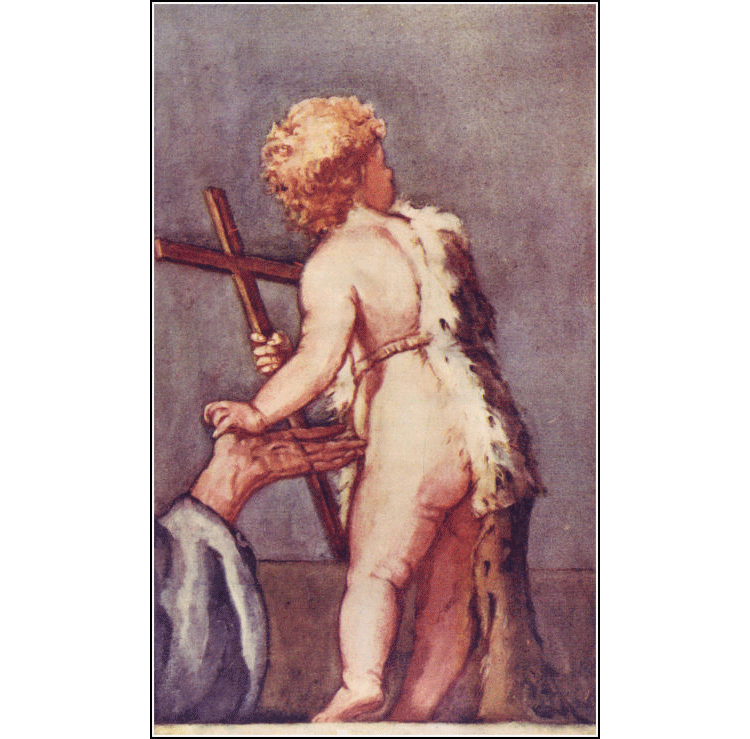 The Little St. John from the Madonna Enthroned
by Veronese
Although the Venetian nobles found nothing wanting in the splendid pictures which Veronese painted, the Church at last began to have doubts as to whether they were fit as religious subjects to adorn her walls. The Holy Office considered the question, and Veronese was ordered to appear before the council.
Was it, indeed, fit that court jesters, little negro boys, and even cats and pet dogs should appear in pictures which were to decorate the walls of a church? Veronese answered gravely that it was the effect of the picture that mattered, and that the details need not be thought of. So the complaint was dismissed.
These pictures of Paolo Veronese were really great pieces of decoration, very wonderful in their way, but showing already that Art was sinking lower instead of rising higher.
If the spirits of the old masters could have returned to gaze upon this new work, what would their feelings have been? How the simple Giotto would have shaken his head over this wealth of ornament which meant so little, even while he marvelled at the clever work. How sorrowfully would Fra Angelico have turned away from this perfection of worldly vanity, and sighed to think that the art of painting was no longer a golden chain to link men's souls to Heaven. Even the merry-hearted monk Fra Filippo Lippi would scarce have approved of all this gorgeous company.
Art had indeed shaken off the binding rules of old tradition, and Veronese was free to follow his own magnificent fancy. But who can say if that freedom was indeed a gain? And it is with a sigh that we close the record of Italian Art and turn our eyes, wearied with all its splendour and the glare of the noonday sun, back to the early dawn, when the soul of the painter looked through his pictures, and taught us the simple lesson that work done for the glory of God was greater than that done for the praise of men.