The Crow and the Pitcher
Belling the Cat
Cradle Song
Twinkle, Twinkle, Little Star
A Visit from a Bear
The Little Pine Tree
Sparrows
Good Advice
The Swallow
What Does the Bee Do
Little Things
The Lazy Pig
The Melancholy Pig
Precocious Piggy
The Adventures of Mr. Vinegar
Little Raindrops
The Two Frogs
Frogs at School
The Bill of Fare
How the Robin Got Its Red Breast
The North Wind
There Was a Little Man
The Golden Cobwebs
Old Christmas Carol
The Wolf and the Seven Kids
The Fisherman and His Wife
The Travels of a Fox
The Cock and the Fox
To Your Good Health
The Swing
Time To Get Up
Rain
Where Go the Boats?
The Land of Counterpane
Farewell to the Farm
Androcles and the Lion
The Twelve Months
Why the Sea Is Salt
Work and Play
Rain and Sun
A Diamond or a Coal
The Rainbow
The Elves and the Shoemaker
The Little Elf
The Faithful Tin Soldier
The Duel
Grasshopper Green
The Three Sillies
Pledge to the Flag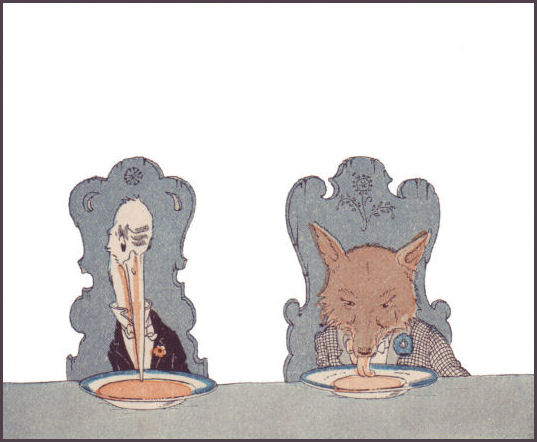 The Fox and the Stork
A fox once asked a stork to dinner. The stork came. The fox thought it would be fun to play a joke upon the stork. So he gave the stork for his dinner only some thin soup in a flat dish.
The fox could lap this up like a dog, but the poor stork could not get any soup into his long bill. He went away from the dinner as hungry as when he came. The fox laughed to himself to think what a good joke he had played on the stork.
A few days later the stork asked the fox to dinner. The fox came, and the dinner was brought in. What do you think the stork had done? He had only soup for dinner, and he had put it into a jar with a long neck. Into this jar the stork put his long bill, and ate his fill. The fox could only lick the outside of the jar. He went away as hungry as when he came. He did not laugh at the stork's joke.