The Crow and the Pitcher
Belling the Cat
Cradle Song
Twinkle, Twinkle, Little Star
A Visit from a Bear
The Little Pine Tree
Sparrows
Good Advice
The Swallow
What Does the Bee Do
Little Things
The Lazy Pig
The Melancholy Pig
Precocious Piggy
The Adventures of Mr. Vinegar
Little Raindrops
The Two Frogs
Frogs at School
The Bill of Fare
How the Robin Got Its Red Breast
The North Wind
There Was a Little Man
The Golden Cobwebs
Old Christmas Carol
The Wolf and the Seven Kids
The Fisherman and His Wife
The Travels of a Fox
The Cock and the Fox
To Your Good Health
The Swing
Time To Get Up
Rain
Where Go the Boats?
The Land of Counterpane
Farewell to the Farm
Androcles and the Lion
The Twelve Months
Why the Sea Is Salt
Work and Play
Rain and Sun
A Diamond or a Coal
The Rainbow
The Elves and the Shoemaker
The Little Elf
The Faithful Tin Soldier
The Duel
Grasshopper Green
The Three Sillies
Pledge to the Flag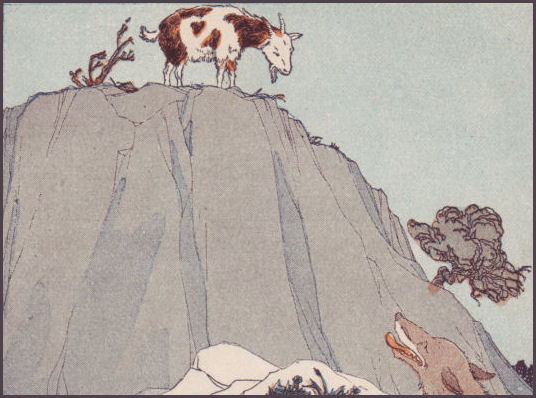 The Wise Goat
One day a goat was feeding on the top of a high cliff. There was very little grass on the cliff. The goat looked down into the field where the grass was fresh and sweet.
A wolf stood in the green, grassy field. He looked up at the goat on the cliff.
"Come down, little goat," he called sweetly. "Come down and eat some of this fresh grass."
"No, no," said the wise goat, "I would rather have a poor dinner up here than make a good dinner for you down in that green and grassy field."