Country Ways and Country Folk

Country Ways and Country Folk
The Portuguese peasants, dark-faced and unshaven, often look such ruffians that at first, when you meet them on some lonely country track, you would not be at all surprised if they brandished a knife over your head with the blood-curdling challenge of "Your money or your life!"
But in reality they are nice civil fellows, anxious to please in any way they can, friendly and full of natural politeness. Do you ask your way in broken sentences, your scanty Portuguese vocabulary helped out with signs and gesticulations, the Portuguese workman will take the greatest trouble, first of all to discover your meaning, and then to help you and make himself understood, even going out of his way to accompany you to some point of vantage, from whence he may the more easily direct you. Then, with a smile, a bow, and lifted hat, he will go on his way ready to act the good Samaritan to the next comer.
Would you like to imagine you are going for a walk in Portugal, and that you see all the quaint country folk we should pass? Let us choose a pretty walk—say down the valley to Collares, that little village of vintage fame at the foot of the Cintra range of mountains, which tower above us on the left, their summits standing out in bold masses of rock, clear-cut against a deep blue sky.
It is spring-time, and all the fruit-trees are in blossom. Tender spring colouring throws its veil of softest shimmering green over the tall poplars, and wherever we look there are wild-flowers, springing up in the fields and on the roadside and on the rock-strewn slopes of the untilled land. Such wild-flowers! Vivid gentian-blue, and deepest rose, and many that we know quite well, and cultivate with so much trouble in our gardens at home. Tall, starry-shaped asphodels, slender white lilies and large blue ones, snapdragons, lupins, orchids, gladioli, blue and yellow irises, mallows, foxgloves, and many others; and climbing among the cistusbushes are wild-roses, and sweet-smelling honey-suckle and everlasting peas, and there are the large, rose-like white flowers of the cistus itself, with a handsome dark brown blotch on each leaf. Brightest of all are the fields of blue convolvulus, looking as though a piece of summer sky had lost itself, and had been caught and held prisoner in the grass.
Down the valley flows a little brook clear as crystal, which goes bubbling and gurgling along; gliding shyly round the big rocks as though it wondered what it would find on the other side, and then, grown bolder, leaping with a sparkle and a splash over some tiny waterfall into a deeper pool below. There is an old moss-grown bridge with maidenhair ferns peeping out from between the stones. We cross over, and before long the footpath comes out into the dusty road.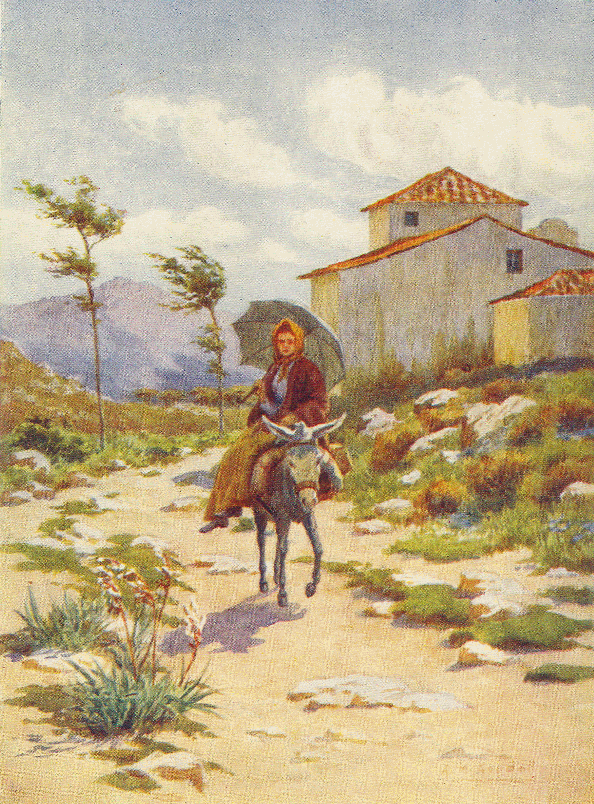 Going to see friends.
Presently we meet a girl on a donkey, sitting sideways on a funny-looking affair which does service for a saddle, and which half smothers her small mount. She has got her best shawl on, and her brightest orange handkerchief tied over her head, and because the sun is hot (and perhaps still more because she is going to visit some friends, and wishes to appear smart), she is holding up an old green umbrella.
Next, we meet another donkey, but he is a less prosperous beast than his brother who has just gone by. Thin and tired, he droops his head, and his ears lop sideways in a depressed way; and no wonder, for hanging on either side of his pack-saddle are huge baskets filled with earth, and piled above them and across his poor little back are great bundles and sacks stuffed with green fodder. Perched, goodness knows how, on top of all, sits an old country-woman. There is hardly any donkey to be seen, except the head and legs, and a few inches above the tail. We wonder how he can get along at all, but his mistress won't let him dawdle; and as her ruthless stick comes down with a crack on the few available inches, we feel we would give anything to save his poor thinly-covered bones.
Sights of this kind are the one thing that would make English boys and girls miserable in Portugal. Kind as the people are to one another and to their children, their poor animals are often most brutally over-laden, overworked, and beaten. No one seems to think that animals need kindness and consideration, no one minds seeing acts of cruelty.
But let us walk on and try to forget that poor patient little donkey. What is this coming down the road in a cloud of dust? A horseman, cantering along with his heavy overcoat flying out behind him. He is riding a pretty little bay horse, hardly bigger than a pony, with fine legs and muzzle, long tail and mane, great big eyes looking about him, and ears pricked well forward. What a strange figure the rider makes! He is sitting on a very high saddle covered with flapping goat-skins, and his feet disappear into the quaintest of stirrups, veritable wooden boxes, handsomely ornamented with brass-work. He has a brightly-coloured striped rug, with many tassels, rolled up and thrown across the front of his saddle, and various other odds and ends are swinging about. He is a young farmer, and thinks himself rather a fine fellow, with his broad-brimmed felt hat, wide, magenta-coloured sash, and thick black overcoat or cloak, with fur collar and scarlet lining. It has, however, not struck him to shave since last Sunday week, and his appearance is that of the villain in a play.