Elizabeth—The Story of a Most Unhappy Queen
A T this time in Scotland as in England there ruled a Queen. These two Queens were cousins, for Margaret, the sister of Henry VIII., had married James IV., King of Scotland, and this Mary who was now Queen of Scotland was their granddaughter and Elizabeth's cousin.
In spite of the fact that an English Princess had married a Scottish King, the two peoples continued to be enemies as they had always been, and Elizabeth of England did not love her cousin Mary of Scotland. She hated and feared her.
Mary had been brought up in France, which is a Roman Catholic country, and she had married the French King. So she was Queen of France and Scotland.
When Mary of England died, Mary of Scotland thought that she had a better right to the throne of England than Elizabeth, so she called herself Queen of Scotland, France, England and Ireland.
Many people agreed with Mary, among them the Pope, who was angry with Elizabeth because she would not be ruled by him and would no longer punish the Protestants as her sister had done. So it was little wonder that Elizabeth hated and feared her cousin. The Protestants of England hated Mary of Scotland too. They were afraid that if she became Queen of England, she would bring back the dreadful days of the English Mary.
When Mary was only nineteen, her husband, the French King, died, and she left France where she had been living and returned to Scotland. As she sat upon the deck of the ship which took her to Scotland she wept bitterly. "Adieu, France, adieu," she sobbed, "I shall never see you more."
Scotland seemed cold and dark to Mary after sunny France, and the people harsh and rough. Yet the Scots loved their Queen and were eager to show her that they did so, and Mary wanted to be loved. But Mary and her people did not understand each other. Although she was clever and beautiful she was perhaps the most unhappy and most unwise Queen who ever sat upon a throne.
In Scotland, as in England, many dreadful things happened because of the Reformation and change of religion. Mary was a Roman Catholic, while many of her people had turned to the new religion. There were other causes for quarrels, so there was sorrow and war, until at last the Scottish people imprisoned their beautiful Queen in a lonely castle, upon an island, in the middle of a loch.
But although many people hated Mary, many loved her too, and these helped her to escape. One evening, a boy called the Little Douglas, who lived in the castle where she was imprisoned, stole the keys while the Governor was at supper. In the middle of the night he unlocked the door of Mary's room. Fearfully and silently she crept with him through the dark passages till they reached the great gate. Douglas unlocked it, and Mary passed out, holding her little frightened maid by the hand. Douglas locked the gate behind them and led the way to the place where a boat was waiting for them.
They were soon out on the dark water, getting farther and farther away from the castle. Half way to the shore, Little Douglas leaned over the side of the boat and dropped the great castle keys into the water. Mary's gaolers were prisoners in the castle, and she was free.
On land some of Queen Mary's friends were waiting for her with horses, and she rode joyfully away. Soon more friends joined her, and a battle was fought near Glasgow. But Mary's soldiers were defeated, and she was obliged to flee.
She did not know where to go. It would have been safest to go to France, but no ship was ready to take her there. So she crossed the border into England, and went to ask her cousin Elizabeth to take pity on her.
Elizabeth had never seen her beautiful cousin, and she refused to see her now. She gave her a castle to live in, not as a royal guest, but as a prisoner.
Mary had had to run away from Scotland so quickly that she had brought no clothes except those she wore. She wrote to tell Elizabeth this, but although Elizabeth had hundreds of beautiful dresses, she only sent some old clothes quite unfit for a queen to wear. Poor Mary would have been badly off, but her enemies were kinder than her cousin, and sent her dresses and clothes from Scotland.
When Queen Mary found that Elizabeth meant to treat her as a prisoner and not as a friend, she begged to be allowed to go away to some other country. But Elizabeth would not set her free. She feared if she did, Mary would go to the Kings of France or Spain and ask them to make war on England. She felt it was safest to keep her great enemy in prison.
Mary was so beautiful that she had many friends, and they were very angry with Elizabeth. Plot after plot to free Mary was formed. But all plots failed. For nineteen years this poor Queen was kept in prison. She was moved from castle to castle, for it seemed as if no place was strong and safe enough to keep her from her friends. At last she was shut up in a castle called Fotheringay.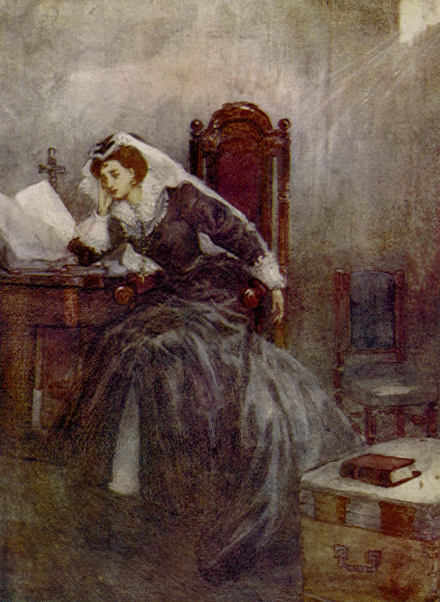 For nineteen years this poor queen
was kept in prison.
When Mary had been in prison about nineteen years, a plot to kill Elizabeth and put Mary on the throne was discovered. Then the English Parliament persuaded Elizabeth that Mary must be put to death.
Elizabeth either really felt, or pretended to feel, very unwilling to give her consent to this. But in the end she signed a paper ordering Mary's head to be cut off.
A few days later the beautiful Queen, who had been so unhappy and who had caused so much unhappiness, walked into the great hall at Fotheringay. In one hand she carried a Bible, in the other a crucifix. The hall was hung with black; at one end was a low scaffold, also covered with black.
Nineteen years before Mary had come to England, young and beautiful, and, although she was not yet old, the long years in prison had made her look like an old woman. She could only walk with difficulty, and when she laid her head upon the block, it was seen that her hair was white.
Mary's servants cried bitterly when she said good-bye to them, although she comforted them by saying that, to her, death was a happy release out of prison. Her little dog would not leave her even after she was dead, but crept close to her dress, whining sadly, as the Dean of Peterborough cried, "So perish all Elizabeth's enemies."
When Elizabeth was told that Mary was dead she was very angry. She said that although she had signed the death warrant, as the paper was called, she had not meant that Mary should be killed. It is difficult to know what Elizabeth did mean, for she was deceitful as well as clever. But whether she meant it or not, Elizabeth had no right to behead Mary.
Mary's son James, who was now the King of Scotland, was very angry with Elizabeth for the manner in which she had treated his mother, but he had neither money nor soldiers enough with which to fight against England, so he did nothing.